'Robber Baron' snatches D.I.C.K. away from the grasp of old stagers
Report by Jonathan Rallings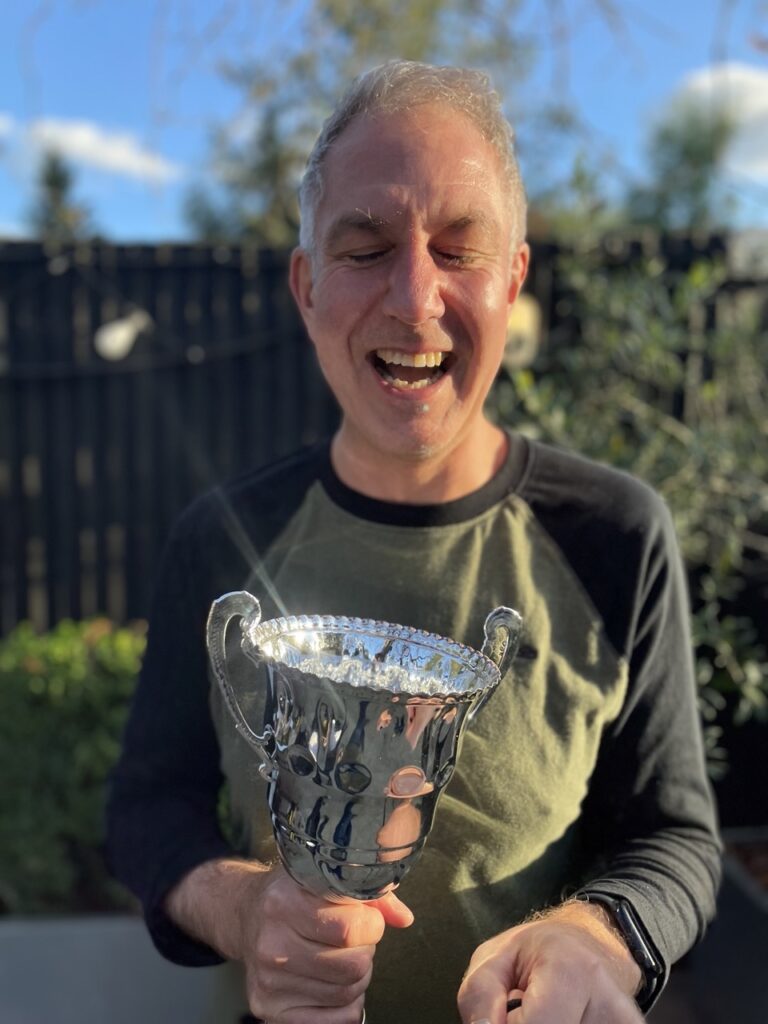 Rob Baranowski fully earned his new nickname of the 'Robber Baron' as he emerged from a four-way battle with some of Dulwich conkers' biggest names to swallow up his first D.I.C.K. win in front of one the biggest crowds ever seen for the annual nutfest. A triumphant Baranowski celebrated hard as runner-up Andrew Mills faced the reality of a third podium finish without going all the way, whilst Owen Lewis and Steve Hoy could only manage a semi under the pressure.
This was one of the most open contests for years, as a national rail strike meant many of the D.I.C.K. glitterati such as Glen Whitehead, Chris Jackson and reigning champion Pete Campion-Spall were unable to make the tournament.  However an appropriate 22 hardy souls signed up to the '22 contest, while the clement weather ensured that the Crown and Greyhound Conkerdrome was unusually full to capacity with a host of spectators occasionally looking over quizzically and apathetically towards the international competition occurring in their midst.
The day got underway with two of only three competitors to have played in all eighteen tournaments, Steven Hoy and Ralfe 'Snagger' Rallings, meeting in a first round qualifier. This was barely a contest though with the aim of two time Dastardly D.I.C.K. winner Rallings so poor he was unable to even register a snag let alone a hit. Hoy made short work of the veteran in sudden death beating him with three swings to spare. Rallings picked up his first short D.I.C.K. prize in the process and if his staying power continues to decline in such a fashion there must surely be questions over whether his days of playing with his nuts may be drawing to a close…
Next up young Ollie Hoy looked to build on his stunning debut which had taken him all the way to third place in 2021. But despite a promising start against fellow novice Toby Baranowski-Bishop, Hoy's play soon deteriorated from hard hitting to snagging, eventually leading to the upcoming star being disqualified. Hoy has youth on his side and time to turn his game around, but perhaps needs to take his inspiration from his parents, both former champions, rather than following the example of Ralfe 'Snagger' Rallings who he successfully eliminated on his path to podium glory last year.
The first debutant of the afternoon, Lila Mills, entered the arena to face off against Sarah Gardner.  Gardner, returning for more D.I.C.K. since her first taste in 2019, unfortunately continued the dirty play of the afternoon veering very close to snagging on several occasions against her young opponent who seemed overawed.  Gardner eventually triumphed 4up&3 in sudden death, whilst Lila when asked how she found the experience of playing conkers for the first time declared it to be "ok".
Seb Kohon then played off against Konrad Bishop. Bishop, who debuted in 2021, took everyone by surprise with his swinging. Although initially struggling to find accuracy with his thrusts he eventually overwhelmed the wilting Kohon who could do nothing but submit to the inevitable, rightly ruing "I got my nuts well and truly crushed today."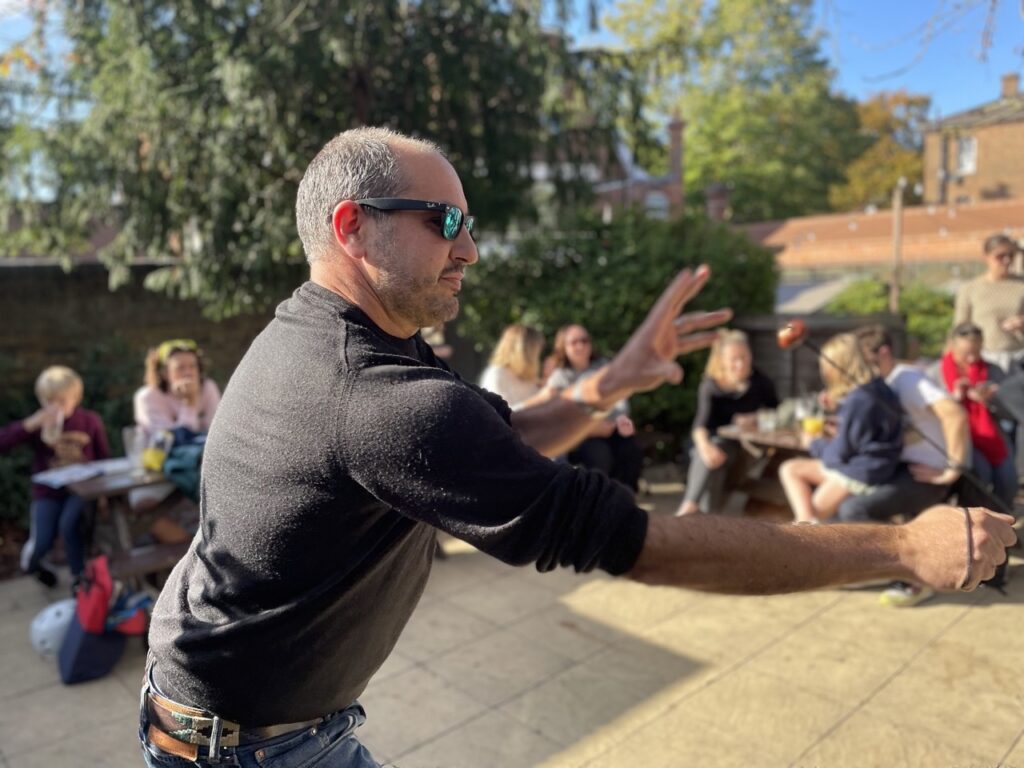 The final qualifier saw Rob Baranowski commence what would turn out to be his successful tilt at the title against 2020 champ Amy Hoy, commenting he "needed a lesson in wrist action" from the impressive Bishop. However, he soon found some rhythm and even the veteran Hoy's trademark attritional game could not save her on this occasion, as The Baron increased in confidence with every swing eventually smashing her nut with seconds before sudden death.
The last 16 brought together upcoming star Alex Mills with D.I.C.K. virgin Margaret Gardner.  Mills exposed her crack early on and looked set to overpower her, but the plucky Gardner fought for her honour and held on.  Sudden death was a thrilling back and forth affair which in the end Mills held out to win 5-4.
Last year's runner-up Owen Lewis then played new boy Stanley Gavigan who found it difficult to compete even though he tried hard, Lewis eventually prevailing on a knockout. 2019 winner Brooke-O Lumicisi then took on Dan Johnson – the Aussie coming out with her hard-hitting game from the off. Even despite cracking her nut early and hanging by a thread Lumicisi as usual only knew one way to play, but Johnson couldn't make her reckless game pay, failing to land the killer blow and eventually capitulating 5-1 in sudden death.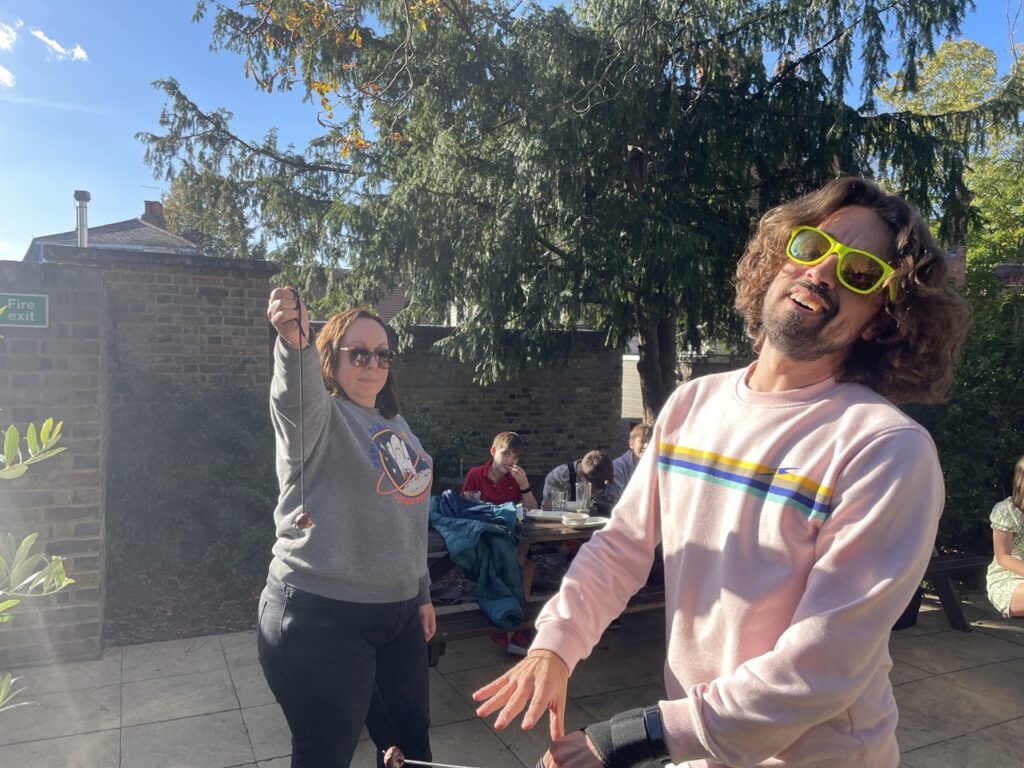 Baranowski's match against Fred Hoy was halted for some time by a freak incident where a hard hit by Fred led to the Baron's conker flying off into his groin leaving the young man doubled in pain. Thankfully the 'nut-on-nuts' injury wasn't serious and eventually Hoy was able to continue, but the novice's performance was unsurprisingly emasculated from then on and despite Baranowski incurring two snags across the match he survived the scare to win 4-3 in sudden death.
Caro Harper in her first tournament then squared up to Toby Baranowski-Bishop in a tense stand-off of few chances. In overtime though, Harper's temperament gave out, and three snags in the space of five swings saw the frustrated woman's desperation for D.I.C.K. success lead ultimately to her going home empty handed to boos from the crowd.
Becky Harris then stepped forward for her own first tilt at D.I.C.K. against Sarah Gardner. Gardner used her experience to good advantage over the ingénue in the early stages but Harris soon showed she was a natural with a nut coming back hard, to which Gardner could only respond with the same dirty tactics she attempted in the qualifiers. However this time she overshot and snagged herself out of the match, deservedly receiving the Dastardly D.I.C.K. award in the process – the first woman to be given the unwanted title in its nine year history. It is hard to know from here if Gardner will ever live down her reputation as the 'bad girl of conkers' after this day.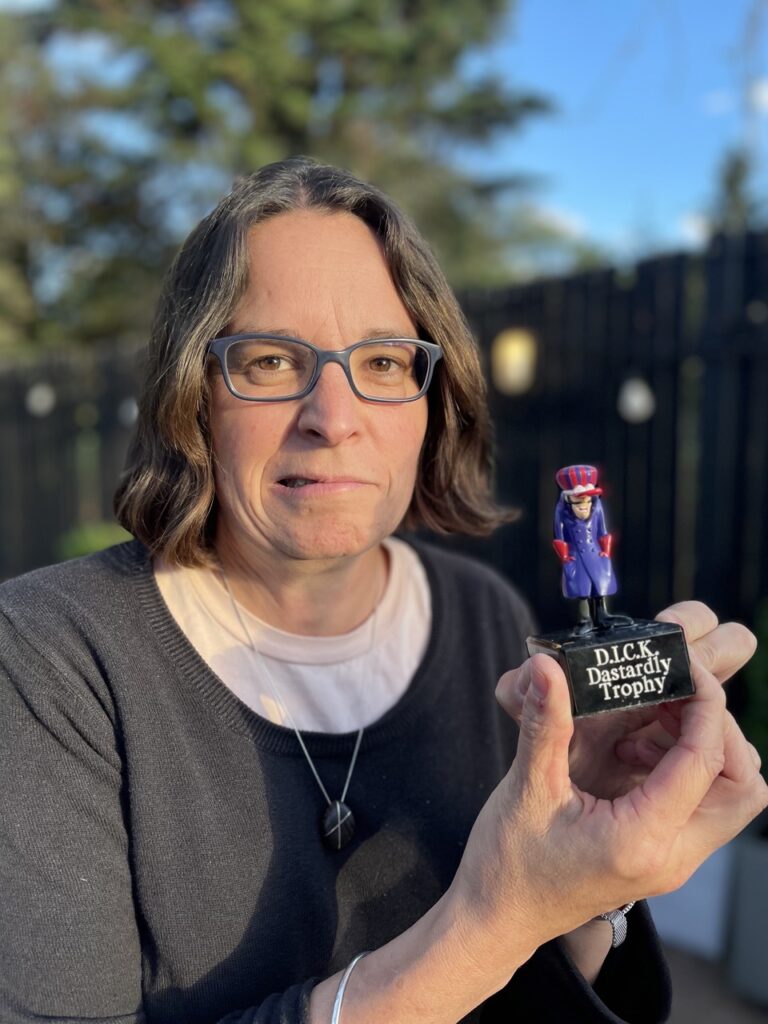 After his devastating performance in the first round Konrad Bishop returned to the arena to find himself new bookie's favourite with the crowd chanting "King Kon" ahead his match against veteran Andrew Mills. 'The Gorilla' duly acknowledged the applause, and took up where he left off in the qualifiers with some hard hits. However, the wily Mills used his greater experience to tease Bishop into exploding his nut and ultimately collapse, deflated at missing such a golden opportunity.
Steve Hoy then took on Chiara Kohon, competing in her first official tournament having developed a thirst for D.I.C.K. after competing in 2020's Bullet Conkers online event during the pandemic.  Unfortunately much as Kohon had hoped for a long one, her match up with Hoy proved to be short and ultimately deflating as she crashed out in overtime 2up&1.  There is always next year.
The quarter final stage turned out to be the most punishing D.I.C.K. in over a decade with nuts exploding left, right and centre and only two matches pushing through the regulated time to a tiebreak. It began with Owen Lewis taking on Brooke-O Lumicisi. Although the Aussie had struggled through the previous round with half a conker she was no match for the hard-hitting Lewis. The last remaining Hoy – Steve – showed no mercy in dispatching Toby Barankowski-Bishop after the youngster found himself on the ropes early with two snags.
Andrew Mills faced off Becky Harris playing a shrewd game to see his damaged conker through for a chance to renew his nut in the semi stage. The tactics worked as Mills forced the inexperienced Harris into two snags before edging her 6-5 in overtime. Baranowski then met young pretender Alex Mills in an extremely hard-hitting match – but unfortunately for Mills his exuberance led to him blowing his own nut apart thus navigating another potentially tricky hurdle in the Baron's road to glory.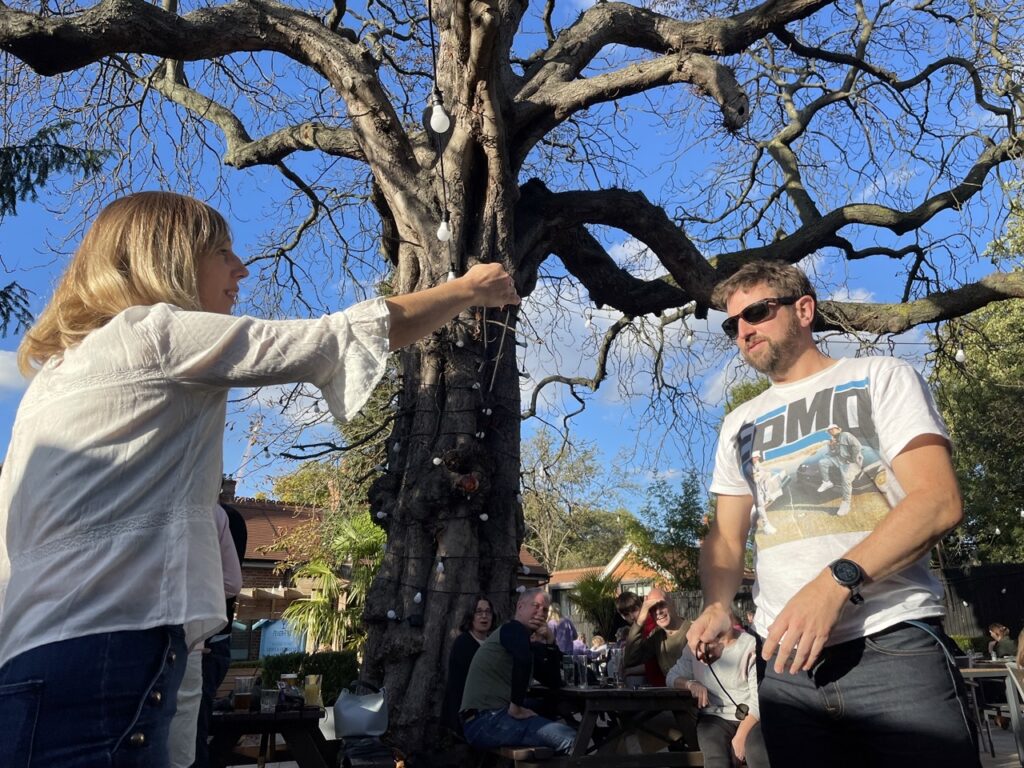 The semis began with Steve Hoy meeting Andrew Mills who had by now refreshed his nut. And Mills took full advantage pounding the hapless Hoy who snagged twice on the way to an 8-7 defeat. However, it came at a cost for Mills who had incurred significant damage in the process. In the other match Rob Baranowski powered past Lewis, needing just nine swings to see off the latter's puny nut. Lewis performed better in the third place play-off swinging hard whilst Hoy couldn't find the target. Ironically when he finally did his conker shattered with the very first blow.
So to the final. It was always likely to be a one-sided affair with Mills' shrivelled nut just looking to hold on to try and win a tiebreaker. It was a tactic never likely to work against a hitter as hard as Baranowski who made short work of the task.
Baranowski became the first recipient of the new Matteo Robinson cup named in honour of legendary Hungarian conker fan and friend of the tournament who tragically passed away recently. It was hard on Mills whose wait for the title goes on, but the popular winner now becomes a new name in the game. The Baron will now be looking forward to the greenbacks he can make as D.I.C.K. champion over the coming year and hoping he can defend his title against some of the giants of the international conker scene who will be expected to return to the fray in 2023.
2022 D.I.C.K. results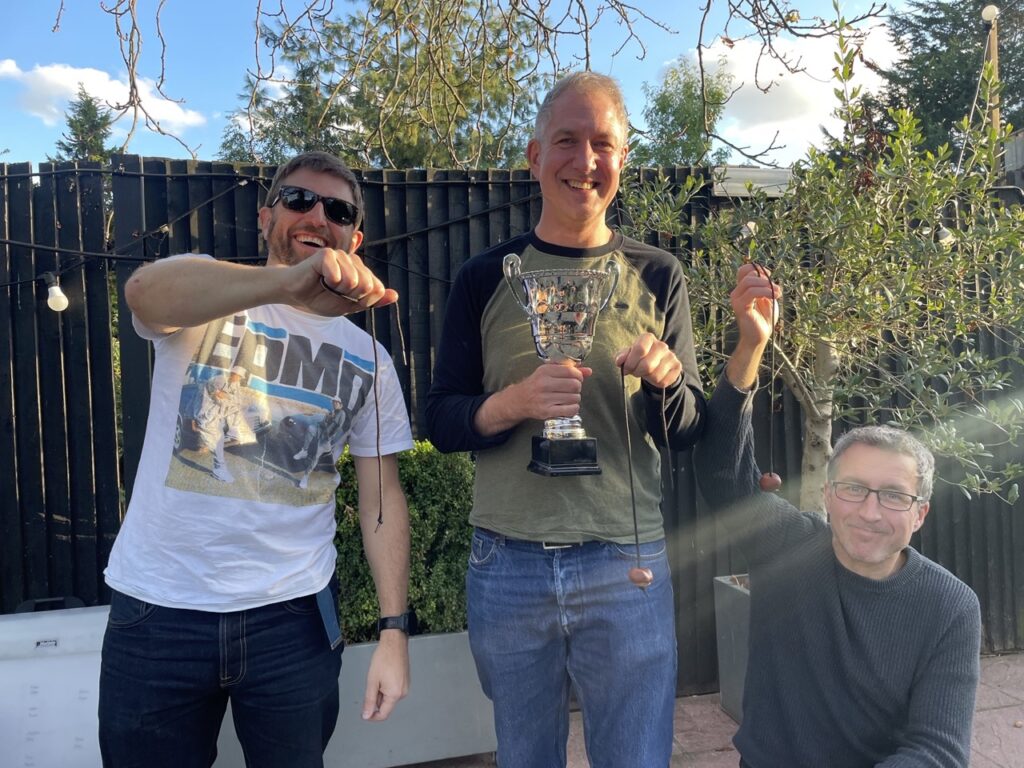 1st: Robert Baranowski
2nd: Andy Mills
3rd: Owen Lewis
Short D.I.C.K.: Jonathan Rallings
Dastardly D.I.C.K.: Sarah Gardner
Photos