Pete magnificently pulls off third D.I.C.K.
Report by Jonathan Rallings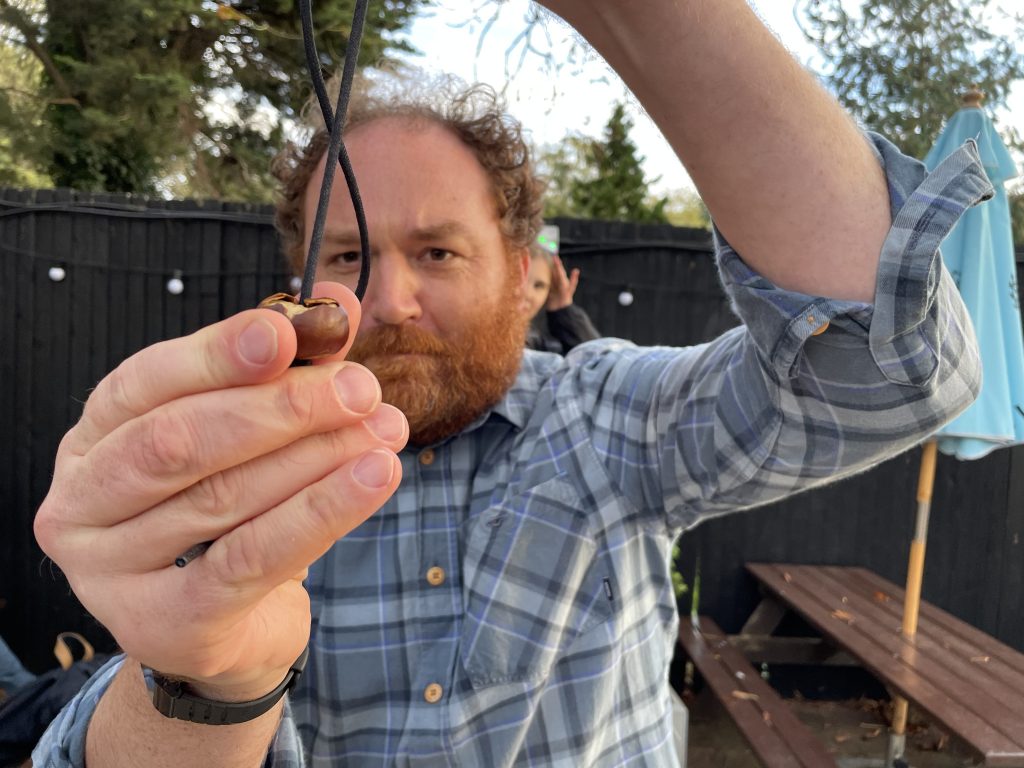 Pete Campion-Spall dramatically returned to Conkers to claim his third overall D.I.C.K. title, a feat only previously achieved by four-time champion Glen Whitehead. The self-styled 'Ginger Nutter' had only competed once since his last title nine years ago, where he was a victim of the infamous 2017 'mouldy conker' scandal landing the short-D.I.C.K. prize. However, even though lacking some of the pomp of his prime, the first ever D.I.C.K. champion showed he maintains the stamina to take on all comers.
Not that this tournament, returning to its traditional Crown and Greyhound Conkerdrome home, was without some controversy too. In their continued desperation to avoid a repeat of 2017 the organisers perhaps overcompensated this year by supplying nuts so hard that they failed to crack and froth effectively until the later rounds. There was also a perceived slackening in the enforcement of the snagging rule from the umpires, although Ralfe 'Snagger' Rallings, alleged architect of this move, denied there was any material change and that simply overall standards of nut play had improved.
However, none of this could overshadow the biggest story of the day which was the bursting of a number of exciting youth players onto the conker scene. In a year where the ongoing aftermath of Covid left a number of established D.I.C.K. personalities unable to participate – including 2008 champ Chris Jackson, last year's 'bullet conkers' winner Alex Dunlop, and all-time greatest nut player Whitehead – this tournament instead proved to be a breakthrough year for some of the younger players, with no less than five juniors making their full debuts in the biggest D.I.C.K field since 2013, and one even making it onto the podium.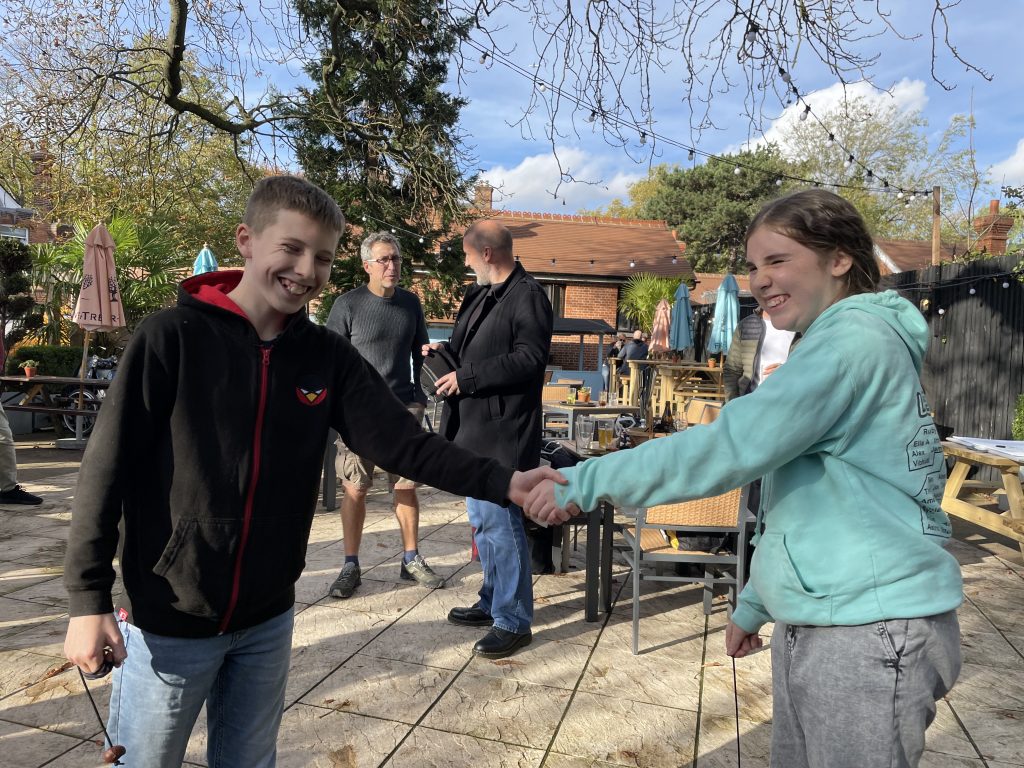 The opening qualifying match of the tournament though saw an older newcomer as first-timer Konrad Bishop showed off his nut prowess against D.I.C.K. stalwart Brooke-O Lumicisi. Unfortunately it was a pretty limp start from the newcomer whose nuts consistently failed to pump effectively. Although he gradually got into his stride the accuracy of Lumicisi saw her through 7-6 on sudden death play. Bishop did, though, receive the 2021 Short D.I.C.K. award for his efforts.
Astrid Campion-Spall made history as the youngest ever female participant in the tournament, facing Alex Mills playing his second D.I.C.K.. Both players belied their inexperience with some very accurate hard hitting, with Mills eventually prevailing 6-5 in sudden death. Campion-Spall, daughter of eventual champion Pete, impressed the crowd though. She declared her feelings on participation on the big stage as "Exciting! Although was a bit scared of being hit…"
Next up Ralfe Rallings faced another newcomer – Rob Baranowski – who settled comfortably into his first D.I.C.K. Rallings snagged, of course, but there were no less than two disputed 'no snag' calls for each player after strings were dragged out of opponents hands and untangled. Eventually Rallings proceeded 4up&3 in sudden death to a modicum of boos from the crowd towards the perennial cheater.
D.I.C.K. history then occurred as Ollie Hoy became the youngest ever player in the tournament at 10 years and 84 days – 4 days younger than Alex Mills was when he debuted in 2018. As the son of champions Amy and Steve Hoy, there were high hopes for the youngster – and they were not misplaced as even in his first game he already looks a better player than both parents. Hoy played Mark Sinclair, the self-styled 'bad boy of conkers', who appeared to have continued the clean up his act following his 2019 podium finish, although he did bow out on a snag when he needed a hit to stay in leaving Ollie to progress 3up&2.
Fuad Mosis though shocked the crowd by turning up in a Squid Game face mask – an intimidation tactic which would earn him the 2021 Dastardly D.I.C.K. trophy. Although questions had to be asked how well Mosis could actually see in this garb, young debutant Toby Baranowski-Bishop refused to be cowed and looked to be going through before Fuad finally found some accuracy, landing his last three blows perfectly to progress 4-3.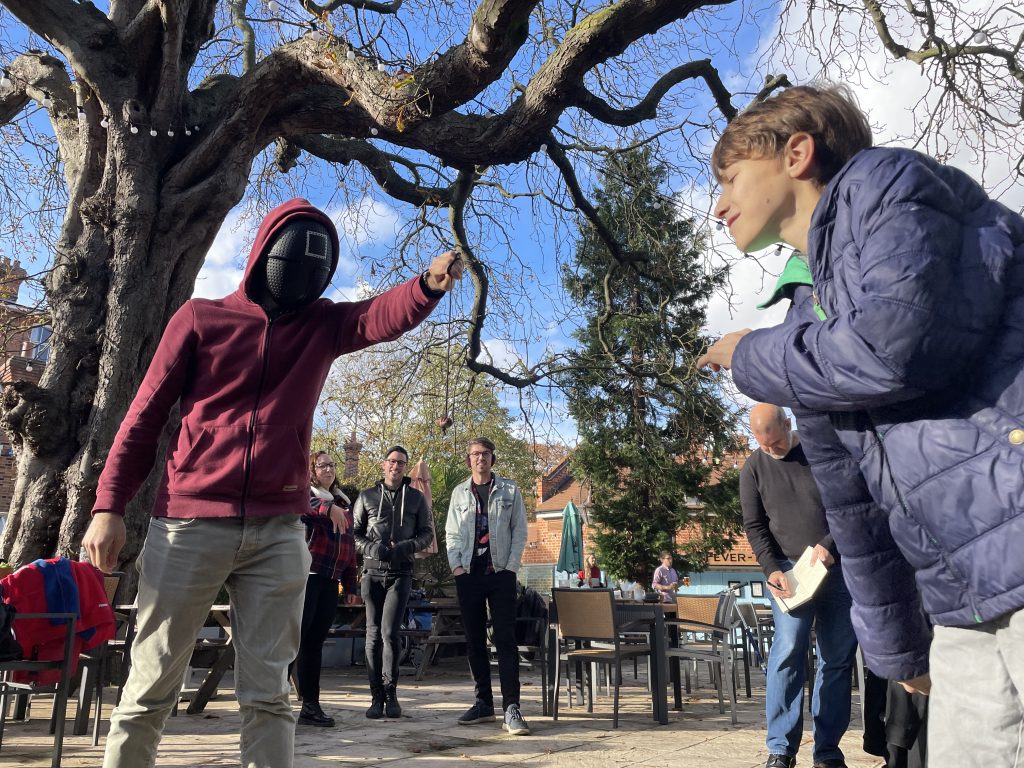 Andrew 'Millsy' Mills then faced off against Jake Howden, pre-tournament favourite for the title. Howden as usual showed his good length and some hard hitting nuts besides. This damaged Mills conker and then Jake further opened up his crack. Although Mills tried to hit back it was clear he'd overshot when he scored further damage to his nut. In the end he was left clinging on to his slim D.I.C.K. hopes in the hit count of sudden death, but was eventually thwarted by Howden winning 4up&3. Drawing the favourite in qualifying was a hard blow to swallow for Mills this year but he vowed to return in 2022 for more D.I.C.K.
In the final match of the qualifying Steve Hoy faced Seb Kohon – back for his first D.I.C.K. since 2008. This was a tense match with snags for both players before Kohon really left himself exposed with a second. However, he held on to win through 3-2, leaving Hoy now without a full D.I.C.K. win in three years and left shrivelled by the dominance of his wife during that time.
Indeed reigning champion Amy Hoy was next up in a first round match against Sophie Johnson. But Johnson played Hoy at her own trademark game of attrition and won this tight contest 2up&1 despite a couple of snags along the way. Pete Campion-Spall then faced his first challenge against another youth player, Matteo Kohon. It was a valiant performance by the young debutant who hit as big as he could, but Pete's experience eventually shone through as he emerged the 4-3 winner in yet another sudden death bout.
Pete's wife, Kat, then played Dan Johnson. This game was the conker equivalent of Ipswich travelling to Rochdale for a 0-0 on a wet Tuesday in November, with even the two participants appearing as ambivalent about its outcome as the crowd. However, upon entering sudden death it took a dramatically exciting twist as Campion-Spall raced into a 3-1 lead but inadvertently opened up a crack in the process. Bravely refusing to inhibit her play she eventually prevailed 4up&3. Johnson declared himself "disappointed, but pleased Kat and I were able to ramp that up from a steady rhythm to a frenzied crescendo of a climax there".
Marta Mills then stepped forward to play Fred Hoy. Although Hoy showed he has some skill with his nuts, on this occasion the older woman Mills was too much for him to handle, edging the match 4-3 in sudden death. This was followed by Owen Lewis taking on Seb Kohon in a back and forth thriller with both players hitting hard. Entering the latter stages of sudden death play Lewis first scored his last three hits to level the match 7-7, and then pegged back two more to tie 9-9, before scraping through 10-9.
Alex Mills then faced Brooke-O Lumcisi and came of age in a match of hard hitting conkers from both players. Ultimately though Mills stunned the 2019 champion with 8 straight hits in sudden death to win 4up&3. Dad, Andy, looked on proudly but it was typical of the combative nature of Mills Sr. that he was perhaps a little disappointed at such a clean performance having designs on his son winning a Dastardly D.I.C.K. prize even before the overall title.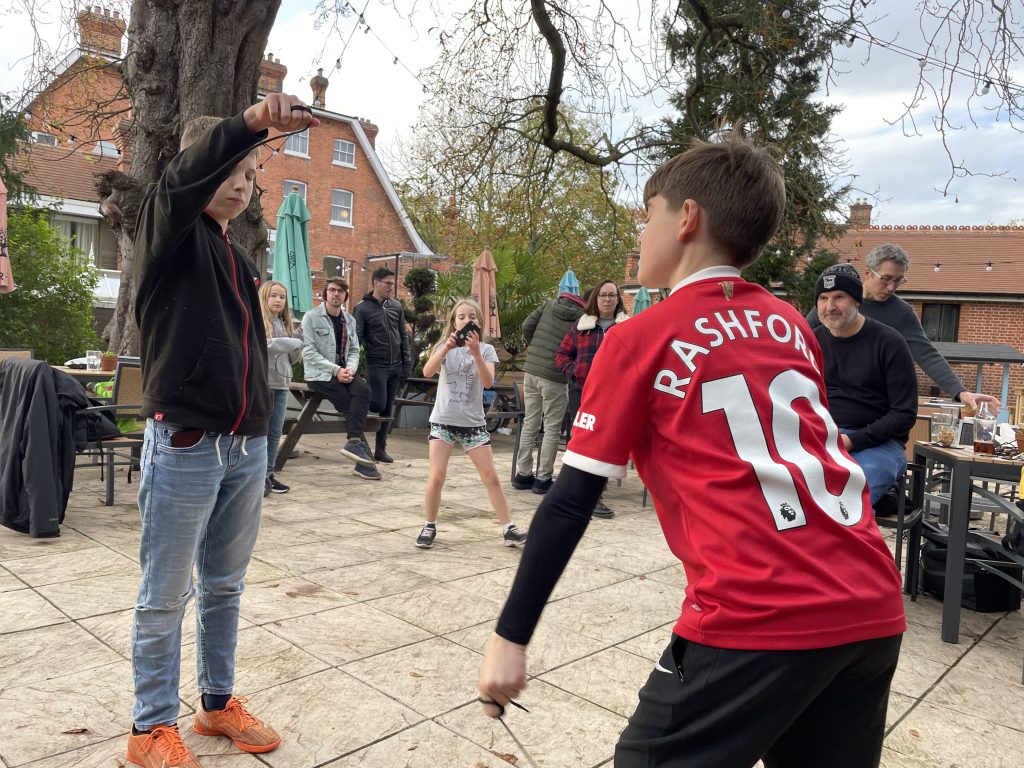 There were cheers, though, when already established dirty player Ralfe Rallings was humiliated by newcomer Ollie Hoy. In truth Rallings blew a golden opportunity to progress when he needed just two hits off his last three shots losing 4-3 in sudden death. The first round was completed by Jake Howden beating Fuad Mosis 4up&3 – but at some cost after Mosis split Howden's nut in half, leaving him literally hanging by a thread for the next round with no new conkers available until the semi-final stage.
After not a single knockout blow in the tournament thus far, nuts finally started exploding everywhere in the quarter finals. First Ollie Hoy delivered a conclusive smash against Alex Mills with just his fifth shot whilst Owen Lewis then put Howden's sad nut to bed also with just five swings. Kat Campion-Spall held on after losing half her conker early on to just pip Marta Mills in sudden death with three hits off her final swings, whilst husband Pete relentlessly pummelled Sophie Johnson causing damage to both nuts, eventually gaining sweet relief in the closing stages.
The last four saw Owen Lewis line up against the young Ollie Hoy. The crowd sensed a potentially remarkable story in Hoy's momentum, but it wasn't to be after he developed some early damage even despite Lewis incurring an early snag. Sensing defeat the younger Hoy tried to play cautiously but eventually succumbed in sudden death overtime.
In the other semi Kat and Pete Campion-Spall faced off in a tense husband and wife clash. When asked which of her parents she would be cheering on, daughter Astrid declared "I'm supporting Owen!" The derby match saw Campion-Spall punish his wife mercilessly but unable to exploit her crack sufficiently – he did in the end though edge her out 4up&3 to make the final.
In the third-place play-off Ollie Hoy recovered his composure, but it was Kat who lost hers becoming the first player to snag out on this occasion and prevent herself going one step further than her previous best finish in 2007. It capped a stunning day for Hoy, though, and a richly deserved podium placing for the exciting new player. And so to the final. Underdog Lewis fought gamely landing some big hits, whilst Campion-Spall was warned for his short-string several times. But eventually experience showed through as Pete landed the knockout blow to secure a third big D.I.C.K. win. Whether it represents the last stand of one generation or a signal that the old guard intends to stay on top indefinitely remains to be seen. But on the evidence of the young talent on display today, D.I.C.K of the future is in safe hands.
2021 D.I.C.K. results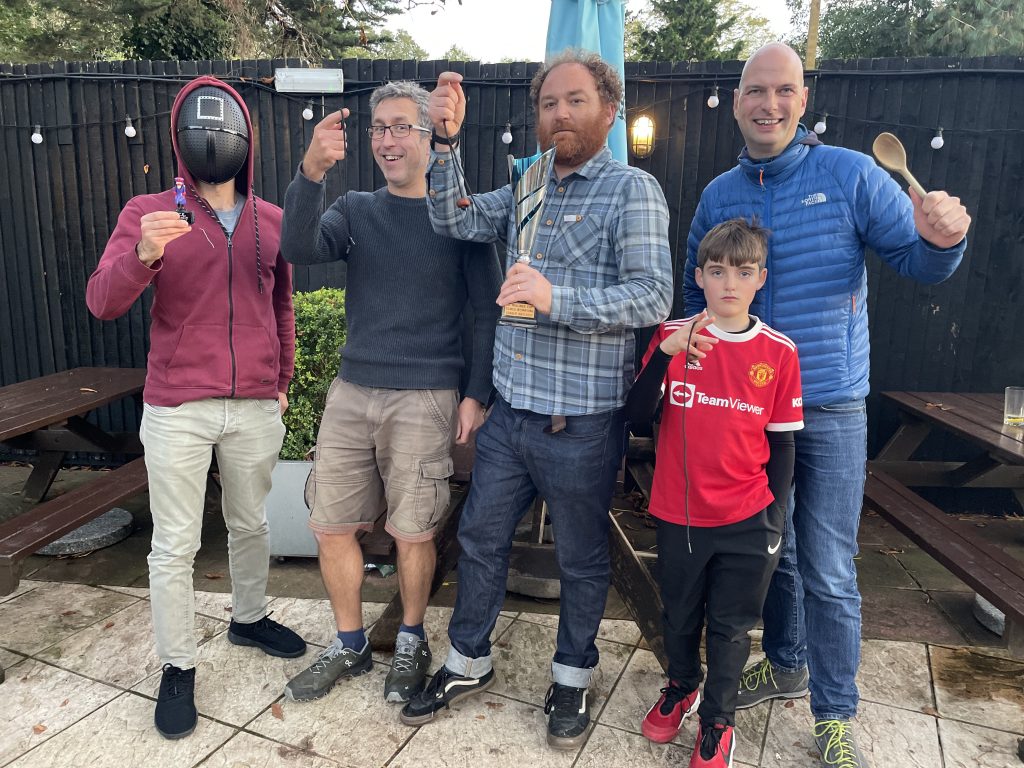 1st: Pete Campion-Spall
2nd: Owen Lewis
3rd: Ollie Hoy
Short D.I.C.K.: Kon Bishop
Dastardly D.I.C.K.: Fuad Mosis
Photos