Kon Can! Bishop basher stands firm facing hardest-ever D.I.C.K
Report by Jonathan Rallings
Konrad 'the Kon-kerer' Bishop lived up to his billing as pre-tournament favourite by securing his first D.I.C.K. title. Not only did Bishop knock out two former champions on the way to lifting the coveted Matteo Robinson trophy for the first time, he finished expertly at a tournament defined by the hardest nuts ever seen at the championships. Even the organisers admitted they had "had trouble stringing them up this year" in stark contrast to 2015's 'mouldy conker' scandal which still looms large in the minds of many D.I.C.K. disciples.
Even as much of England and Scotland sank under water amidst flooding, fair weather unexpectedly graced the Crown and Greyhound ground after just a light shower during the draw. Even more unexpected was the sudden arrival and registration with seconds to spare of three-time champion Glen Whitehead, coming out of retirement after a five year hiatus.
First up Becky Harris took on 2019 champion Brook-o Lumicisi. Harris, returning for her second D.I.C.K. after a thrilling ride last year all the way to the quarters, claimed to have brought her 'eh?' game, needing the rules explaining again. She quickly re-found her stride, though, taking her Australian counterpart all the way to a tense sudden death D.I.C.K. contest, which Lumicisi only just squeezed 6-5. Although disappointed, Harris consoled herself by claiming the 2023 'Short D.I.C.K.' trophy as first contestant to be eliminated.
In the afternoon's second game, 2008 Champion Steve Hoy took on Toby Baranowski-Bishop. Hoy took it slow and steady against the youngster who under the pressure ended up resorting to snagging. However, Baranowski-Bishop composed himself enough to take the game to a thrilling tie break in which he only missed one of his 'bonus 9' – and was most unlucky that Hoy registered an incredible 100% hit rate.
By this time it was becoming clear that this was likely to be an extended afternoon with the nuts seemingly rock-hard this year – a vintage year for those competitors who eschew hard hitting for the more tactical 'long game'. Into these conditions stepped perhaps the biggest advocate of the 'war of attrition' approach, 2020 champion Amy Hoy, who was suddenly looking more than the outside bet to recapture her title she had been at the start of play.
Hoy was participating in the first ever mother-son face off in Dulwich conkers history as she took on her boy Ollie. Hoy Jr had previously wowed in 2021 as the youngest ever competitor to make a semi-final. As is often the way with sporting prodigies, though, he has since struggled Raducanu-style to come to terms with his success, with there having been some question ahead of the draw whether he would compete at all. Although he did eventually feel able to play, unfortunately emotion got the better of the young man as he accrued three snags early-exiting the tournament. It is hoped that, akin to Simone Biles' spectacular recent comeback, he will regain his love of the game and conquer his mental demons at future tournaments.
Following this Kon Bishop stepped forward for his first match, which, in a cruel twist of fate, had pitted him against the man whose late entry had pushed him down to second favourite on the day – Glen Whitehead. As expected this was a hard-hitting affair with both men desperately pounding each other's nuts. In the end it was Bishop whose dominance prevailed, leaving an exhausted Whitehead disconsolate – but it is to be hoped that a tough draw will not lead to another five year semi-retirement for the all-time D.I.C.K. champion.
The next match saw veteran competitor Andrew Mills alone in the nut-ring unsure of where his opponent was. The audience were then privy to whispered cries of "turn it on" and "take it out and put it back in", before new boy Maximillian Bell entered to visible gasps from neutrals. But the Bell end cheered at the young man who had opted to play in a full Sumo suit as the self-styled 'Max Nuts'. This was a truly breath-taking move with seasoned D.I.C.K. watchers eager to discover whether Nuts would benefit from the bodily protection or suffer from the unorthodox swinging style forced on him. Mills, though, was unphased by Nuts' approach and quickly set about his business. After avoiding an early snag he was able to force in a crack on his opponent's conker putting Nuts on the back foot. Eventually the older man forced his way through 8-7 in sudden death.
Straight away the second proponent of what pundits were already dubbing 'Sumo D.I.C.K.' appeared as Fred Hoy appeared donned in a similar suit. His opponent, 2022's runner-up Owen Lewis, was clearly rattled, snagging early on. Hoy was upbraided by the umpire for his low-hanging nuts and he appeared to have trouble straightening them with his restricted mobility, leading to a snag himself. But as game went on it was clear that Hoy was gaining the upper hand, eventually smashing Lewis's conker to oblivion.
The final 1st round tie saw defending champion Rob Baranowski come up against veteran Ralfe 'Snagger' Rallings who had made attempts to clean up his game in recent years having not had a disqualification in five years. But although the 2010 runner-up's hit rate had improved, old habits die hard and there was a degree of irony that one of Rallings' best performances in recent memory ultimately ended when he snagged himself out. It came just as he was on the brink of the climax of the game, 5-3 up in sudden death with his opponent just three shots remaining. Baranowski breathed a sigh of relief at his lucky escape, living to fight another day – surely he could do better.
The quarter-finals got underway with Kon Bishop returning to the arena, this time to face Sarah Gardner, the self-styled 'bad girl of conkers'. Gardner, the first female recipient of a Dastardy D.I.C.K. award last year, was already under a cloud having a) returned the trophy broken and b) mysteriously bagged the only bye of the day to make this stage, stretching the credulity of some of the assembled crowd. Gardner then only served to further play up her status as pantomime villain as Bishop punished her conker, exposing a crack, leading to her shutting up shop entirely playing for sudden death. Finally, though, for good measure she racked up three snags and a disqualification, and in the process became the first competitor – male or female – to retain the Dastardly D.I.C.K. trophy. She has been warned by D.I.C.K. officials that it had better be returned repaired and intact in 2024.
Next up was a replay of the 2008 final between Steve Hoy and Brook-o Lumicisi. On that occasion Hoy was triumphant but this time he struggled early on as Lumicisi pummelled his nut. After snagging twice, though, Hoy recovered his composure and started to land some damage to the Australian's conker. Then right on the brink of overtime a third snag saw him crumple to floor disconsolate, down and – for this year – out.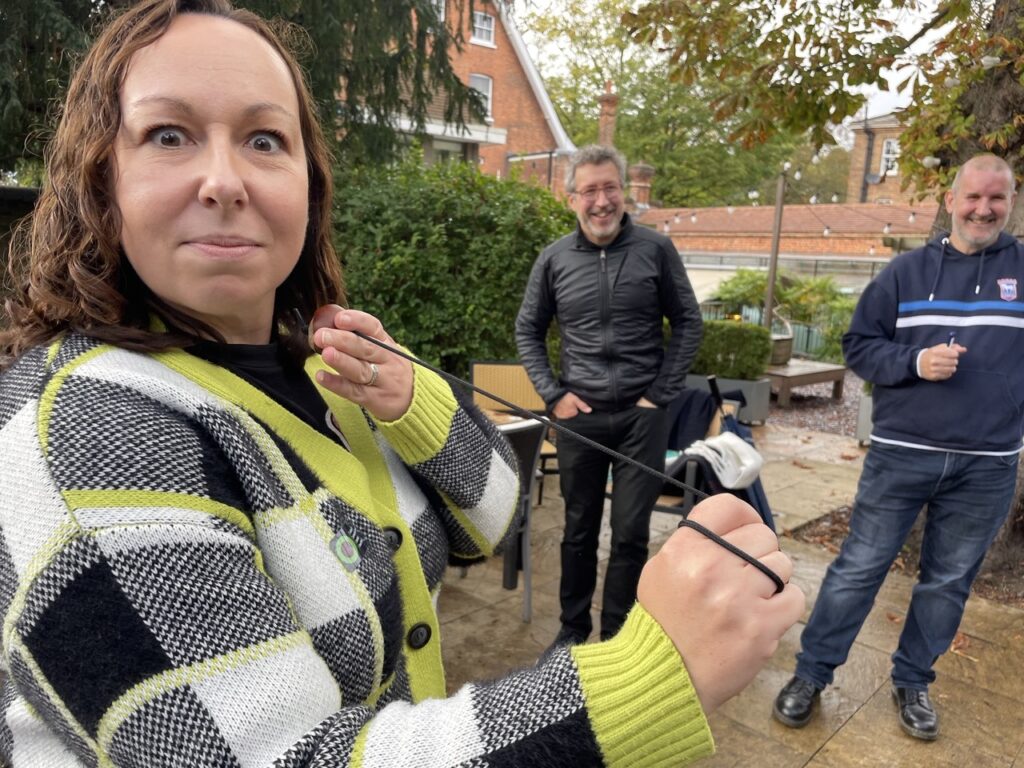 Rob Baranowski looked far more comfortable than in his first tie when he encountered Andrew Mills in a match which was halted early on by an escaped dog attempting to snaffle Mills' conker. But upon resumption Baranowski quickly pumped his opponent to completion oh so soon, with Mills claiming to be 'let down by his nuts again' as he failed to improve on last year's close second finish. A quirky draw then led to Amy Hoy facing her other son Fred in the final tie, but this time it was the younger Hoy – and his 'secret weapon' Sumo suit – who was to triumph, seeing mum off in overtime 1up&0.
The semi-finals started with a match between Brook-o Lumicisi and Rob Baranowski which began quite dully with both individuals off form, displaying inconsistent strength and accuracy. But the game sprang into life in sudden death overtime as 4-4 became 7-7, became 10 apiece, with Lumicisi eventually prevailing 12-10. Incredibly, despite being a better match overall, the second semi between – an initially un-tumescent sumo-suited – Fred Hoy and Kon Bishop also went the distance, testing the stamina of both players until Bishop bashed his way to a 12-11 win on hits.
The experience ultimately helped Hoy to a 6-2 overtime win in the third place playoff over last year's winner Baranowski. It was so near to glory for the young Hoy and his dramatic new addition to the game's technology. Although 'Sumo D.I.C.K.' did not ultimately prevail this year, with a creditable podium finish under its belt it will be interesting to see whether this new innovation – the first of its kind in the 19 year history of the tournament – will be mimicked by other competitors going forward.
To the final, and the virgin Bishop stood up to Lumicisi who had been at this stage three times previously. But experience counted for nothing as the tournament's hardest hitter secured his second burst nut of the day dropping to his knees as emotion overcame him. It had been an incredible performance by a player who previously had flattered to deceive – but this year, it was no con from Kon.
2023 D.I.C.K. Results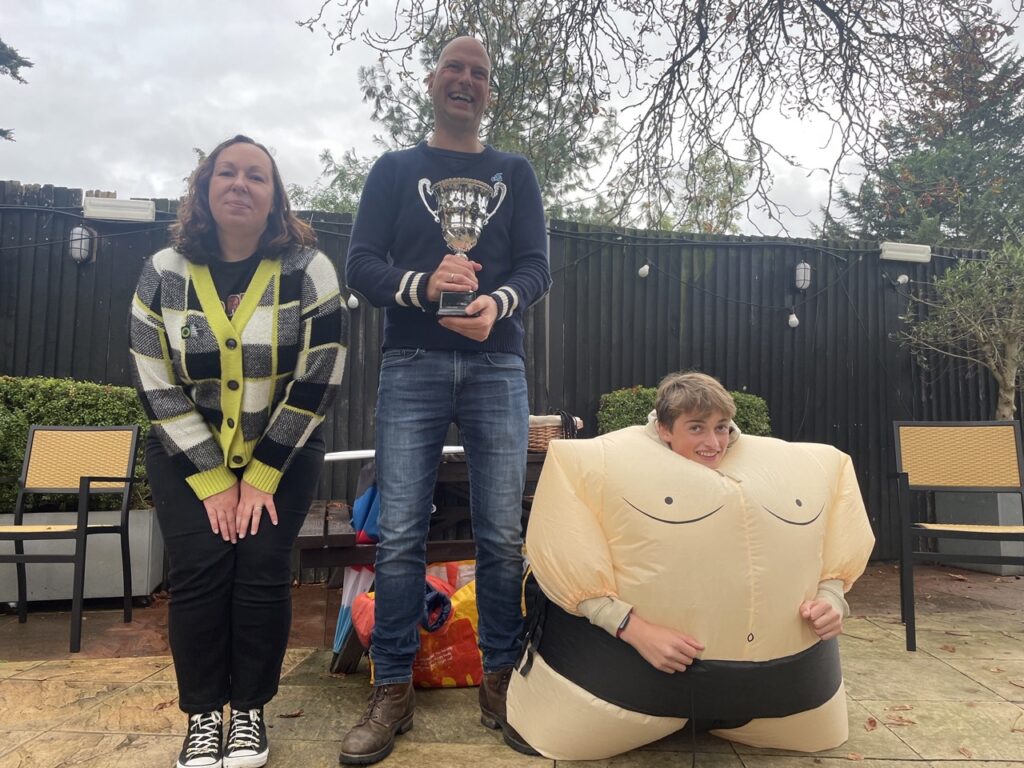 1st: Kon Bishop
2nd: Brooke Lumicisi
3rd: Fred Hoy
Short D.I.C.K.: Becky Mills
Dastardly D.I.C.K.: Sarah Gardner
Photos