2020 – Job Dunlop!: W.A.N.K-er Alex shows off his majestic D.I.C.K. skills online
Report by Jonathan Rallings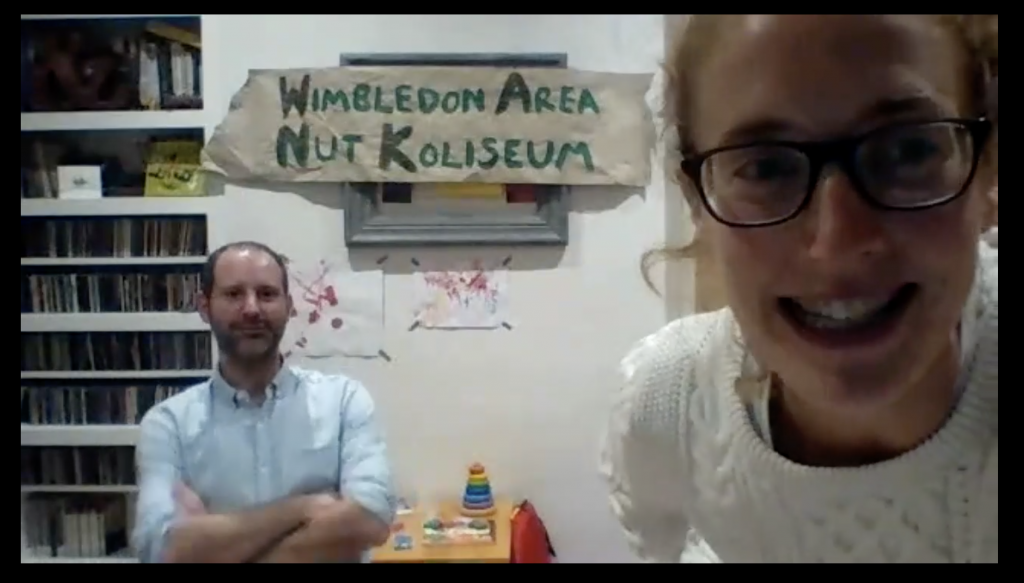 2017 runner-up Alex Dunlop returned to competitive conkers with a devastating triumph in a special virtual 'bullet conkers' tournament. A representative from the affiliated Wimbledon Area Nut Koliseum (W.A.N.K.), Dunlop pounded the competition into submission with his nuts, seeing off a who's who of D.I.C.K. royalty past and present parading their wares online rather than in a pub garden.
The unusual Zoom-based format this year was a consequence of the unprecedented measures due to the COVID-19 pandemic which have hit sports across the world. A healthy safe D.I.C.K. was the first priority of the organisers and the competition's scientific advisor Brooke Lumicisi stipulated that this year there would need to be restricted access to the in real life contest.
Lumicisi was quick to stress that that her recommendations were solely guided by the Government's 'Rule of Six' law, and dismissed claims it was more to do with her wanting to face a weakened field as defending champion. Certainly her fourth-place showing in the limited four-person IRL tournament proved any such malicious intent made little difference in the end in any case…
However, to manage the voracious appetite for D.I.C.K. after months of limited opportunities for nut contact during lockdown, it was decided that an alternative online competition would be held in the 'bullet conker' format. Instead of a knockout tournament, competitors were posted out official conkers so they could swing their nuts in the living room in front of a webcam – with the aim to try and score as many hits as possible in a minute. Additional points would be awarded for a knockout smash, whilst penalties would be incurred for snags.
As the 24 competitors from 11 different locations joined the Zoom stream (including from as far afield as Norway) no-one was sure how the day would pan out. But it soon became clear that the tournament would just be like a conker-orientated version of Eurovision – with less subtle innuendo, not having to cleave to mainstream television network demands. Play, though, was eerily devoid of the usual D.I.C.K. banter given external microphones needed to be cut in order for the referees to properly listen for the delicate sound of nut on nut.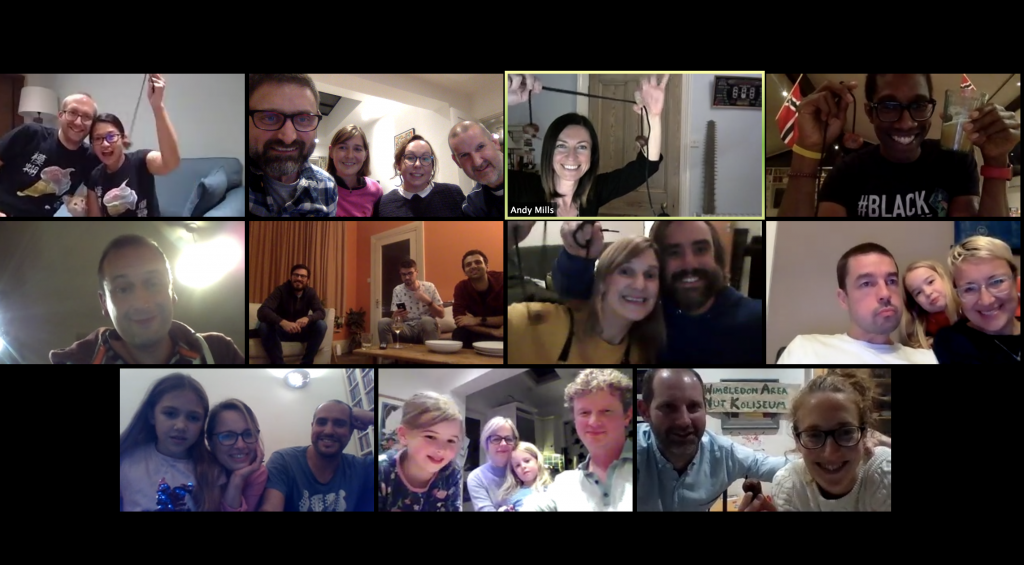 However, this unusual format, removed from the thrall of a baying crowd, proved a promising environment to blood young players in. As such the first entrant was new youth prospect Fred Hoy who registered an impressive 7 hits for a novice in his first ever conkers outing. However, moments later he was upstaged by his younger brother Ollie who scored 9 hits – and at only nine years old became the youngest D.I.C.K. player in any format of the tournament. The 'can you beat a nine year old' test quickly became the yardstick for the adult competitors to measure their own D.I.C.K. performance by in the bullet form.
Next up was a live line to W.A.N.K. where Holly Harris provided an early indication of what Wimbledon had to offer, with her bold front yielding a table-topping 13 hits. The audience were particularly intrigued by a new aspect of Harris' game since her last appearance in 2017 – what appeared to be a tennis-like squeal with each successful swing. However, this was subsequently revealed to be her 18 month year-old daughter who was evidently finding watching mummy play conkers for the first time a nerve-wracking affair.
Then up stepped Alex Dunlop who left the online crowd with their mouths hanging open salivating as they watched him relentlessly pummel his nuts. In just one-minute Dunlop registered an astonishing 27 hits as well as smashing to pieces one conker for a bonus 10 points giving him an outstanding score of 37 nearly three times that posted by anyone else so far. He would also prove to be the only contender capable of the composure to explode any nuts on camera…
The sheer scope of Dunlop's nut power, though, had an intimidating effect on the next competitor, Italian debutant Chiara Kohon. Coming from a nation not known for a swinging culture, Chiara seemed bewildered by the prospect of D.I.C.K. As she missed nut after nut she exclaimed in frustration "D.I.C.K. – this is so stupid!" The referees chose not to penalise this petulance – partly because there was no need to: her measly on-target 2 hits combined with two snags left her bottom of the table on -2, some 11 points behind a nine year-old… Husband Seb, though, appearing for the first time since 2008, fared little better also registering two snags but at least he made a positive score of 7!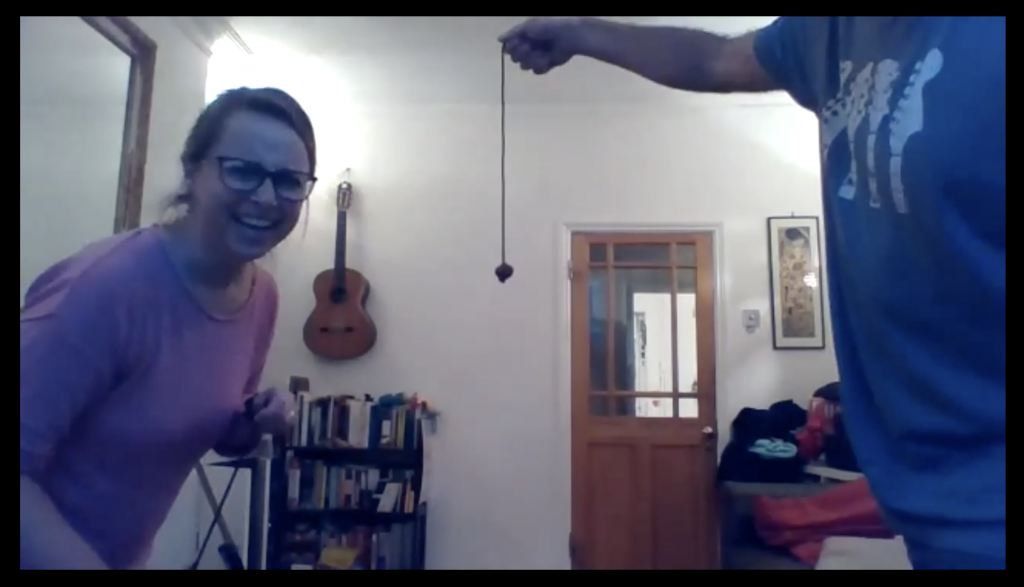 Next up the Wanstead contingent joined. Fuad Mosis scored a respectable 10 hits before Jake Howden upped the stakes with 13 to draw level with Harris in second place. That left former Dastardly D.I.C.K. and last year's 3rd place podium finisher Mark 'Bad Boy' Sinclair with the chance to at least sweep the household, but he came up just short with 12 leaving Howden as king D.I.C.K in East London.
There was a brief technical hitch as the scheduled link up with Eltham was delayed due to a conker being stolen by a kitten, so attention instead moved to Dan and Sophie Johnson – D.I.C.K. stalwarts. Sophie proved to be the more accurate with her nut, but was undone by two snags meaning Dan edged his wife by 10 hits to 6.
The return to Eltham, where conkers had now been retrieved, saw another competitor make his first D.I.C.K. bow. Normally unable to participate due to work commitments, the online format allowed Stefan Butler to parade his nut prowess for the first time – and what prowess. After a few seconds adjusting to the game he proceeded to produce a devastating display and the first to challenge Dunlop at the top of standings. Butler achieved a table-topping 28 hits, but crucially failed to explode in the allotted minute meaning he finished 9 points off the lead. Nonetheless on this showing should Butler be available to come to future contests his D.I.C.K. performance here will have un-nerved a few regulars. Suzie Butler could hardly be expected to match such a showing, but she nevertheless put in a respectable session racking up 13 hits and one snag to leave her mid-table on 11 points.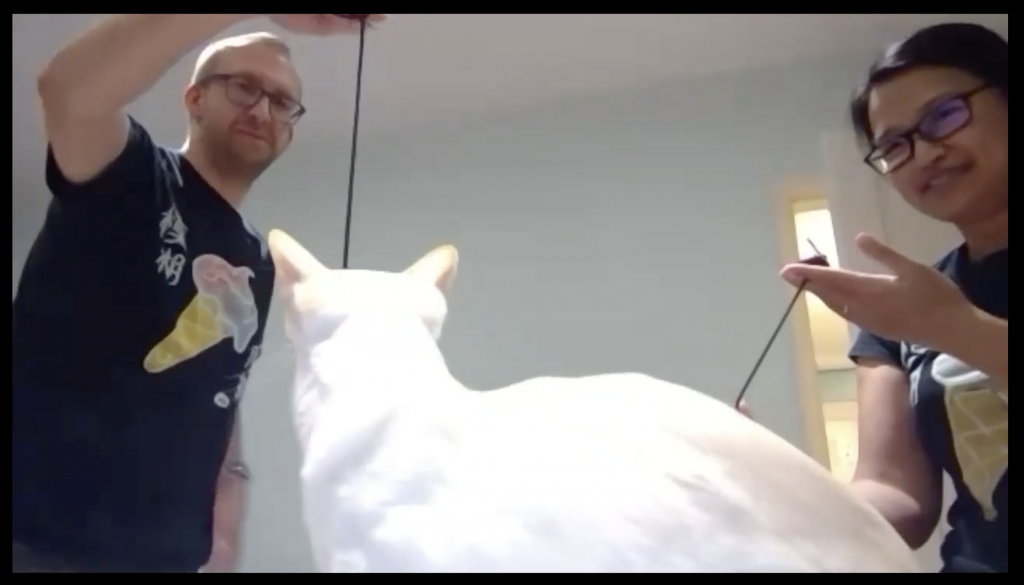 More pussy shenanigans were on display as attention switched to Burnt Oak where Ketchup made sure he delayed play a couple of times. Yan Yip put in a strong swinging show – propelling herself into 3rd place with 16 hits and no snags. James Macrae then stepped forward hoping to realise some of the promise he'd shown in recent years with a podium finish back in 2018. His score of 21 hits certainly impressed, but fell some way short of the two leaders. Macrae – avowedly a fan of the knockout form – will have to wait another year for glory and hope COVID restrictions will have lifted by next autumn.
There was then a host of boo-ing as the next competitor to join was Phil Crann, returning from his latest D.I.C.K. ban of eight years. The original Dastardly D.I.C.K. player retains notoriety for the 'vaselined conker' incident which saw him stripped of the title of champion after the inaugural 2005 tournament. Yet despite being allowed back for 'bullet conkers' Crann once again disgraced himself by attempting to take advantage of some screen effects and foreshortening to try and use specially made gigantic foot-long conkers which would be easier to hit. Luckily the referees saw through this immediately forcing Crann to play 'clean' with the nuts he had been allocated, eventually scoring an estimable 19 hits. However, the incident has been referred to an arbitration panel and it remains to be seen whether Crann will receive yet further disciplinary action and possible a lifetime ban from D.I.C.K.…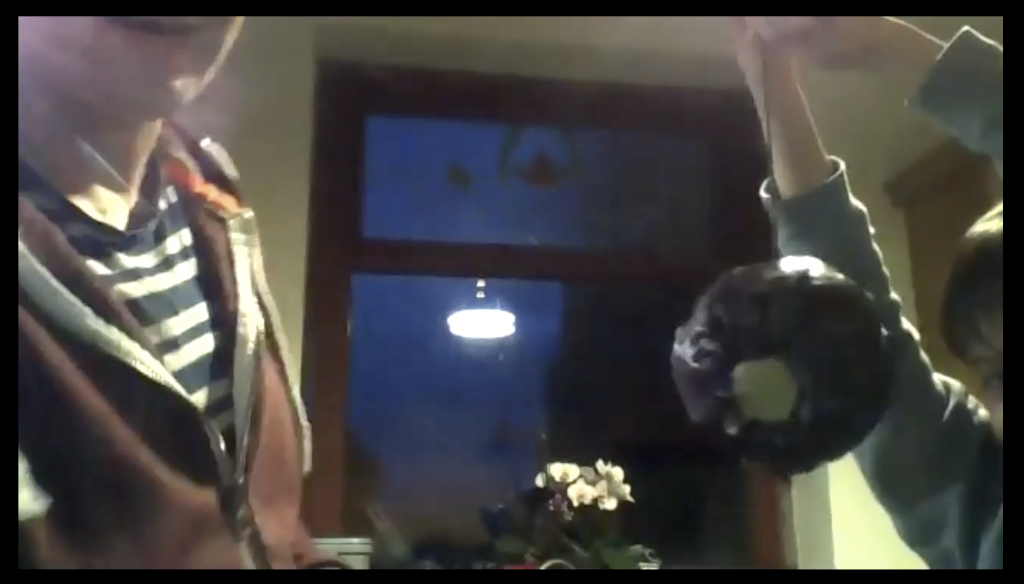 Regular players Marta and Andrew Mills then joined the fray. Marta came out fighting earlier with flurry of hits, but unfortunately then tailed off scoring 10 points after accumulating one snag. Andrew though powered through with 24 putting him in a podium position with only three of the expected challengers to come. It would be a close-run string…
Next up play turned to the Red Post Hill Stadium where earlier in the day this year's IRL tournament had taken place with Amy Hoy emerging with her first D.I.C.K. title. However, Hoy could only muster 16 hits, at least beating her young son, the nine-year-old. This was more than could be said for husband Steve who had a nightmare, scoring only 10 hits, but snagging to put himself on 8 points overall and only just making the podium in his own household. Hoy himself said he was "frustrated" and that he had "cracked under the pressure".
Ralfe 'Snagger' Rallings couldn't resist living up to his name, registering one snag but securing a perfectly mid-table 13 points overall. 2019 champion Brooke Lumicisi then stepped up but despite a late flurry of hits she couldn't quite get among the frontrunners, finishing just shy with a decent score of 20 hits – "that was TOUGH!" declared the veteran Australian.
As the tournament drew to a close the anticipation mounted with the big hitters emerging. First 2007 champion Chris Jackson linked up from a retreat in Norway where he has been spending long months honing himself for D.I.C.K. Unfortunately, though, being alone Jackson had no-one to hold his nuts for him meaning he had been forced to string from the ceiling. As the power player began it became clear this was going to be a problem as his nuts dropped lower and lower with every hit! Despite this providing problems of reach Jackson rallied to score 24 and share 3rd place with Andrew Mills.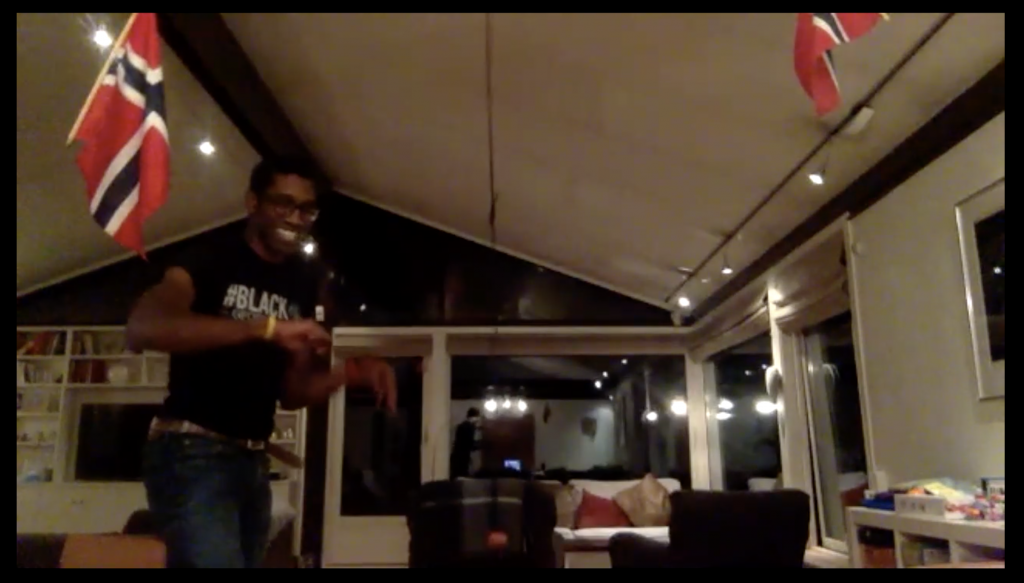 Finally, the man, the legend, the most consummate D.I.C.K. player of all joined the fray. Three-time winner Glen Whitehead carried the weight of expectation as ever, but as usual his D.I.C.K rose to the occasion and he pounded his nuts hard. But, prizing power over accuracy, the bullet format proved a little too tough for Whitehead who petered out on 22 – an excellent score, but not enough to trouble the leaders. With the 3rd place finishing level a tie-breaker was set to be instituted, but Andrew Mills sportingly conceded the podium place to Chris Jackson by virtue of the latter's additional achievement through holding his own nuts!
As the timer expired on the final match all eyes were back in Wimbledon on the W.A.N.K.-er of the day as Alex Dunlop celebrated. Whilst recognising he still wanted to take a proper D.I.C.K. title one day, nonetheless Dunlop was proud to win what he described as "the purest form of conkers". Fun as it had been, though, next year everyone is hoping to get down and dirty again with some good old impurity. 
2020 Bullet D.I.C.K. results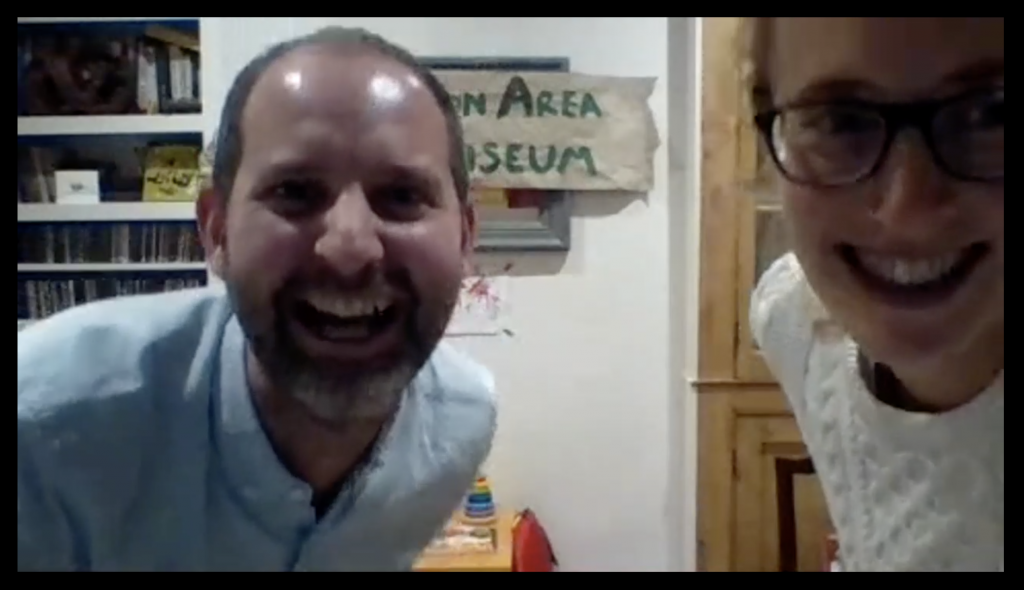 1st: Alex Dunlop
2nd: Stefan Butler
3rd: Chris Jackson
Photos