2019 – Brook-o gets wet finally grabbing D.I.C.K. for the first time
Report by Jonathan Rallings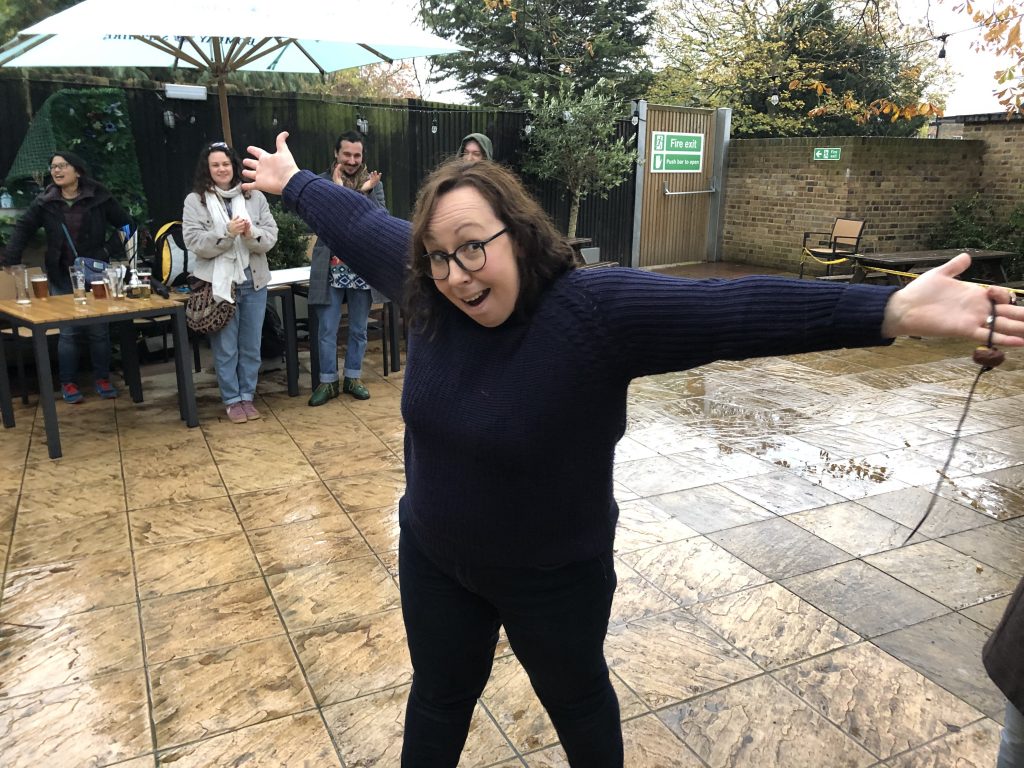 Brooke 'Brook-o' Lumicisi made history in 2019 by becoming the first Australian to scoop the most prestigious prize in conkers – the Dulwich International Conker Knockout (D.I.C.K.).  In torrential conditions at the Crown & Greyhound Conkerdrome, despite getting awfully wet 'Brook-o' saw off the challenge of Matt Cottee from the upcoming young guns of the 'Forest Hill set' to finally swallow up her first D.I.C.K. title off the third final of her career.
In truth it was perhaps the veteran's greater experience of handling the nuts which helped her triumph in a wide-open tournament featuring several newcomers. With many favourites absent this year – including Glen Whitehead and Vicky Jackson who had between them won the last five competitions – it was an unmissable opportunity for someone else to strut their D.I.C.K. credentials to the fore. And it was Lumicisi who held her nerve on a rain-filled day where the nuts were particularly hard in stark contrast to the mould fiasco of 2015.
The day kicked off with Simon de Glanville against Ralfe 'Snagger' Rallings, ever present villain of the competition.  But on this occasion, it was actually de Glanville who started the dirty play with the nuts, registering the first snag of the tournament before Rallings immediately responded in kind with two snags in his own inimitable style.  Despite being one snag from elimination and incurring a warning for a string straightening incident in mid-swing from his opponent, Rallings held on through a tight sudden death to progress with a 5-4 win, leaving de Glanville to collect the Short D.I.C.K. award for first elimination.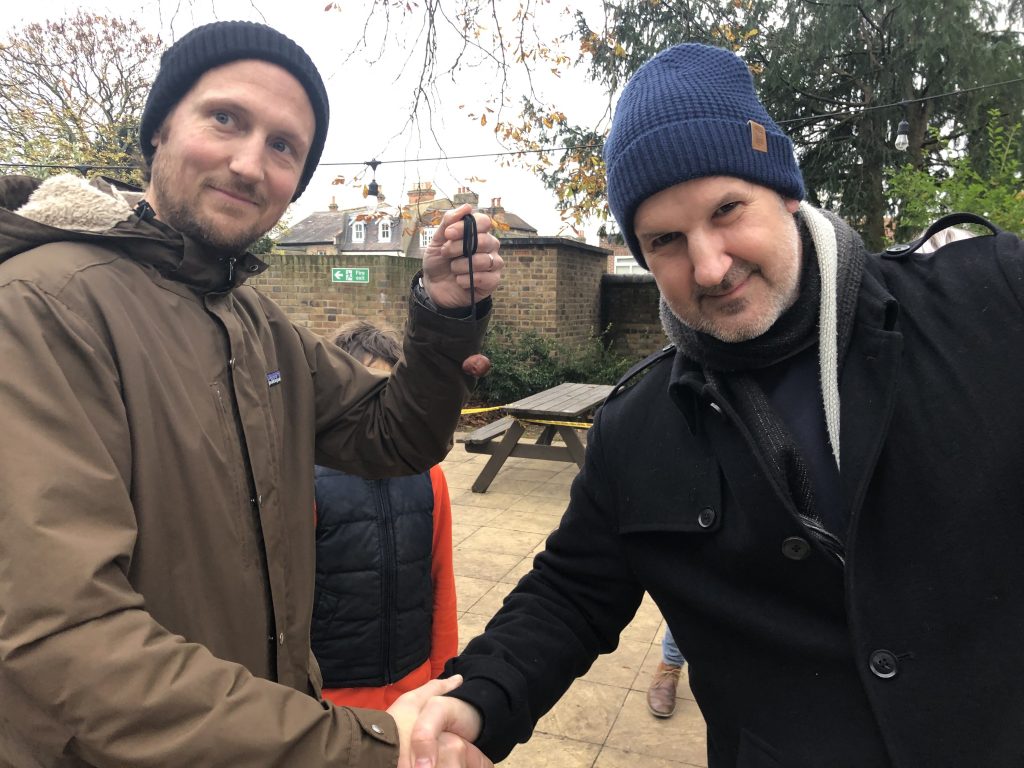 Next up Amy Hoy, one of only three people to have swung their nuts at every D.I.C.K since 2005, faced off newcomer Fuad Mosis. Hoy, famed for wearing down her opponents with her famous 'loose string' technique and hitting accuracy, looked at home with the hard batch of conkers this year. Mosis made an admirable job of his first D.I.C.K. and after a slow start improved substantially as the game progressed, holding on through a late snag to push Hoy all the way before she eventually triumphed 4-3 in sudden death.
As the rain started to teem down, husband Steve Hoy was the first former winner to enter the fray. The 2008 Champion faced off against Jake Howden – who despite only playing in his second D.I.C.K. had been widely tipped as one to watch before the start on the basis of his solid debut last year. Howden came out hitting hard rattling Hoy to the extent that he snagged with just his second shot. But gradually the game petered into a slower affair. The sudden death was enlivened by a snag for Howden then a second for Hoy before the new boy seized on another of those far too common 'off days' for the former champ seeing it through 3up&2.
Next was another young gun from the D.I.C.K. stable of youth talent.  Sol de Glanville followed in the footsteps of fellow youth teamer Alex Mills by making his debut on the big stage.  He was up against veteran Sarah Gardner who had never played with the D.I.C.K. crew before despite a wealth of nut experience.  Indeed it was a baptism of fire for the young man as Sarah hit hard, but de Glanville Jr. was a revelation – even as his conker deteriorated he refused to play defensively and kept powering on.  Indeed it took an unlikely 9 out of 9 from Sarah in sudden death to see him off in the end.  It is very much hoped this young man will return in the future as he very much has star potential.
Pre-tournament favourite James MacRae had talked up his chances intending to "build on the third place finish of last year".  However, in his first round match up against newcomer Matt Cottee his free-flowing conkers of 2018 deserted him.  The hard hitting of Cottee evidently rattled MacRae who was initially bad-tempered and struggling to find form.  But as the match wore on sadly he descended into resorting to foul play – consistently short-stringing his young opponent to try and avoid being hit, whilst registering a snag on the return.  Eventually, though Cottee's superiority showed as a massive smash powered him through to the quarter finals.  Macrae collected the new 'Dick Dastardly' Dastardly D.I.C.K. trophy for his disgraceful performance – and after showing so much promise in former tournaments it remains to be seen if 2019 was simply an off year or whether his temperament will ultimately thwart his potential.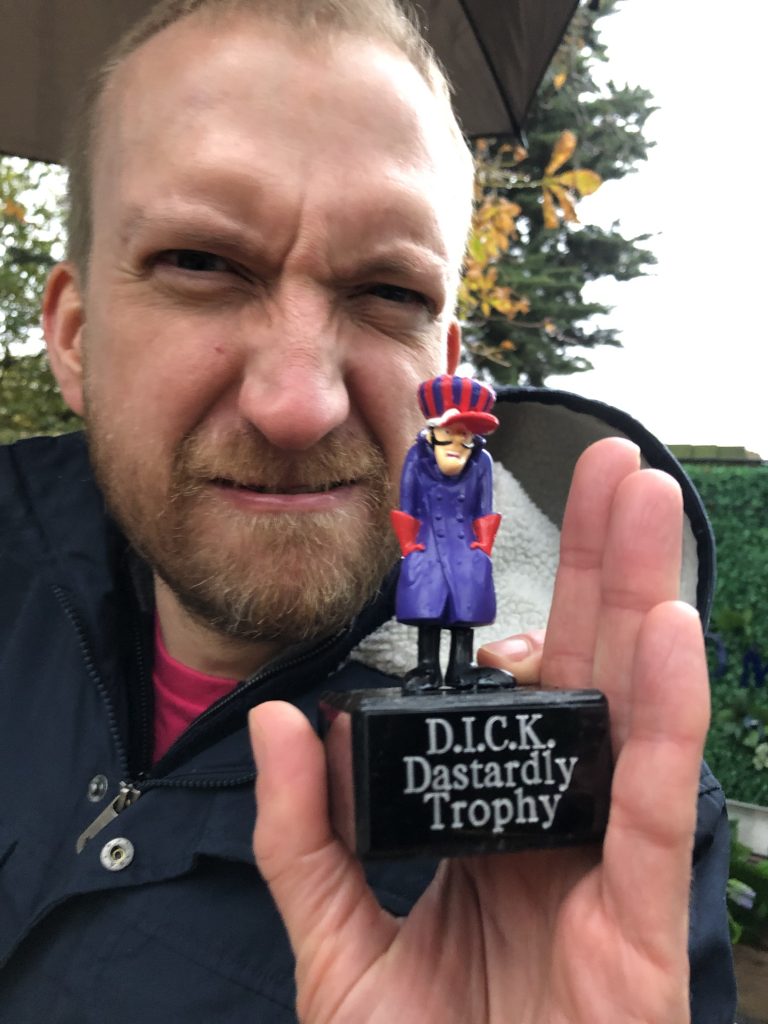 Next up were two more competitors, like Cottee, from the upcoming 'Forest Hill set'– ironically drawn against each other on their debuts. Eloise Lockyer declared herself "very nervous" as most competitors would have agreed they were on the occasion of their first D.I.C.K. But there were no such nerves for Evans who came dramatically into force immediately. Indeed, so spirited was Evans' play at one point he ripped Lockyer's conker several metres out of the Conkerdrome where it had to be retrieved for the tie to continue. But as Eloise settled into a rhythm, eventually Evans exuberance caused him to overshoot and he smashed his nut so hard it exploded everywhere, finishing his D.I.C.K. this time and sending a jubilant Lockyer through to the quarter finals.
The final match of the first round saw James Pepler tackling his seventh D.I.C.K. against last year's Dastardly D.I.C.K. winner Mark Sinclair. But Sinclair had been at pains to point out ahead of this tournament how ashamed he had been last year of receiving the mantle of 'bad boy of conkers', declaring he very much hoped to claim a new moniker of 'good boy of conkers' in 2019. And he was true to his word. In a war of attrition it was Pepler who snagged whilst Sinclair's hitting had improved substantially since his debut and he eventually progressed 2up&1. It was disappointing for Pepler, who had very much hoped to emulate the semi-final finish of wife Eleanor last year but would now have to wait at least another year.
The quarter finals began with Ralfe Rallings facing off against Amy Hoy. This was, in truth, a game of conkers as poor as a church mouse with a stack of payday loans outstanding. As the crowd's interest dwindled Rallings snagged, naturally, before Hoy snagged back. Then in the final stages of sudden death came the drama. Needing two hits off his last three swings to tie, Rallings wrapped his string around Hoy's but just as it was to be called snag by the umpire the strings unleashed… crucially without conkers being adjudged to have touched. Rallings immediately then delivered a clear snag which ended his involvement this year and saw Hoy deservedly progress to a second semi-final.
Next up Brooke Lumicisi played Jake Howden in a much more visually exciting display of nut-play. Brooke-o snagged early but hit hard and Howden then also got his eye in, opening up Lumicisi's crack that had been exposed in the first round. Just as it looked like the early favourite would be in his first semi-final he blew out with one big hit destroying his own conker. It was an unlucky end to the competition for this promising player, but it was a massive result for Lumicisi who having been so close to a D.I.C.K. before surely began to think this might be her year. This match was followed with the impressive Sarah unfortunately snagging out early with some brave but risky hitting against an impeccably gentlemanly performance from Mark Sinclair who really was rebuilding his poor reputation.
The final quarter final, though, was this year's classic.  Matt Cottee continued his powerful hitting against Eleanor 'The Elegance' Lockyer whose textbook stance with hand behind her back was a joy to watch.  Indeed despite Cottee taking chunks out of both conkers with his whirlwind play, Lockyer had really found her form with some accurate hitting of her own.  As this back and forth struggle moved into sudden death, in a massive shock to the formbook Lockyer found herself with just two hits to win off her last three.  And then tragedy struck – with her first round nerves suddenly returning.  First one, then two and finally a third snag came in straight succession.  It was a cruel way to go out but she will no doubt learn from this heartbreak to come back strong next year.  Meanwhile Cottee looked unstoppable as he shaped up for his first D.I.C.K. semi.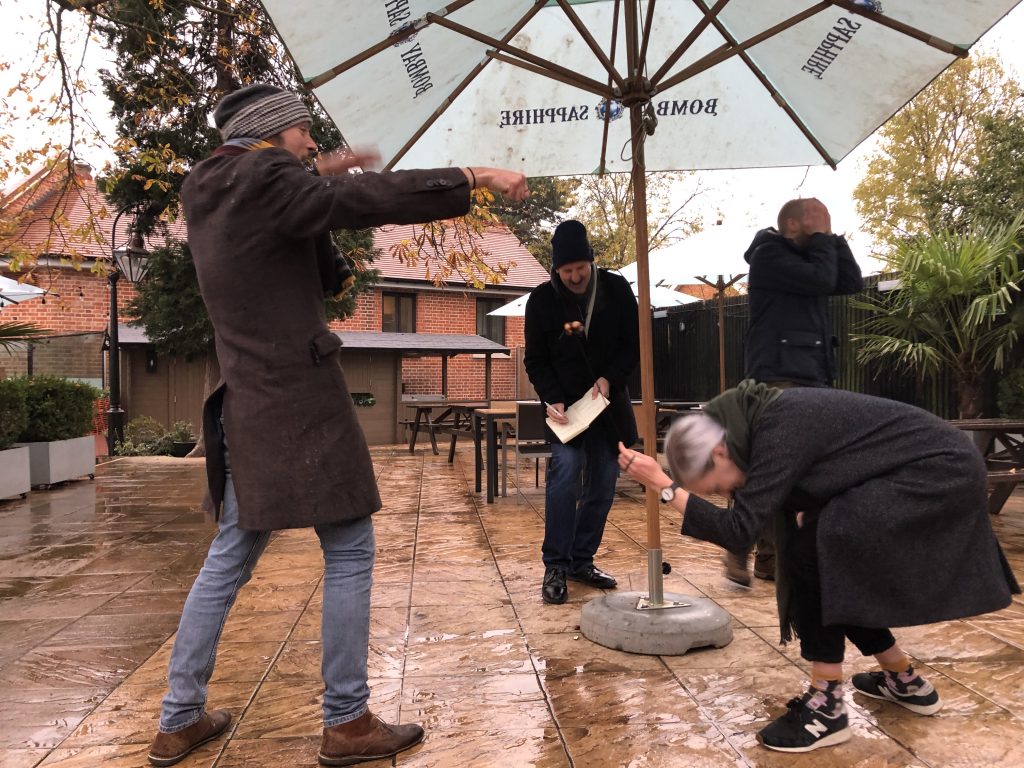 Lumcisi then returned to face Amy Hoy trying for her first ever final. But was not to be. After withstanding an onslaught from Brooke-O this match was a step too far as Hoy eventually capitulated 2up&1. Cottee then made short work of Mark Sinclair to make his first final smashing the opposing conker in just two swings. The shortest game of the day, even despite the hardness of the nuts!
Sinclair would still have something to celebrate though as a first podium finish was confirmed as he held on to see off Hoy 4up&3 after sudden death. It was a shame for Amy that she couldn't quite make that next step herself this year, but if there's one thing for sure – she will be back again to punish and be punished at D.I.C.K. 2020 without doubt.
And so the final.  Brooke Lumicisi stepped up looking very pessimistic but once Cottee started swinging her mood changed as on the very first hit his conker started to break.  As Brooke-o hit hard Matt hit back taking more off his own nut than his opponent's.  Even with no shell, though, Cottee proved the Forest Hill Set play the game the right way as he continued with an attitude of death or glory.  The match then swung back again as Lumicisi incurred a second snag to Cottee's one, forcing her onto the back foot and more defensive play.  But there was a twist in the tale – as the game entered sudden death Cottee stepped up and snagged twice on his first two hits and his dream was over.  
Before the 2019 tournament got underway the organisers confirmed that the R.Kelly cup would be retired after the unsavoury allegations and court case over the past year surrounding US R&B namesake of 2009 champion and sponsor, the unfortunate Ray Kelly.  Having won it four times that was would now be kept by Glen Whitehead, and replaced with the J.Rallings trophy which was duly presented to the new winner – Rallings' wife.Brooke-O could hardly conceal her excitement even amid the drenching downpour in the Conkerdrome.  Echoing a phrase popularised in this country by her antipodean sporting compatriot, Ian Thorpe, she exclaimed "Winner Winner Chicken Dinner" – and indeed she celebrated with one at Lewisham McDonalds a few beers later, mate…
2019 D.I.C.K. results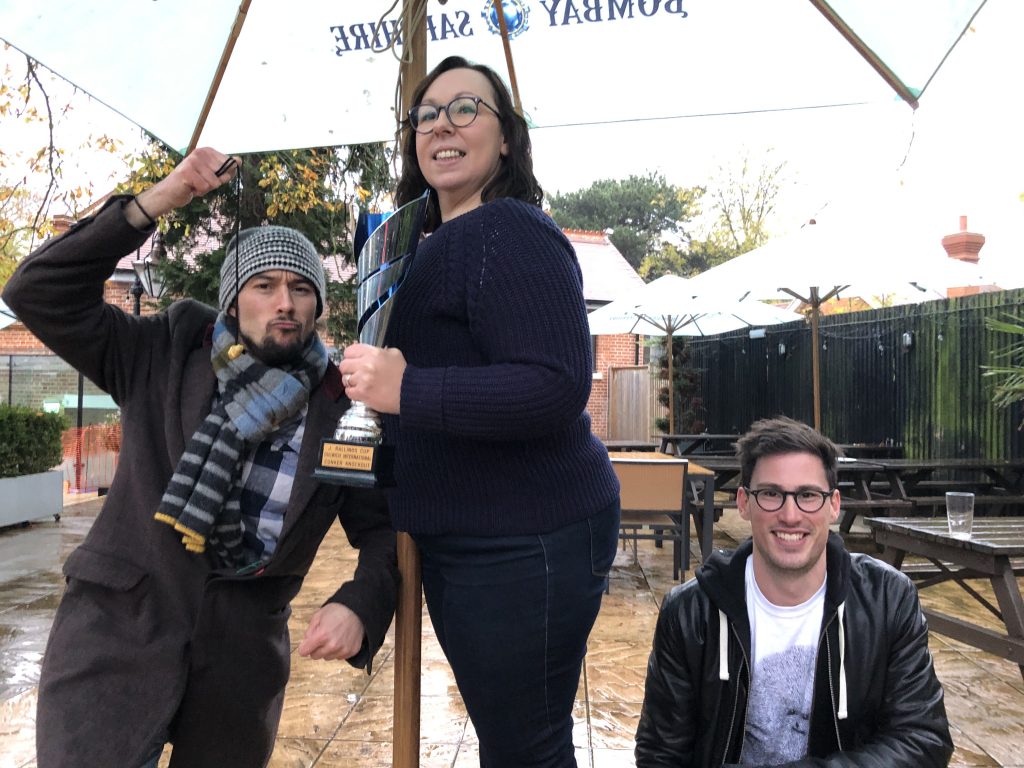 1st: Brooke Lumicisi
2nd: Matt Cottee
3rd: Mark Sinclair
Short D.I.C.K prize (the 1st person knocked-out): Simon de Glanville
Dastardly D.I.C.K prize (for unsporting behaviour): James Macrae
Photos