Jackson proves invincible as he wins D.I.C.K. title
Report by Jonathan Rallings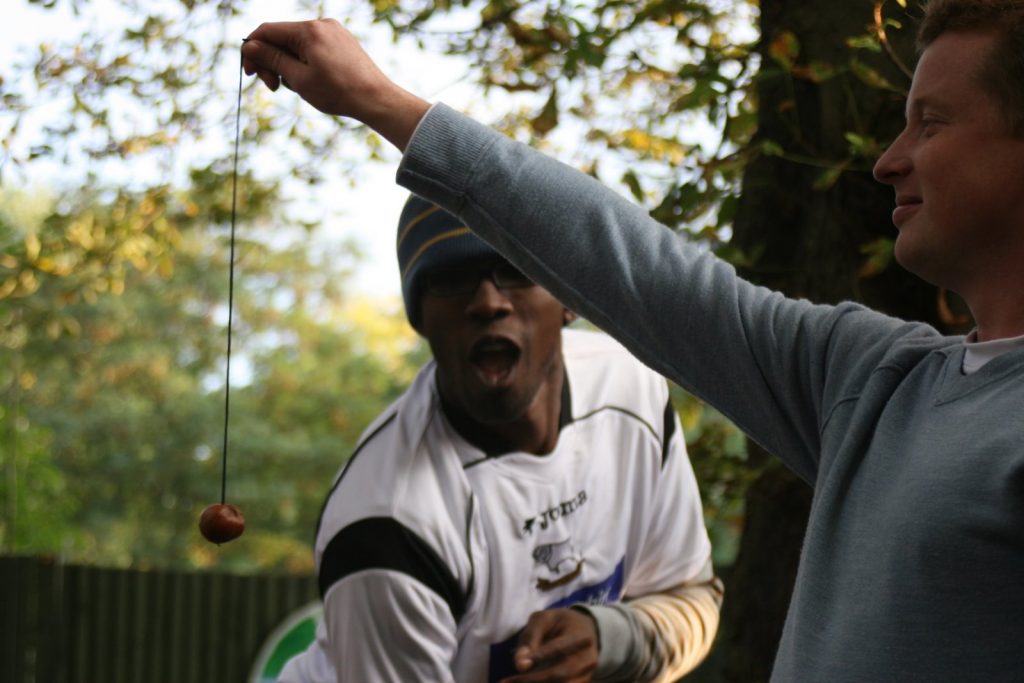 The 3rd Annual Dulwich International Conker Knockout (D.I.C.K.) took place on Saturday 6th October 2007 with Chris Jackson managing to live up to his personally-trumpeted pre-tournament hype by humiliating all in his wake to take the prestigious title in breathtaking fashion.  The sartorially-challenged Jackson, donned in full Derby County kit, also set a record for quickest ever win in a final triumphing in just 8.5 seconds!
This year's tournament was again held at the Crown and Greyhound ground, the venue proving to have been such a success last year that plans to return to the Red Post Hill stadium have been now been scrapped, with the site redeveloped for housing.  Much excitement was also generated by the unveiling of the new D.I.C.K. cup with its name for this year up for grabs in a sponsored vote poll.  In the end despite some last minute horsetrading the "The R Kelly Cup" won by the expected landslide. Rumours that one of the disgruntled losers in the poll, Jim Reece, is planning to change his name to Usher for next years vote are as yet unconfirmed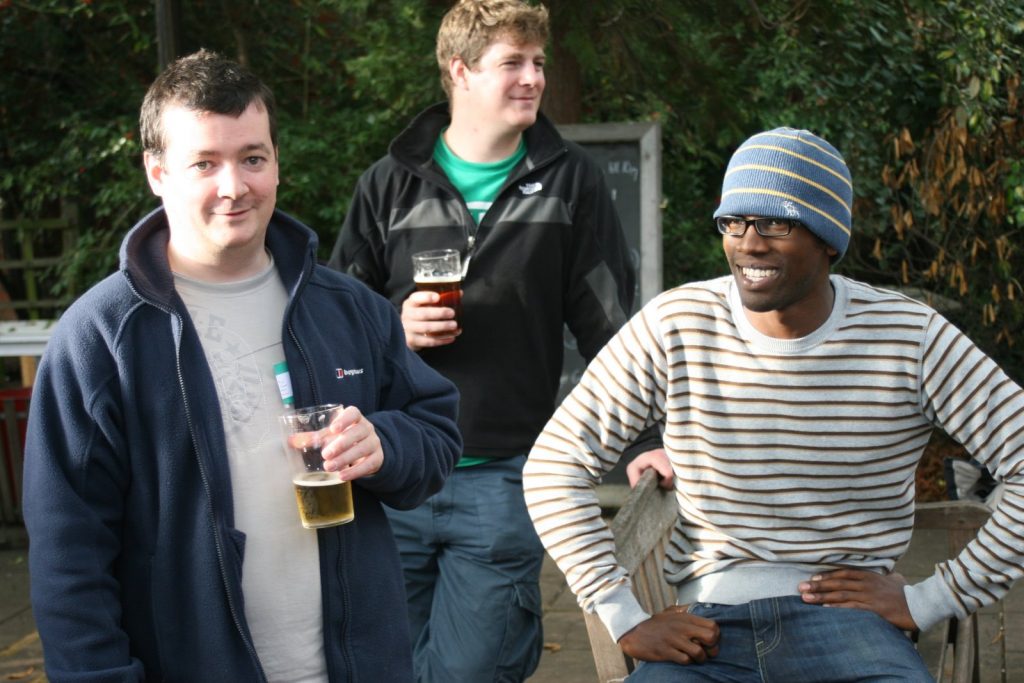 An overspill of competitors meant that this year for the first time a qualifying play-off was required.  Although the draw for this was made randomly, it was somewhat appropriate that the two unfortunates were Steve Hoy – a regular D.I.C.K. whipping boy – up against Phil Crann, still trying to rebuild his conker career after his spectacular fall from grace following the infamous 'vaseline affair' in 2005.  Crann's reputation took a further blow when his opening shot illegally threw Hoy's conker into a thicket never to be seen again, forcing an unprecedented restart.  However Hoy recovered his composure to record his first win in competitive conkers, seeing off Crann in less than 6 hits.  However, his joy was short-lived when his new conker for the first round exploded in just five hits against rookie competitor Tommy O'Neill.  Although Hoy attempted a restring, his shrunken and disfigured nut was always going to be crushed on the very next hit.
Game 2 saw 2005's default winner (following Crann being stripped of the title) Pete Campion-Spall come through a tense occasion against Catherine Morgan.  Catherine made the early moves with a phenomenal hit rate but soon sustained damage, and Campion-Spall exploited her crack for all it was worth.  Game 3 matched "Maximus" (another attempt at name-changing by Reece) against close friend on the circuit Matt Williams.  Maximus's experience made him strong favourite for the tie, but in the end he sustained a split conker which Matt was able to take advantage of to put "the gladiator" out.  In a sad sight, a petulant attempt by the under-pressure Maximus to pull up his conker to avoid a hit saw him penalized to face an extra swing. He will now be waiting anxiously to see whether D.I.C.K. officials take further action in the form of a fine or a ban for this unsporting behaviour.
Game 4 provided one of the shocks of the tournament.  Ralfe Rallings back for his third D.I.C.K., and determined not to incur snagging disqualification this year, was simply outclassed by a tremendous performance from Vicki Maitlin.  Her 90%+ hit-rate for this match was a tournament record, however 'dirty' Rallings still managed to incur two snags before the inevitable.  Game 5 pitted Amy Hoy against Laura Hamilton.  This tense affair may have lacked the flamboyance of earlier matches, but it was nevertheless a fascinating and closely matched contest.  Eventually the deadlock spilled into extra-time, with Hamilton securing victory with five hits out of six – although by this time Hoy's nut had been chipped away to very little.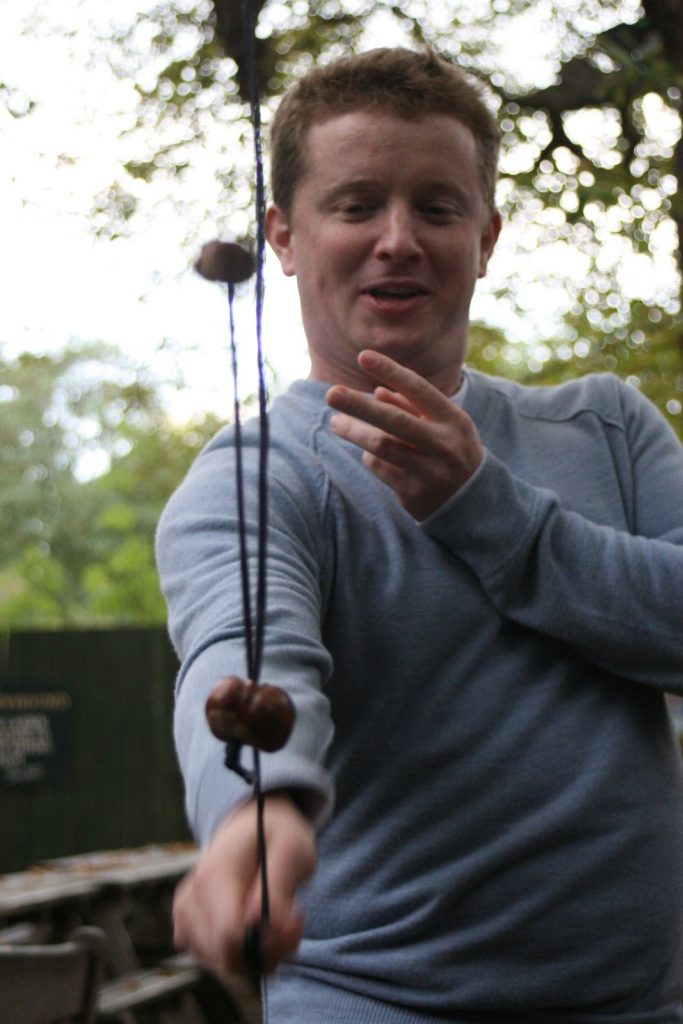 Game 6 saw the man who donated his name to the trophy, Ray Kelly, step up to the plate against Kat Campion-Spall.  In the end this was a dull and ill-tempered affair, not helped by Kelly's constant sledging and gamesmanship.  It was however, enlivened by an edge-of-the-seat tie break which was won by Campion-Spall after Kelly missed the very last swing of the match.  Game 7, just as last year, pitted the two Chris's – Jackson and Balmer – together.  Two of the best players in the tournament, this lived up to its billing with superb hitting from both sides.  Balmer perhaps shot his bolt by coming out too early with big hits, whereas Jackson tactically waited for his chance and took advantage of the damage Balmer had sustained to reverse the previous year's outcome.  The final game of the first round paired Glen Whitehead against Hayley Parsons.  Although there was tough talking from Parsons before the match, Whitehead split her conker early on with a single accurate hit to progress to the second round.
The first match of the quarter finals saw O'Neill unlucky to never get going against Pete Campion-Spall, his nut imploding early after what appeared to be only a minor hit.  The second match was much tighter as Matt met Vicki.  An opening snag by Matt signalled that he could be in trouble, but after taking some blows he decimated Vicki's nut with one good hit.  Although her nut could be restrung Vicki couldn't hold on to the extra time where she would have undoubtedly made her hit rate count.  The all-female match of the round saw Laura meet Kat, and another very tight game ensued.  Unfortunately for Laura she snagged twice in the early stages, and despite shutting down to try to get to overtime, she managed to snag a third time late on to see her disqualified and see Kat stroll through to the semis.  The final match saw the cocky Chris Jackson talk himself up against Glen Whitehead – but his words were not misplaced.  Both men had large and well rounded nuts, but it was Glen's who withered under the relentless onslaught of Jackson's pummeling.
Competitors were offered the chance to take new conkers before the semi-finals, with Campion-Spall and Jackson opting to retain their current nuts.  The first match pitted Matt against Campion-Spall.  This was one of the matches of this year's tournament – a high-octane display of conkers at its best.  In the end Campion-Spall's experience at this stage probably helped him, but the great hit-rate from both players meant Matt could hold his head high even in defeat.  It was the other semi-final which provided enough controversy to last all year.  Jackson asserted his dominance early on displaying incredible power, but despite being 2 snags down, and restringing her conker after almost every hit, the resilient Kat Campion-Spall kept alive the dream of a first husband-wife final, all the way to overtime.  The pressure was telling on an exasperated Jackson, who vented his fury at what he perceived as favouritism towards the umpires and the crowd.  However, finally he managed to finish her off with a few swings left to make the final.
After such high emotions it was almost inevitable that the remaining matches would be tame affairs.  Matt destroyed the heartbroken Kat in the third place playoff with a devastating blow, despite a great hit-rate from Campion-Spall in the early stages.  And the final never really started as Jackson's swagger and maybe sense of injustice smashed Pete Campion-Spall's conker in the quickest time possible.  In a magnanimous gesture Jackson donated the prize fund of over £1,150 to charity.  Although this was expected to be Derby County's 07/08 transfer fund, it turned out to be CLIC Sargent cancer care.  He, and everyone else, will be surely be hoping they will "CLIC" next year and seize the title of King of D.I.C.K. for themselves.
2007 D.I.C.K. Results
1st: Chris Jackson
2nd: Pete Campion-Spall
3rd: Matt Williams
Photos