Ginger Nut Cracker: Pete experiences second D.I.C.K. the way his first time should have been
Report by Jonathan Rallings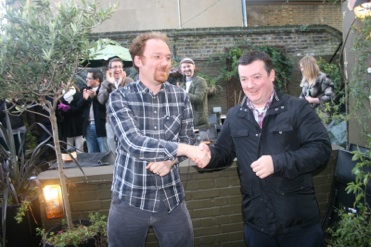 On a day of high drama all round Pete Campion-Spall – the 'Ginger Nutter' – made history, becoming the first man to win the Dulwich International Conker Knockout (D.I.C.K.) twice with a devastating one-blow, one-second victory over another former winner, Ray Kelly, in the final.
It was a fairytale for Campion-Spall who had very nearly opted not to compete in 2012 after becoming a father again just a fortnight before, particularly given his 2005 win had only come after the retrospective disqualification of the "Lance Armstrong of conkers" Phil Crann following a nut-tampering scandal.  Tasting victory in front of a packed Cambria arena was made even sweeter the fact that Crann – booed throughout – was one of the opponents Campion-Spall overcame on his way to victory.
No-one could have predicted the drama to come as the eighth D.I.C.K. contest started quietly with defending champion Glen Whitehead meeting newcomer Kylie Clark – another of the increasing number of antipodeans competing at D.I.C.K. in recent years.  An uncharacteristically nervy Whitehead made heavy weather of this match, eventually seeing her off 4up&3 in a tie-break after facing down some heavy hitting from his rookie opponent.  As the first competitor to depart though, Clark picked up the new James Reece / Matt Williams short-D.I.C.K. trophy for conkering endeavour.
Next up was newbie Paul Ryan Carberry versus the inveterate Steve Hoy.  2008 winner Hoy had the best of the early skirmishes and Carberry was forced further on the back foot after incurring two snags leaving him close to disqualification.  But as has been seen so many times in the past, Hoy's luck was not with him as he managed to destroy his own conker allowing Carberry to progress.  Their match was quickly followed by the Welsh Whizz, Andrew Daniel, up against Alex Dunlop, playing his second D.I.C.K.  Daniel's hard hitting gave him the early edge, but Dunlop soon responded by taking a sizeable chunk out of his nut before proceeding to deliver the knockout blow.
Ralfe 'Snagger' Rallings returned to the fray next to face Dan Johnson competing in his first D.I.C.K.  Rallings stayed clean with no snags for a change, but looked a long way off his 2009 finalist best.  Indeed, had Johnson not suffered an unfortunate early perforation in his nut he would have been a shoo-in for glory – but instead he blew his chance in a death or glory attempt at a knockout when some felt a more cautious strategy might have paid greater dividends.  Rallings' opponent in that 2009 final, Ray Kelly, then also scraped through the prelims with a strained victory over the hapless Ang Crann in a poor quality match which Kelly edged out 3up&2 in a tense tie-break.
The final match of the preliminaries saw sisters-in-law Suzie Butler and Brooke Lumicisi face off in a family affair.  But there was no love lost as the Australian Lumicisi displayed some of her pounding front that has secured her reputation as the 'Thunder from Down Under', marching through with a knockout in two minutes.
The last 16 kicked off with one of the best D.I.C.K. games ever seen as new boy Terry Boyce took Glen Whitehead all the way in a tumultuous and tempestuous ride.  Boyce first edged open a crack and then exploited it ruthlessly, but Whitehead clung on for the hit-off tie-break.  Then needing just one hit to win, the defending champ missed a golden chance to win after the regulation nine hits – leading to not one but two rounds of sudden death, Whitehead finally triumphing 11-10.  Boyce declared himself "disappointed, obviously", but vowed to return stronger next year – and on the form shown here may well be a bright prospect for the future.  Boyce's heroics were followed by the return of another young Cambria debutant – Paul Ryan Carberry – who literally annihilated Kat Campion-Spall with a composed display of conkers beyond his years.  Indeed the reaction in the arena to the impressive performance was such that it was clear the down-to-earth Carberry was connecting with the crowd and fast becoming the people's champion on the day.
Pete Campion-Spall on the other hand had a slow start against Alex Dunlop.  Indeed the eventual winner had a snatch of good fortune for his D.I.C.K. triumph suffering an early crack before Dunlop unluckily imploded his own nut.  Lumicisi then returned to play Marta Mills who was returning after a year off in 2011.  In the early stages it looked like a non-contest with Lumicisi firing hard and fast, but somehow leading Polish player Mills fought back to win her first competitive conkers match since 2006 on a tie-break, 4up&2.
Step forward the pantomime villain as Phil Crann returned to D.I.C.K. for the first time since 2008, playing 'the delectable' Holly Harris, appearing in her 3rd consecutive tournament.  The highly partisan crowd put their full weight behind the plucky Harris, but she was unable to prevent Crann powering through.  Amy Hoy and Ella Jordan then served up a real war of attrition with a low hit rate, Hoy eventually prevailing 3up&2 in a tie break to make the quarter finals for the first time since 2009.  
Next 'Snagger' Rallings faced off against Steph 'The Hoff' Haugh in a repeat of a match he had won just 12 months before.  But a year is a long time in conkers and this year the young Aussie showed just why she is turning so many heads in nut circles, forcing Rallings onto the defensive – and of course an inevitable unsavoury snagging incident – before destroying him with the last shot before a tie-break.  Ray Kelly then played Andrew Mills, who had finished in third place in 2011.  Kelly again rode his luck in chasing the R.Kelly Cup, which bears his name, and withstanding some early pressure from Mills before seeing his opponent implode.
The quarters began with Paul Ryan showing a few nerves in the face of his newfound fame, lacking his previous consistency against a dogged Glen Whitehead.  The match went all the way to a tiebreak before Ryan finally saw off the reigning champ in sudden death.  Steph Haugh then displayed more of the good form she had showed from the previous round, powering past Amy Hoy and onwards to the last four.
But now it was the big-ticket moment as Pete Campion-Spall finally faced off against old enemy Phil Crann for the first time since the now discredited 2005 final.  It was clear this was a heavyweight contest with both players slugging away attempting to exploit the cracks emerging on each conker, but this time it was to be Campion-Spall's day as he shattered Crann's nut with a devastating hit.  The final quarter final again saw another lacklustre Ray Kelly performance – this time against Marta Mills who pushed him all the way.  Eventually though Kelly's nut held firm as Mills blew it at the last, crashing her own conker early in the tiebreak.  It was to be Kelly who would have a semi again this year.
Indeed, he stayed put in the arena to face Steph Haugh immediately in the last four – and again rode his luck as 'The Hoff' had the better of the match but was edged out by some accurate hitting in the tiebreak from Kelly.  It seemed almost as though the Northern Irishman was taking the Michael with the manner of his course to the final – although the joke was actually on him as every round he progressed apparently delayed his departure to a George Michael gig.
But it was the second semi-final, which was surely to be the match to go down in D.I.C.K. history.  Pete Campion-Spall played Paul Ryan Carberry in an incredible game which saw the novice Carberry incur an almost devastating blow to his conker on just the second hit.  Further incursions by Campion-Spall meant it was surely just a matter of time before destruction, but incredibly Carberry somehow held on with just a sliver of nut to force the tie-break.  Then even more drama as on his 5th play-off hit Campion-Spall's conker flew off, forcing a re-string as the crowd watched on agape.  Finally, another re-string hence, the Ginger Nutter eventually progressed 6-5 after 12 hits apiece.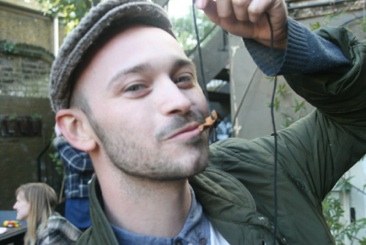 Ryan, visibly disappointed after such a narrow defeat, fell apart surrendering the 3rd place play-off to Steph Haugh after being disqualified on the 3 snags rule.  It was a cruel end to what had looked a promising day for the newcomer but he promised to return for another crack next year.  Which unfortunately will not be the case for 'the Hoff' who now has to retire from professional conkers due to visa issues – she apparently hopes to taking up 'gumnut fighting' when back home in Australia.
So to the final – and Campion-Spall couldn't believe it as his very first swing shattered Kelly's conker and he achieved the glory that had eluded him both in 2005 and also 2007 where he had finished runner-up.  It was a fitting end to perhaps the most exciting D.I.C.K. ever… until 2013 of course.
2012 D.I.C.K. Results
1st: Pete Campion-Spall
2nd: Ray Kelly
3rd: Stephanie Hough
Short D.I.C.K prize (for the 1st person knocked-out): Kylie Clarke