Jackson makes it a thriller night for D.I.C.K. fans
Report by Jonathan Rallings
Vicki Jackson produced one of the biggest shocks to the D.I.C.K. ever, coming from nowhere to win the trophy for the first time.  Perhaps it was inexorable, in a year in which Leicester City could win the Premier League and the Chicago Cubs ended their 108 year wait for a World Series, that there would be a surprise shake up in the world of Dulwich conkers too.  But even Jackson's husband – former D.I.C.K. champion, Chris – who she cut down in the semi, admitted he'd "never in a million years" have backed her for the title.
Her triumph was all the more remarkable for the fact that it came only five weeks after she considered dropping out of this year's competition having just given birth to her third child.  But taking inspiration from heroines such as Jessica Ennis-Hill, Jackson opted to take part on limited preparation – a decision she will now see as fully vindicated, even if it did mean leaving others to hold the baby for a time.
Vicki's success, though, tells only part of the story of a wonderful competition which will surely rate among the best D.I.C.K.s experienced by those present at the Belair 'Nut-ring', the third time it was held at the venue in its new 'invitation-only' format.  The first indications this would be a special tournament came in the very first clash – a 'Diamond Lights' derby for Glen (Whitehead) and Chris (Jackson), the first match between these two giants of D.I.C.K. for nine years.   The early skirmishes saw reigning champion Whitehead more accurate, but nut momentum soon swung in 2007 victor Jackson's favour as Glen's conker punctured.  Faced with a choice of playing submissively or taking a chance, Whitehead opted to pummel his nut against Chris – but playing so hard inevitably saw him explode prematurely.  Putting a brave face on things he declared it had been "a choice of being a wuss or going out in a blaze of glory", but it was nonetheless a big come-down for the all-time champ as he collected this year's Short D.I.C.K. trophy.
Game 2 saw ever-present competitor Amy Hoy step up against one of two debutantes at the 2016 event, Simon de Glanville.  Against relentless pounding from de Glanville, Hoy played her usual cautious game of accuracy over power, riding a sna along the way – and the novice's inexperience ultimately showed in the tie-break as Amy edged through 4-3.
Next up saw Dan Johnson face off against Ralfe 'Snagger' Rallings.  It was evident from the off that Rallings, always a disciplinary wild card, was not necessarily in the right frame of mind for this tournament.  But he started at a pace landing more hits, and an early break in Johnson's conker gave him good advantage even despite the inevitable snag he incurred.  But Rallings couldn't exploit Johnson's crack, and as the game moved into overtime it was clear he was increasingly rattled.  Rallying to 5-2 up he thought he was there, but an astonishing 100% from Johnson off his final three took it to sudden death where Rallings fell apart missing all three of his next shots – even then Johnson looked like he might crumple under the pressure until Snagger outrageously yanked his nut up on the final swing bringing the full wrath of the D.I.C.K. umpires down on him, while Johnson took full advantage of the bonus swing to go through.  A petulant Rallings sulked off complaining about being "sold down the river" with a short string – and although his concerns appeared to be justified as his lace was a good third shorter than other competitors', the committee rightly asked him why this had not been challenged before the match.  Rallings would go on to pick up the Dastardly D.I.C.K. trophy for unsporting play – the only surprise about that was how it happened to only be the first time he had received this award…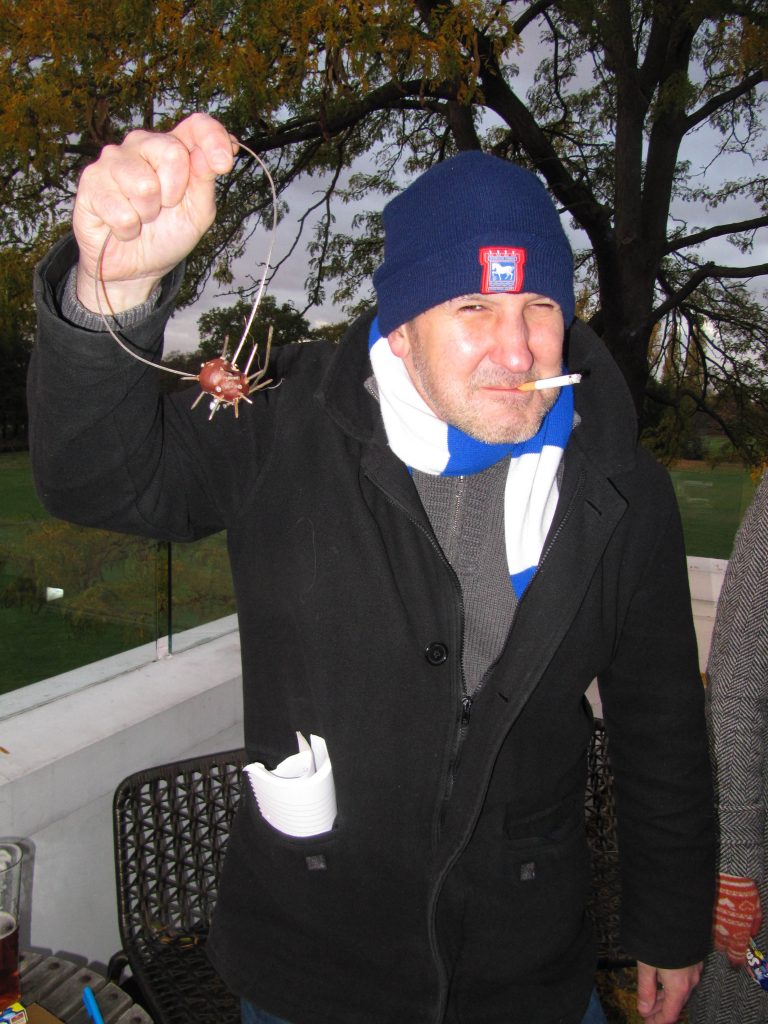 Next up Brooke-O Lumicisi, "the thunder from down under", took on the other debutant, Joy Green.  Lumicisi, currently the highest ranked woman in the sport, was firm favourite, but Joy proved far from green when it came to holding her own with a nut.  The power and accuracy of the exciting new challenger eventually triumphed, ruthlessly destroying the Australian's conker in overtime, the tie-break delicately poised at 3-3.  Then the final match of the first round saw an all-Sussex clash between James Clarke – back for his first D.I.C.K. in five years – against 2008 champion, Steve Hoy.  The more experienced Hoy burst out of the traps fiercely as the ring-rusty Clarke (had he had a curry the night before?) struggled to find a way into the game.  It looked like Hoy would wrap this up, but as so many times before bad luck befell him as he managed to burst his own nut on a wild swing to put James safely through.
And he was back up in the quarter finals immediately facing the previous year's runner-up Andrew Mills.  Again Clarke, playing a long-string game, looked out of his depth against the more accurate Mills. But again luck appeared to be on the comeback kid's side as Mills discovered to his chagrin he had selected a mouldy conker which began to disintegrate eventually imploding.  This was disappointing for the D.I.C.K. organisers who had worked hard to avoid the mould problems which beset last year's tournament – although improvements were clear, this incident highlighted that there is still no room for complacency on this front.
Joy Green then returned to face Sophie Johnson in her first match since she crashed out in 2015, collecting the Short D.I.C.K. trophy on the way.   Green once again came out impressively hard-hitting even against Johnson's own skill with the nuts.  It was no Joy for the newcomer in the end, as the more experienced Johnson eventually triumphed 7-6 in a hard fought tie break, but Green certainly won plaudits from the crowd for her dynamic style of play.  It is hoped that there might be a bright future in the game for her in years to come.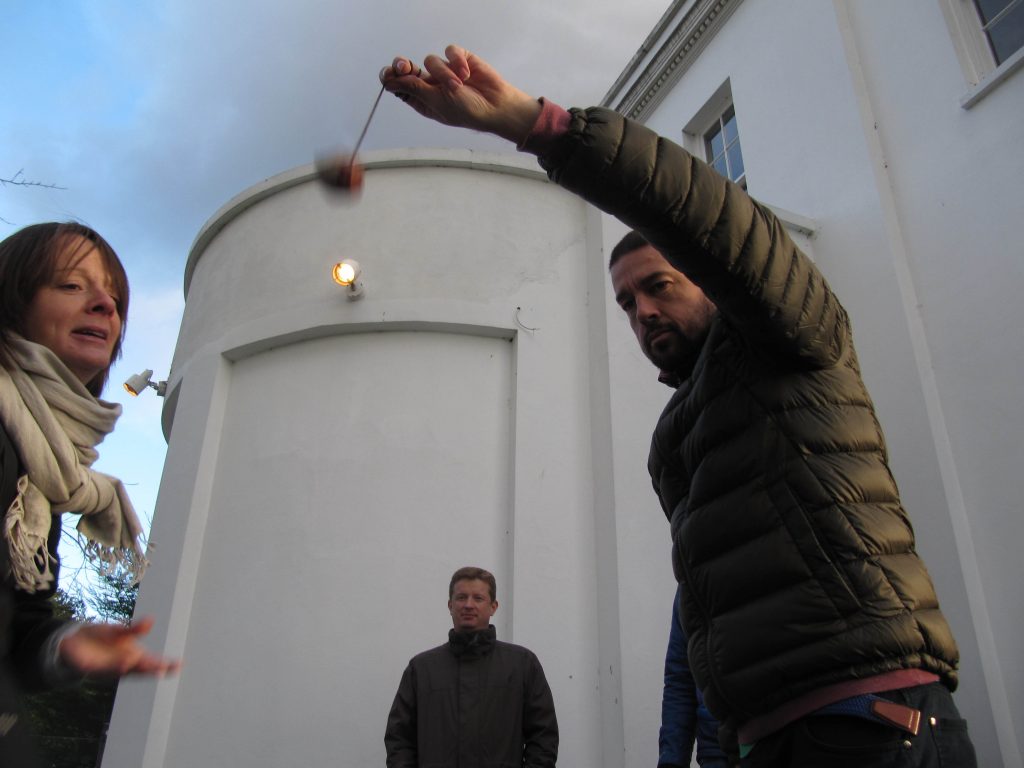 Vicki Jackson then got her competition underway with a war of attrition against Dan Johnson.  Despite no lack of effort with his trademark 'follow through' swings, Johnson never seemed quite himself this year.  After a slow start Jackson eventually started getting her eye in and secured victory in the tie break 4up&3.  The final quarter saw Chris Jackson take on Amy Hoy in a battle between perhaps the biggest hitter of the game and the most tenacious tactician.  Each player registered two snags to put the game on a knife-edge before Jackson edged through for the second consecutive 4up&3 tie-break win of the day.
So the scene was set for a pulsating finish with three of the four semi-finalists never having reached this far before.  First up was James Clarke playing Sophie Johnson, with Clarke retaining his successful conker from the previous round while Johnson opted for a new oddly shaped nut.  The nerves really showed in this match with a low hit rate throughout.  Then just as Clarke thought he had secured a place in the final after going 6-3 up in the tie-break with three to play, Johnson pulled an incredible comeback out of the bag to eventually win 7-6.  Straight up next was an eagerly anticipated Jackson v Jackson clash replicating the former fixture of 2015 and 2010. Both ties had previously gone Chris's way but the husband and wife had never met at this heady stage before.  Amid the customary bickering giving this game a bizarre Terry and June-esque feel, it was clear that Vicki was confident this year – and that confidence was not misplaced as she won 3up&2 in a tight tie-break to set up an historic first ever all-woman D.I.C.K. final, and guarantee a new D.I.C.K. champion for the first time in three years.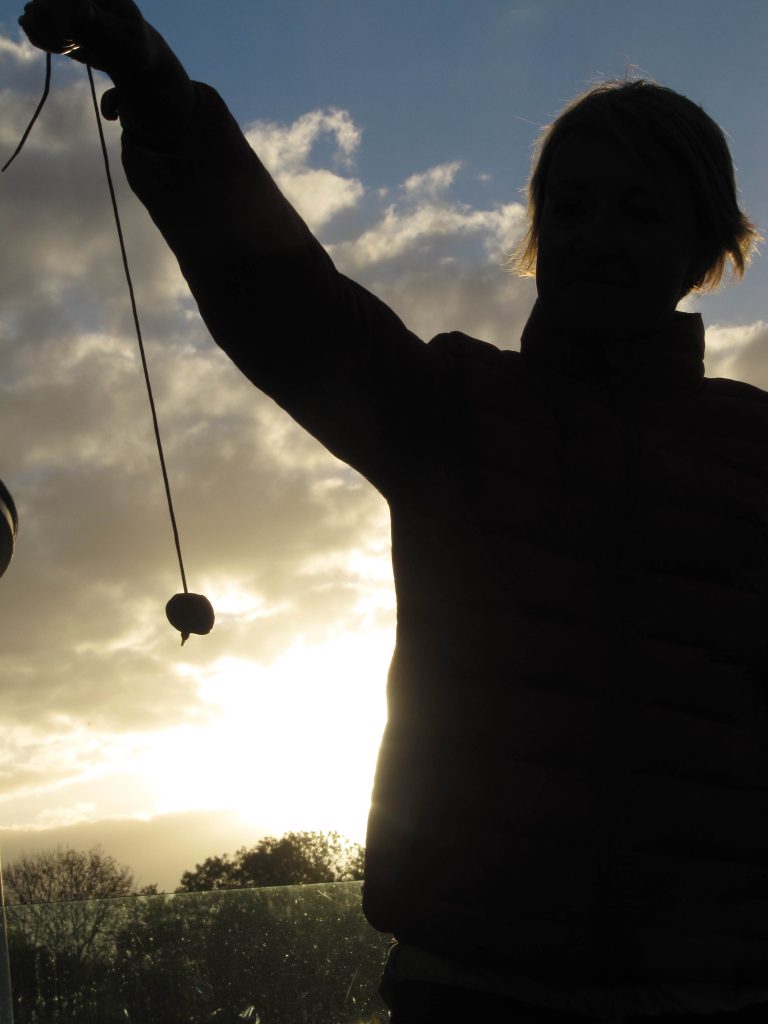 The third place play-off saw Clarke finally find some form against the powerful Jackson, but ultimately the podium was to prove a step too far as he was destroyed in overtime.  And then came the final.  As had been the way of 2016 – a year in which the big hitters were edged out by more accurate players – both Sophie Johnson and Vicki Jackson contributed to a show of breathtaking skill with nut hitting nut more often than not.  As the game edged close to overtime the snags racked up, first from Jackson then Johnson incurring two.  Inevitably another tie-break emerged, but this time Johnson couldn't rekindle her semi performance, with Vicki winning conclusively 5up&4.  It was a wonderful moment for as the new champion realised her achievement – only the second female D.I.C.K. holder, and certainly the first to do so so soon after pregnancy.  As Jackson savoured the occasion with her young family it was clear it will take a lot to Beat It…
2016 D.I.C.K. Results
Winner of the R. Kelly Cup: Vicki Jackson
Runner-up: Sophie Johnson
Third-place: Chris Jackson
Short D.I.C.K prize (the 1st person knocked-out): Glen Whitehead
Dastardly D.I.C.K prize (for unsporting behaviour): Jonathan Rallings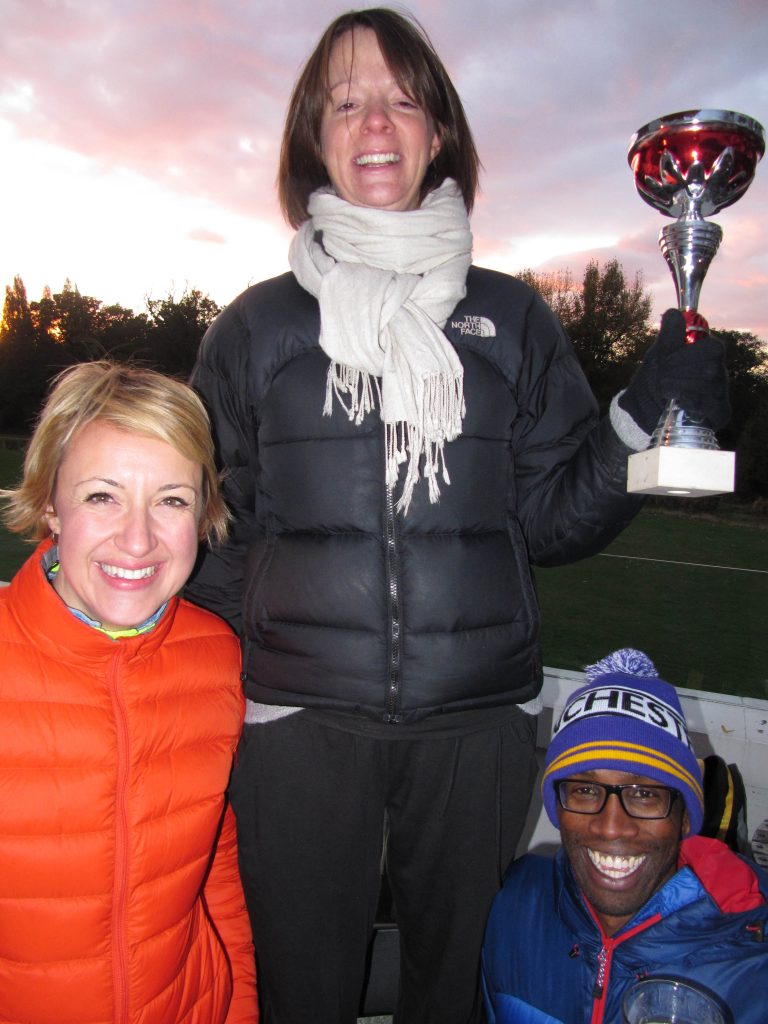 Photos