Jackson takes the michael as Dunlop tires
Report by Jonathan Rallings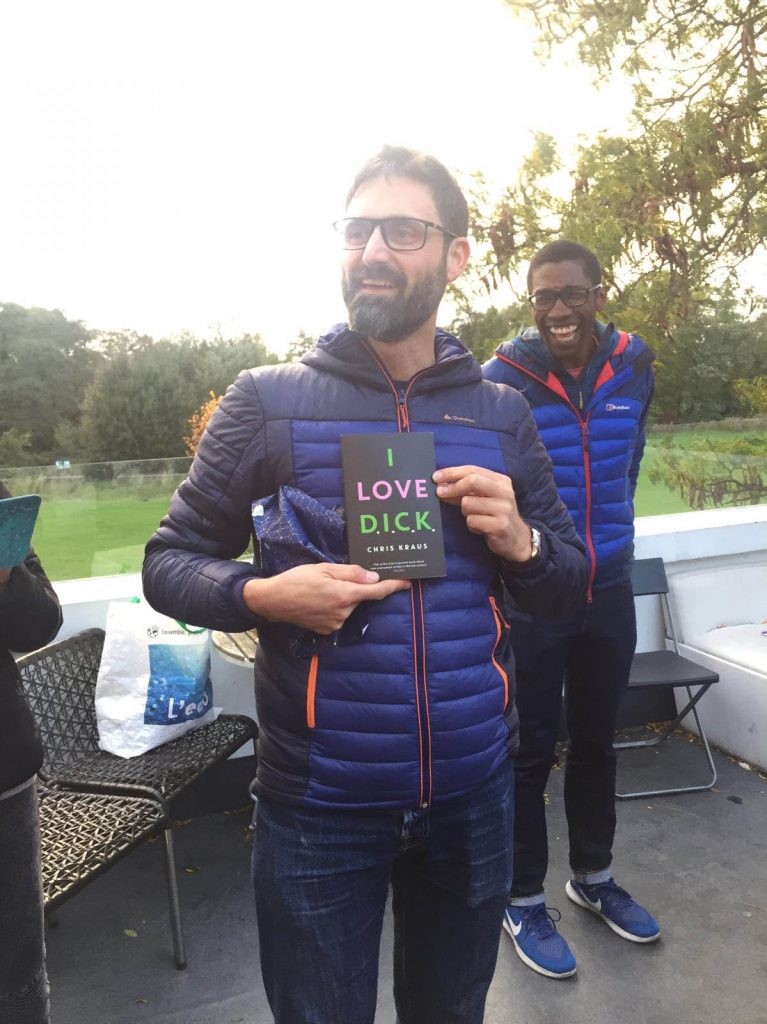 In a feat almost more remarkable than last year's fairytale triumph, Vicki Jackson shrugged off the pressure of being defending champion to win the Dulwich International Conker Knockout (D.I.C.K.) for the second year in a row.  In blustery conditions at the Belair 'Nut-ring', Jackson saw off a gallant charge from Alex Dunlop in the final to make a mockery of the bookies' predictions and become just the third competitor (and first woman) to handle multiple D.I.C.K. trophies – and only the second person ever to retain the coveted title.
Yet, even as defending champion, little was expected from 88-1 Jackson at the start of the day.  Especially in view of the negative criticism she has faced over the past year – not least from husband and former champion, Chris – that she was contemptuous of the competition after being unwittingly overheard moaning about having nowhere to put the "outsize" trophy.  Not a natural aggressor, in this climate it was hardly surprising that Jackson openly voiced questions over her own commitment to winning in the early rounds.  Nevertheless as the draw began to open up before her, she regained the ruthless streak and hitting accuracy of 2016 to deliver some of the finest nuts under pressure of her career.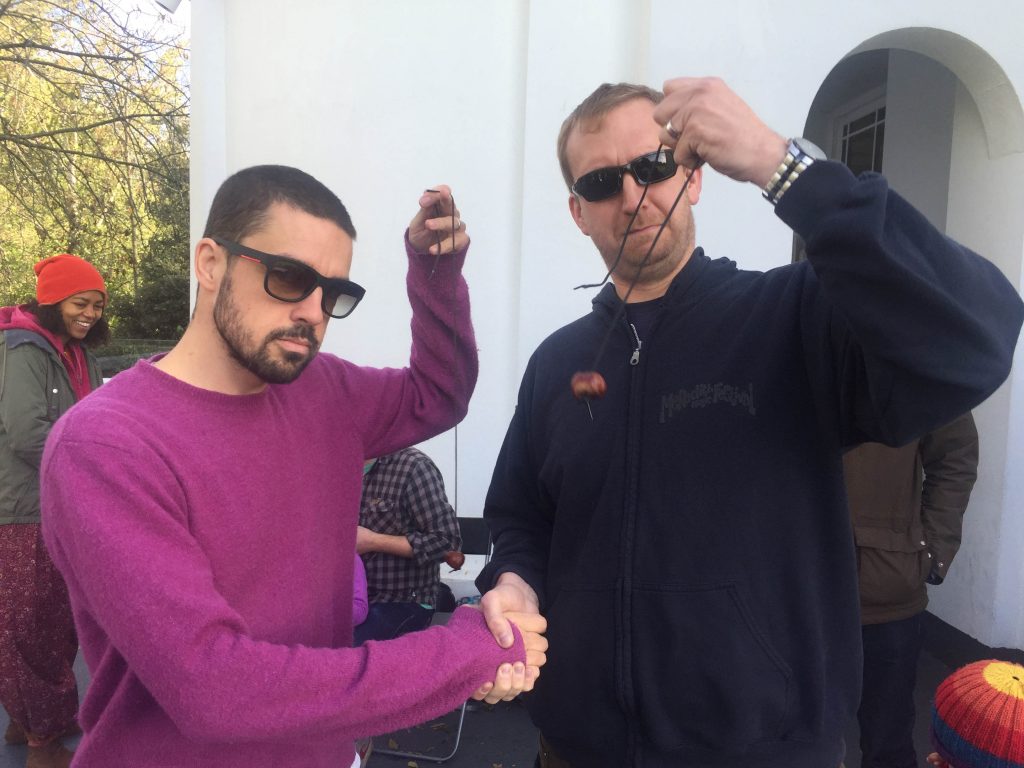 This year's tournament was characterised by three critical elements each of which played their part in creating an absorbing and memorable tournament.  Firstly, Storm Brian's gale force winds presented the most difficult weather conditions that a 'conkerer' can face.  Secondly, the earlier date of this year's competition ensured that a repeat of the 'mould scandal' of 2015 was (almost) entirely avoided.  But the plumper and harder nature of this year's early season nuts meant that the big hitters were faced with a much tougher task to make them burst, offering opportunities for the more attritional players.
The final factor was sheer luck of the draw placing most of the heavier hitting players in one side of the draw which made for some dramatic clashes.  But more generally it maximised the very open and even nature of the field in a year marked by the absence of the legendary Glen Whitehead.
The day got underway with double former champion Pete Campion-Spall returning to D.I.C.K. for the first time since his 2012 ecstasy.  He faced last year's breakout newcomer, Joy Green, looking to build on her impressive run to a quarter-final.  Campion-Spall came out characteristically hard, but Joy Green proved her dynamic conkers of 2016 were not a one-off.  After trading some heavy blows it was Green who drew first flesh, half exploding her opponent's nut before finishing him off with a devastating bang.  In a mirror of Whitehead's unexpected humbling last year, Campion-Spall went direct from winner to Short D.I.C.K. holder as first out of D.I.C.K. this year.
The next match pitted veteran Dan Johnson with newcomer James Macrae playing his first conkers in some decades.  But it was the more experienced Johnson who started the more nervous and after an early snag Macrae grew in confidence as he realised he had a realistic chance of progressing through this qualifier.  In truth this match was far from pretty, bearing more than a passing resemblance to the recent England v Slovenia bore-fest at Wembley, but as the match passed laconically into overtime it was Macrae who came through 3up&2.
In complete contrast though, the third qualifier threw up what is surely likely to go down as one of the all-time 'classics' of D.I.C.K. contests.  Chris Jackson – one of the hardest hitters in the game – came up against Holly Harris in her fifth tilt at a D.I.C.K. title.  But as the contest began it was Jackson who played a cagey game whilst Harris demonstrated that despite a year out in 2016 she has evidently been honing her power-hitting skills.  This was a devastating new Harris who put Jackson on the ropes early on and even as he fought his way back into the contest it was not without incurring two snags leaving the game on a knife edge.  Eventually this one was settled in overtime with Jackson holding on to see off Harris 4up&3.  In truth after a match of this quality on tenterhooks for as long as this one was, it was somewhat unjust that only one competitor could progress.  Harris will be hurting now, but inside she will know after this performance that she can come back in 2018 as a true contender.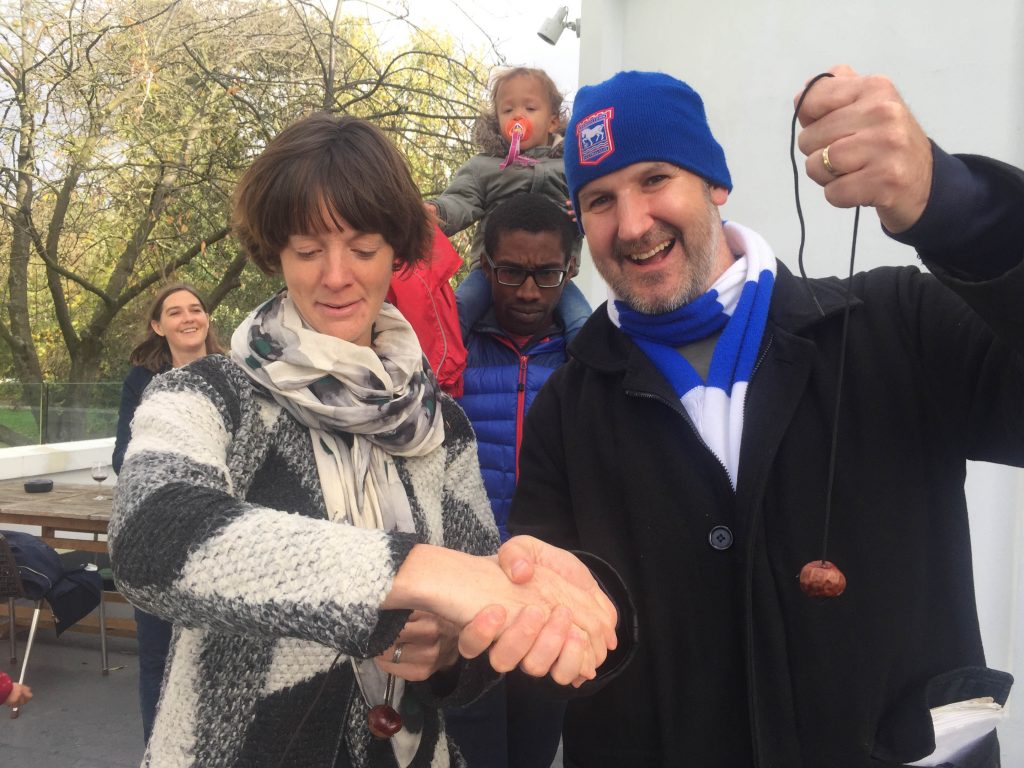 But even more remarkable was the similar transformation of Harris' partner Alex Dunlop who faced two-time finalist, Australian Brooke "Brook-o" Lumicisi next.  After some uncharacteristic pettiness from both players at the start refusing to shake hands, the game soon settled into a good pace with Dunlop at times even outclassing his girlfriend's impressive hitting earlier in the day.  Lumicisi, somewhat surprised by Dunlop's powerful start began to fight back, but it was all to no avail when her nut first cracked and then exploded as she went for broke.
The final game of the qualifying round saw 2008 Champion and ever-present D.I.C.K. player Steve Hoy facing up to Simon De Glanville.  Unlike some of his underwhelming opening round performances in the past Hoy looked up for this one, trading blows with the less experienced De Glanville who had done well in the early stages.  Eventually though it still ended familiarly for Hoy as he crashed out at the first hurdle once again after a sudden death tie-break (10-9).
The excitement and drama had already cranked up even before the first round began in earnest with Kat Campion-Spall taking on Hoy's wife and regular competitor Amy.  This was a slow but intriguing affair with Campion-Spall missing more than Hoy, but equally landing some decent blows when she did strike.  Eventually, though, Campion-Spall found the consistency to win through 4up&3 in the play-off.
Next up debutant Australian Yan Yan Yip took on veteran Andy Mills.  The novice took some time to find her rhythm taking an early battering from Mills, but eventually she got herself back in the game.  Agonisingly for Yip though she crumbled from 6 up in overtime to succumb 12-11 after three exhausting sudden death rounds to a bad-tempered Mills, who found himself in trouble with the referee after questioning a hit call.
Vicki Jackson's opening match was against Jon 'Snagger' Rallings who had sworn to clean up his act this year.  Indeed it was actually Jackson who snagged first, although Rallings responded immediately with one of his own on his very next swing. Eventually the game swung into overtime with Jackson triumphing 4up&3 with Rallings registering not a single hit in the tie-break.  Rallings could at least console himself though, that he incurred less snags than Jackson's two as he left beaten once again.
Last year's runner-up Sophie Johnson then stepped up against Simon De Glanville in a rather erratic game which was more notable for De Glanville consistently hitting himself with his follow-through rather than his opponent's nut.  But despite a couple of snags giving her a glimmer of hope, Johnson was unable to get any momentum against the thrusting De Glanville and ended up losing the tie break 4up&3.
Then Dunlop returned to face D.I.C.K. first timer Damian 'The Sassenach' Martin.  Born in Sussex, Marin was assimilated into the Scottish Conker Federation (SCF) some years ago now – but this was his first tilt at a championship south of the border.  Unfortunately though the gulf in quality between the two countries has become as wide as that between the SPL and the Premier League over recent decades and Martin found himself outclassed by the dazzling Dunlop, taking some three minutes to register his first hit (which was cheered wildly by the spectators).  Eventually capitulating just before overtime Martin reflected that he had enjoyed being in with the big hitters and hoped to come back better prepared in the future – for now though he "wanted to thank the SCF for sending him and the warmth of the crowd for making it a special experience".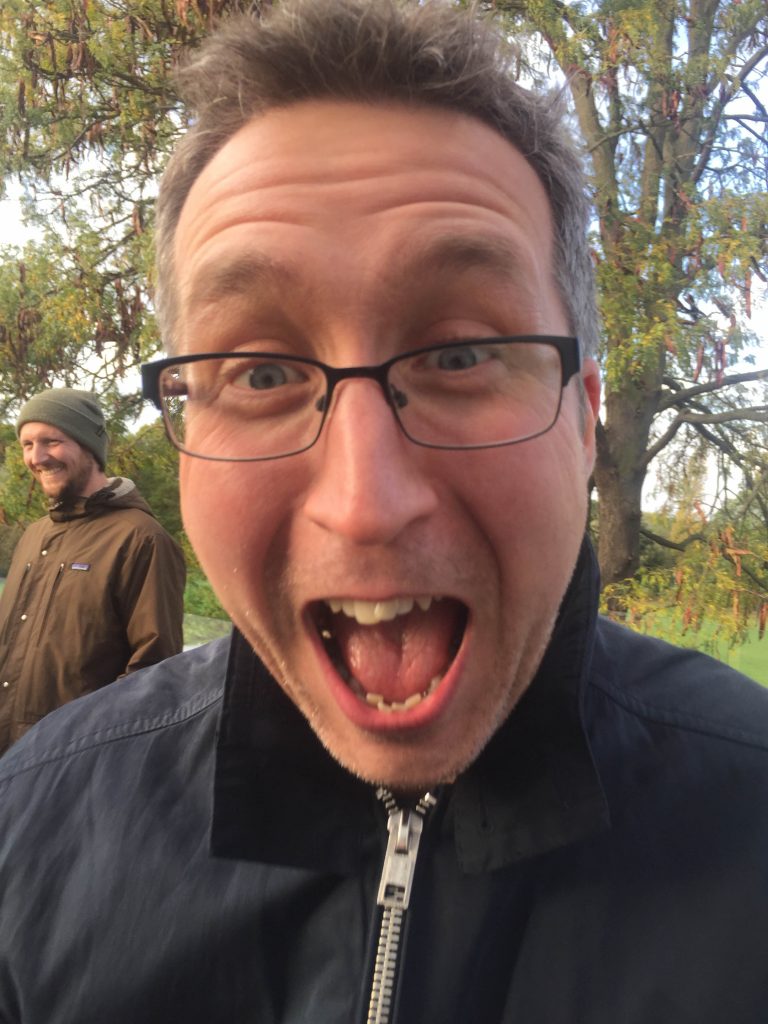 Like other competitors this year it was Owen Lewis' turn next to show his improved technique as he took on Joy Green.  This was another exhilarating contest with Lewis matching Green's hits blow by blow.  Edging the first crack Lewis looked the favourite at the halfway point before a controversial "out of hand" snag put him on the back foot.  Putting caution to the wind though Lewis continued to probe for the knockout but ended by blowing his nut prematurely on the cusp of extra time.
Chris Jackson then stepped back up to face another debutant, Jez "Bee-J" Fielder from Sussex, who started well against the veteran.  However, the unfortunate Fielder was struck by the D.I.C.K. curse of the mouldy conker that had so scarred the 2015 event.  After it flopping off and was restrung Jackson eventually pummelled it.  It was an unlucky start for Fielder who will hope that the promise of his style will pay more dividends in the future.
The last match of the first round saw Suzie Butler returning for her first conkers since 2011 against new-boy James Macrae.  This topsy-turvy encounter saw Butler register the first split before snagging – then Macrae registered two snags himself.  Macrae eventually edged through 3up&2 with a split conker which resembled a burger by the end…
The quarter finals matched this broken nut against Joy Green's own damaged conker.  Macrae naturally tried to hold on for accuracy but Green sensing the opportunity went for the kill successfully.  This was followed by the most intriguing tie of the round between Chris Jackson and the star of the moment Dunlop.  This was an epic contest with some of the hardest D.I.C.K. pummelling ever seen before Jackson burst himself right across the arena.
In the other two quarters Jackson's wife Vicki saw off Simon De Glanville who was forced into defensive tactics through two snags.  But the final game caught the eye for all the wrong reasons as an aggressive Andrew Mills was disqualified after snagging three times in under a minute to gift victory to Kat Campion-Spall, earning him the 2017 Dastardly D.I.C.K. award for unsporting play.  It was an uncharacteristic day for Mills who was perhaps feeling the absence of wife Marta, off competing in an alternative tournament in Georgia this year.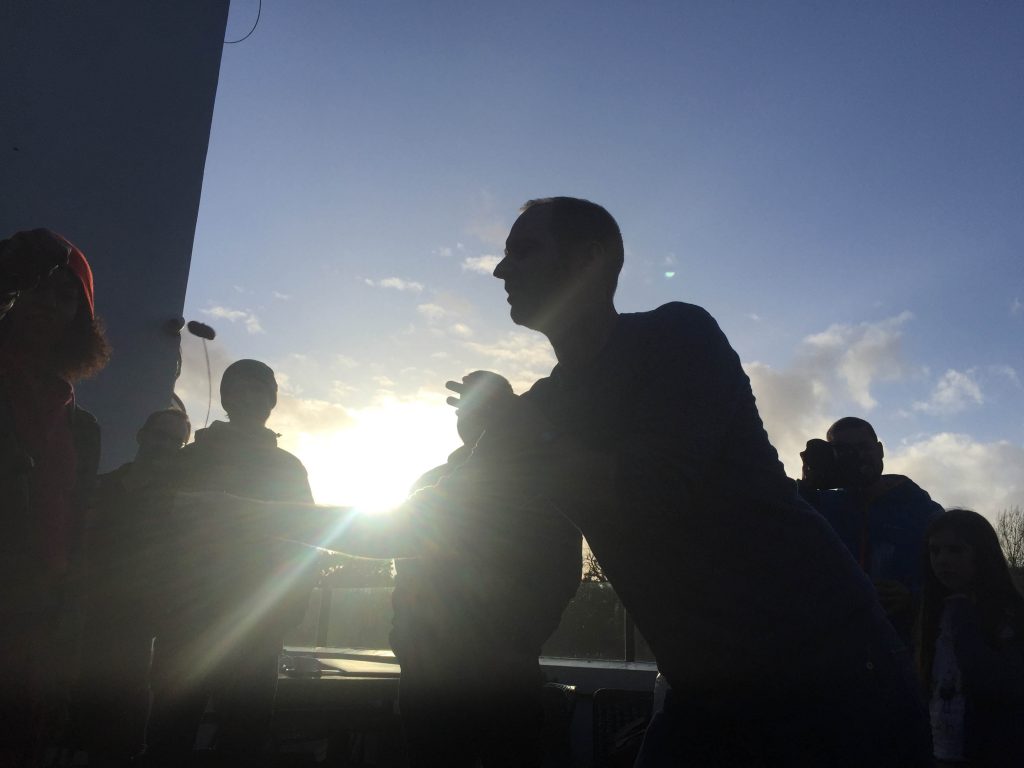 The semis then rose with Alex Dunlop facing Joy Green as the last big-hitters remaining.  But the game was an anti-climax as Dunlop smashed Green's conker in no time with his own nut still remaining unblemished throughout his journey from the qualifiers.  By contrast the second semi between Vicki Jackson and Kat Campion-Spall was a war of attrition with the charismatic Kat's supporters generating an amazing atmosphere with their cries of "Come on Mummy!".  In the end though Jackson proceeded 7-6 from this suspenseful tie after a phenomenally tense overtime involving three sudden death rounds.
This exhausting match had evidently taken its toll on Campion-Spall who couldn't recreate this performance in the 3rd place play-off, succumbing to Joy Green 4up&3 whilst holding half a nut. A special mention for Green, though, in proving last year's performance was no fluke and a first podium finish represents further progress for this most promising of competitors.
And so to the final – notable for being the first to be live-streamed on Facebook to masses of fans across the globe. Ahead of the clash most felt that Alex Dunlop would walk to the title given the eye-catching conkers he had been playing all day.  But Vicki Jackson is nothing but resilient and as Dunlop powered in she dug in knowing her chances would come in a tiebreak situation.  And so it proved.  By overtime Dunlop's arm was bruised and hurting from his powerful follow-through and he was unable to match Jackson's accuracy as she came through 11-10 victor in sudden death.
It was bitter-sweet for Dunlop who had captured the hearts of the crowd with his tremendous performance on the day.  But he will know he has a great chance of this title in the future.  For Vicki Jackson though there was the satisfaction of silencing her critics.  As she accrued more titles than husband Chris it was a case of "Let Me Show You The Way To Go" for the Jacksons.  She will now have to find space for the trophy for another year.
2017 D.I.C.K. results
1st:

Vicki Jackson

2nd:

Alex Dunlop

3rd:

Joy Green
Short D.I.C.K prize (the 1st person knocked-out): Pete Campion-Spall
Dastardly D.I.C.K prize (for unsporting behaviour): Andrew Mills
Photos