Wonderful Whitehead refuses to be squeezed
Report by Jonathan Rallings, photos by Dan Johnson
Reigning champion Glen Whitehead made history by becoming the first person to retain the coveted Dulwich International Conker Knockout (D.I.C.K.) crown and in the process accruing the first "Hat-D.I.C.K." of three titles.  Despite a strong field, including two other former champions, Whitehead refused to let his conker crumble even among a huge controversy surrounding the supply of mouldy nuts which threatened to impact on the integrity of this year's competition.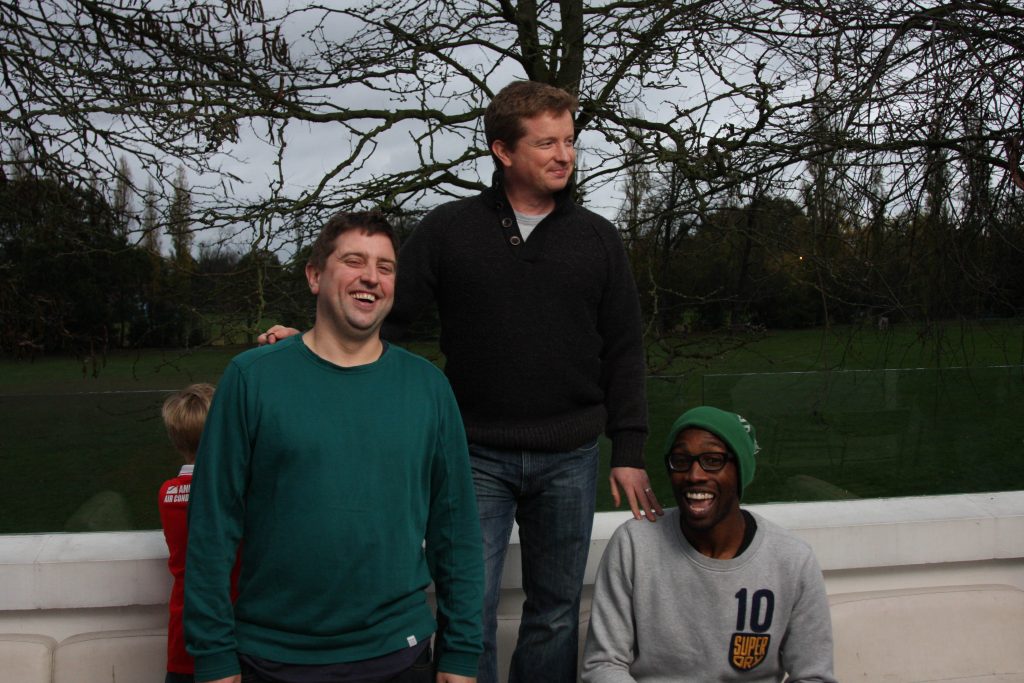 For the second year running the tournament employed an invitation-only Masters format at the Belair nut-ring in Dulwich.  The breezy weather forced a retreat to the rear end of the stadium but the wind may still have contributed to the widest incidence of snagging seen in some years. The select sixteen were all experienced D.I.C.K. players, with the exception of newcomer Ada Jazwinska, one of two competitors who had negotiated the tough Polish regional qualifiers to reach this stage.
The first match saw her fellow compatriot Marta Mills meet Sophie Johnson, returning for her first appearance since 2013.  There was to be no free-flowing conkers in this war of attrition though with hits thin on the ground.  Eventually the more experienced Mills edged through the tiebreak 4up&3 leaving Johnson to depart with this year's "Short-D.I.C.K." trophy as the first player to exit.  
However, controversy was soon to emerge when couple Chris and Vicki Jackson faced off in the first Jacksons reunion since 2010.  The self-styled 'dark destroyer' played fast and loose with both his nuts and his marriage snagging early on and un-sportingly distracting his wife.  But it was clear something was wrong for Vicki as hit after hit saw dust come up before her conker exploded – exposing extensive mould inside.  Although desperately unlucky for the hapless Jackson, quick consultation with the umpires ruled that the random selection of nuts issued centrally meant this was legal (introduced after the infamous Crann 'Vaseline incident' in 2005).  But it was agreed that on account of the later staging of this year's tournament participants would be offered the option to pick a new conker each round rather than just at semi-final stage – although of course this could backfire given no-one knew just how many mouldy nuts were in the pot.  Changing conker might prove as risky as someone with a peanut allergy picking blindfold from a bag of Revels…
Next up Andrew Mills played Amy Hoy, one of three competitors to have appeared in all eleven D.I.C.K. competitions.  Hoy, known for her tenacity if not her fluency, dug in well as usual even after losing part of her conker, but the hard-hitting of Mills eventually saw him through despite a snag.  Husband Steve Hoy then played Dan Johnson in a fearsome contest which saw Johnson's brand of 'Bodyline' conkers edge on the borders of legality – and both men injure themselves through overenthusiastic D.I.C.K. play.  At one point Hoy thought he had the breakthrough only to find he had simply dislodged the conker and after restringing Johnson eventually prevailed 1up&0 after a tense extra time.
Holly Harris returned to D.I.C.K. for the first time in two years playing James Pepler a stalwart of the tournament.  Pepler led with a snag and later accrued another, but this was not a dirty game but high quality with good hitting.  Even at two snags Harris continued to play the right way rather than hoping for disqualification for her opponent.  Eventually though the pressure on Pepler told as behind in the tiebreak his 6th shot registered the third and terminal snag that put him out.  For real snagging though, step forth Ralfe 'Snagger' Rallings who singularly failed to clean up his act snagging twice in a short match before his broken conker was thoroughly annihilated by a composed and calculated Owen Lewis.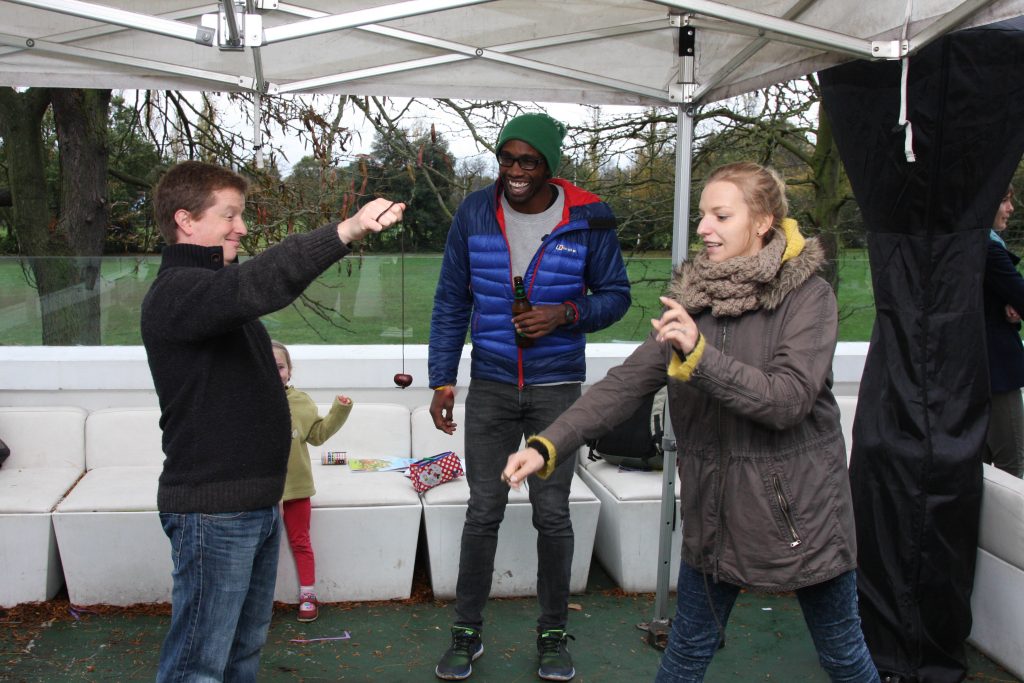 Alex Dunlop then played twice runner-up Australian 'Brook-o' Lumicisi who followed the example of husband Rallings by snagging early on.  But her faith in her small black nut proved to be well founded as Alex's hitting failed to impact despite some strong hits.  Lumicisi then turned the screw first taking a chunk and then destroying the opposing conker on an extra hit she had received for some unsporting time-wasting play by an increasingly desperate Dunlop.  This was followed by debutant Ada playing champion Glen Whitehead in the toughest possible draw.  In truth the odds were stacked against the visibly poorly newcomer when dust emerged early from her evidently rotting nut but she put up a brave fight against an out-of-sorts Whitehead who nearly through it away with two snags to his name before sneaking through against the novice.
The quarter finals got underway with 2008 winner Chris Jackson stepping up to meet Marta Mills concentratedly chanting his mantra "swing the conker, be the conker".  It was a good game between two pros but ultimately Jackson prevailed.  The next game also saw some big hitting between Dan Johnson and Andy Mills but both nuts held firm.  In an incredibly tense tie-break Mills won 1up&0 unprecedentedly scoring every one of his eight hits taken. 
The third quarter saw Whitehead face another tough challenge in the form of Holly Harris who took the eventual winner all the way in his quest for D.I.C.K.  Although admitting she was "A bit nervous – I'm not going to lie", Harris did herself proud taking her illustrious opponent to a tie-break even despite a pitch invasion by Whitehead's young daughter Florence threatening to upset her rhythm.  But perhaps she was a little rash in going all out for a smash rather than racking up a guaranteed hit at this stage, Whitehead advancing on the very last swing of the extra time.  With more experience under her belt though, the future looks very bright for Harris as a potential champion-in-waiting.  The quarters were rounded off by Owen Lewis quickly reducing Lumicisi's 'small & black' nut to 'small & cracked'.   However, Lewis's thirst for D.I.C.K. perhaps left him exposed at this level and over-enthusiasm led him to destroy his own conker leaving Lumicisi to squeal with delight at achieving another semi.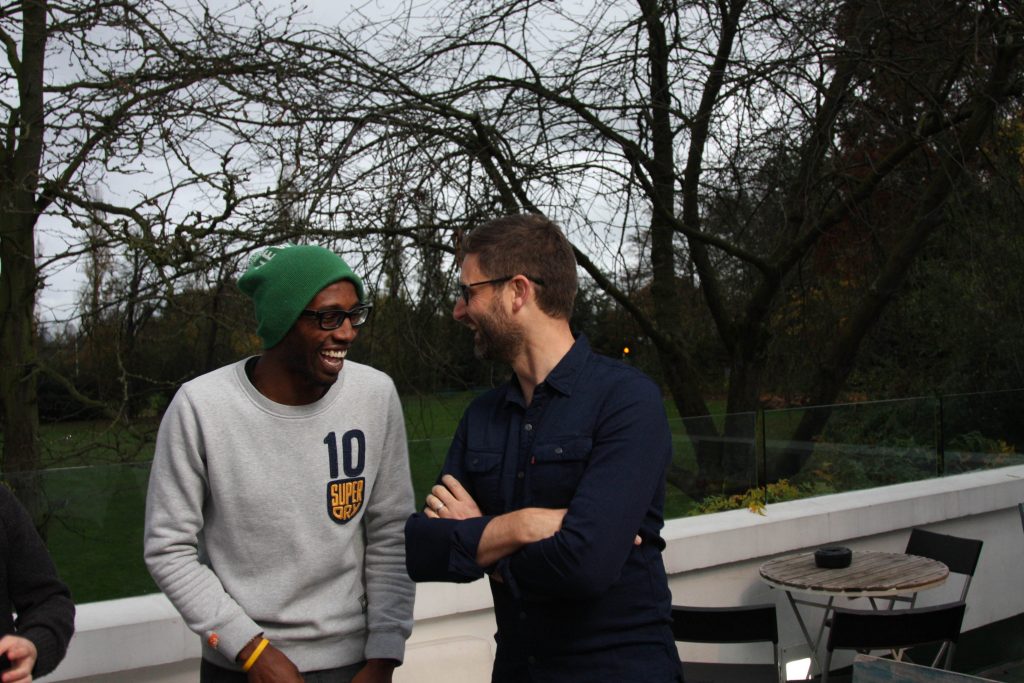 In the last four Andy Mills played underdog to Chris Jackson but he was to bite back after both players lost part of their shells early, only for Jackson to split his nut and despite trying to re-string finding the game up.  The second semi-final was even shorter with Lumicisi destroying her own conker only two shots after an early snag problem.
After Jackson had seen off 'Brook-o' quickly in the third place playoff for a podium finish, and organiser Steve Hoy awarded the Dastardly D.I.C.K. trophy for unsporting play by supplying so many ropey conkers, it was to the final.  Andy Mills proudly stepped up for his first appearance at this stage having previously only achieved a third place in 2011, against the man whose dominance of this event had already seen him rise to the top of the all-time leader board whatever happened.  In truth the final fell slightly flat as both players struggled for form, but Mills' nerves eventually got the better of him as he collapsed to a 3-snag disqualification mid-way through the five minute match.  
So Whitehead emerged triumphant again, but this was not as convincing a victory as his 2014 and 2011 performances and he must be careful not to let this go to his head.  Some cocky lifting of his conker early on against Mills suggested an unpalatable arrogance may be creeping into his play.  This is not the Glen Whitehead we know – he truly is the biggest and best D.I.C.K. ever, and has always previously done it the right way.  It is to be hoped he will return proud and erect next year, but hopefully without a big head…
2015 D.I.C.K. Results
1st: Glen Whitehead
2nd: Andy Mills
3rd: Chris Jackson
Short D.I.C.K prize (the 1st person knocked-out): Sophie Johnson
Dastardly D.I.C.K prize (for unsporting behaviour): Steve Hoy
Photos