"Delighted" Hoy swings big D.I.C.K. prize with superior nuts
Report by Jonathan Rallings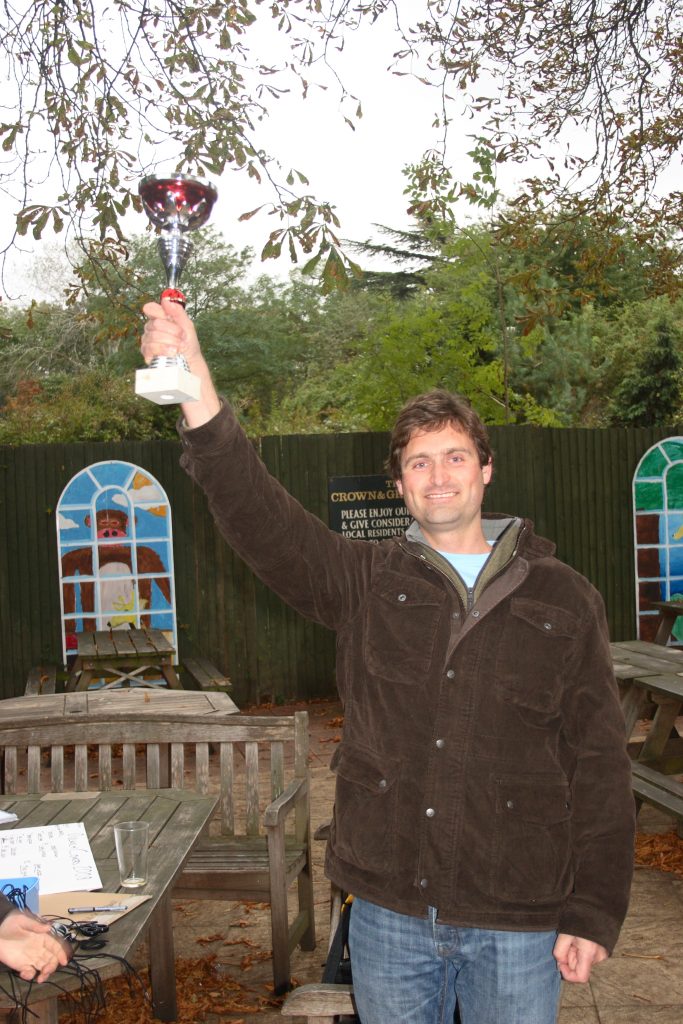 The chances of the Sports Personality of the Year 2008 having the surname Hoy doubled last night as a thrilled crowd at the Crown and Greyhound arena witnessed one of sport's great fairytales unfold.  Conkers veteran Steve Hoy, who had never previously been past the first round, emulated the sporting success of namesake Chris at the Olympics by producing a devastating display to clinch his first ever Dulwich International Conker Knockout (D.I.C.K.) championship and declare himself "King of D.I.C.K." for the next twelve months.
Hoy has not been without his critics over the years both on and off the conker field.  But he was in evidently jubilant mood – if understandably a little surprised, having been a 40-1 outsider for the crown at the start of the day – as he realised the failures that have persistently dogged him on the big stage had at last been banished, following his blowing out of Australian newcomer Brooke Lumicisi in the final.
The long overdue success of 'The Godfather of Conkers', however, somewhat overshadows the wider story of a highly unpredictable and enjoyable tournament.  Whether it was pre-championship favourites Jim Reece and 2007 champion Chris Jackson (dressed notably less Ian Poulter-esque than in previous years) succumbing to nerves and poor tactics in their opening games; or unfancied newcomers Vanessa Wilkinson and the afore-mentioned Lumicisi providing far sterner resistance than some had imagined – this was unquestionably the most open 'open' in the tournament's history so far.
Some senior competitors, though, were quick to blame the difficult cold conditions.  Even the normally affable Glen Whitehead had released a press statement before play voicing his concerns about "stiffening up" during his match, whilst it was notable that several competitors were forced into wearing gloves to handle their nuts.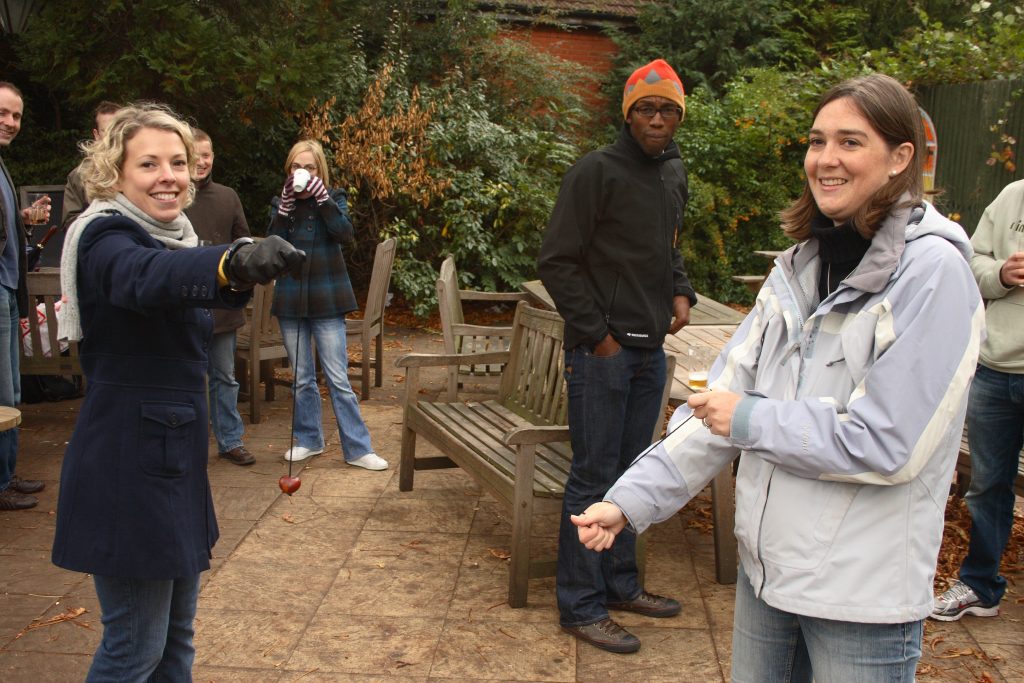 And a record number of competitors they were too – 19 no less – with the D.I.C.K. growing for the fourth consecutive year and three preliminary round matches necessary.  Signs of the excitement ahead came right from the start in a tense and engaging tussle between journeyman conkerer Amy Hoy and rookie Wilkinson – Wilkinson eventually striking the killer blow a mere 10 seconds before overtime was reached.  As might be expected Jim 'Cracker' Reece, up next against newcomer Ella-Kate, was far more direct in his approach.  But Reece's overzealous approach once again ended in personal disaster as his nut imploded during a particularly risky power shot after just two minutes.
In the last of the prelims the self-styled 'leather destroyer' Suzanne Rallings took on 2006 Quarter-finalist Marta Mills, in her first return to playing conkers since a spell out of the game to start a family.  The closest match in D.I.C.K. history (until later on) finally ended with Rallings triumphing in a sudden-death tie-break 3up&2 after levelling 6-6 in overtime.
The first round proper saw more exciting battles.  James Easen came storming out of the blocks against Wilkinson, with an enormous barrage of powerful hits.  It looked a wide-open passage for Easen, but incredibly Wilkinson fought back to take his nut out cleanly despite incurring 2 snags on the way.
Next round saw the coming together of rookies Duncan Moore and 'Brook-o' Lumicisi.  One of two Australian competitors who had flown over for the event, Ms Lumicisi had declared herself "very excited" and "really pleased to be here", but Moore, who had shown impressive form in practice, was the more widely fancied.  Despite landing a fantastic first hit, though, Moore exploded on the 3rd hit, robbing the crowd of a great match in prospect.  The young Moore declared himself "effing mortified" to crash out so early, but the promise he showed on this performance may well have signalled a star to shine in years to come.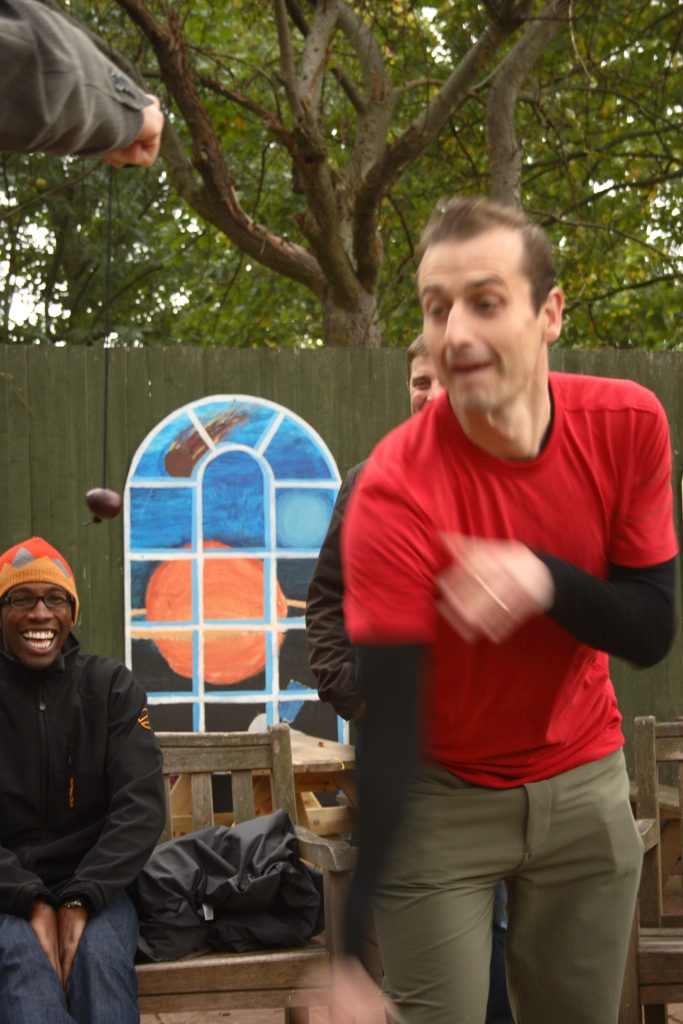 Newcastle fans have Dennis Wise, Athletics has Dwain Chambers, and conkers' pantomime villain is Phil Crann.  Never quite living down the scandal of previous years, the crowd witnessed this perennial bad boy come out dressed in red.   He was also evidently seeing red, exemplified by some dynamic hitting whilst simultaneously incurring the umpires' wrath for pulling up his conker unsportingly.  However, these theatrics failed to rattle James Pepler whose defensive strategy paid dividends, luring Crann into self-destruction despite just a solitary hit himself. 
Katie McKenzie, the second Australian participant, had announced pre-tournament she had been "working really hard" to make this stage, having only thought of conkers as "bush tucker" until very recently.  But her inexperience barely showed as she kept her composure in the face of a provocative performance from Ella-Kate, who registered two snags very early plus another "near snag" which required conference between the umpires.  Eventually, though, her nut exploded before she could be disqualified.
Next up Ralfe 'Snagger' Rallings was once again soundly beaten in the opening round as Seb Kohon romped to victory.  Rallings had already lost favour with the crowd after yet more snagging – exploding his nut at 2 snags down.  Hoy's first match saw him despatch Jackson without even landing a shot himself.  The hapless Jackson, whilst initially devastated to lose his title through an over-exuberant early attack, was more reflective later remarking "that's conkers" with a rye smile
The next match saw Andy Mills of Northamptonshire – home of conkers – return after missing last year's tournament having had "something better to do".  But it was to be a short-lived return as he was blown asunder by in-form Glen Whitehead.  The final match saw Suzie Rallings take on Hayley Parsons.  Despite the start being delayed whilst a spectator was cautioned for shouting "C'mon Lover" too loudly, Parsons was not to be denied, seeing off Rallings with plenty left on the clock.
The quarter-finals took place at rapid pace.  Vanessa Wilkinson played on with half a nut before exploding before the charmed Lumicisi.  Hoy's little brown orb proved too much for the luckless McKenzie.  In the third match Seb Kohon held out valiantly, if not prettily, against James Pepler, before smashing his long-split nut on his final hit whilst leading 1up&3 in overtime.  Whitehead's impressive start continued with a simple two-hit destruction of Parsons, making him favourite for the title at that stage.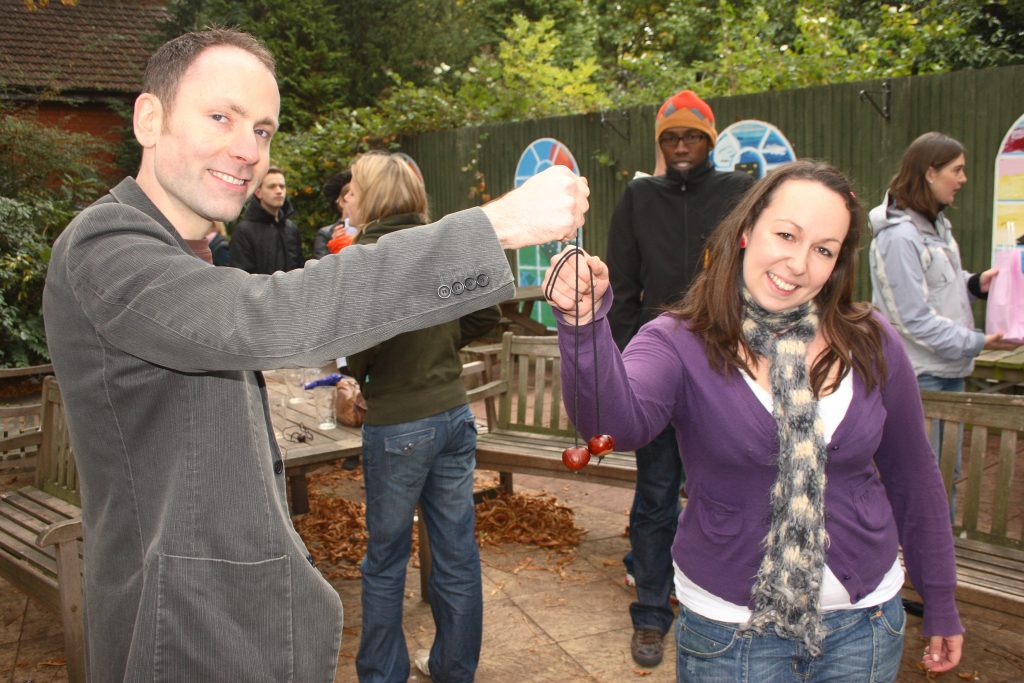 But it was the semi-finals which proved to be most tense affairs.  The first, between Lumicisi and Pepler, was a frustrating and drawn-out affair between two dogged opponents – leaving the crowd somewhat agonised.  With nothing to separate the two it eventually climaxed in an agonising series of no less than three sudden-death bursts – Lumicisi emerging victorious 2up&1 although with a worrying split in her conker.  In the other Whitehead's sledging – pulling up his conker – led to a warning.  The extra shot to Hoy was snagged.   But before Whitehead could believe luck might be on his side, Hoy struck a devastating shot to send himself crashing through to the final.  Whitehead then took out his frustration on the unfortunate Pepler in the 3rd-place play-off 
In truth the final was somewhat disappointing, with Hoy exploiting Lumicisi's crack right from the start and snatching victory in his 2nd set of shots.  Declaring himself to be "Delighted!" he also cheekily joked "It's one thing to win the title, but to beat an Aussie in style is great!", although he did pay tribute to the "impressive" performance of the newcomer in reaching the final.
"I wasn't sure about bothering to organise one next year – it's quite a lot of work" said a happy but exhausted Hoy later.  "But I guess I have to now really" he added.  There will no doubt be a fair few people happier for knowing they will be getting some more D.I.C.K. from Steve Hoy in 2009.
2008 D.I.C.K. Results
1st: Steve Hoy
2nd: Brooke Lumicisi
3rd: Glen Whitehead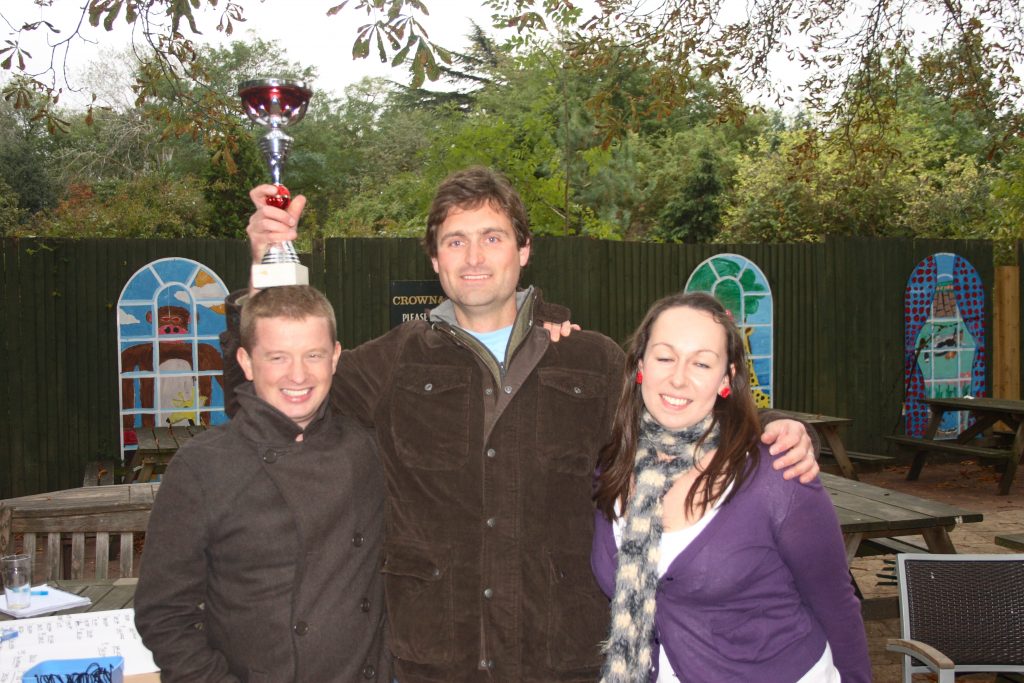 Photos