Long-String cut short by 'Destroyer' Courtney
Report by Jonathan Rallings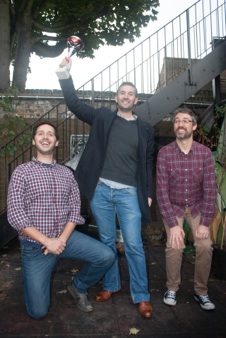 Newcomers ruled the roost at the ninth annual Dulwich International Conker Knockout (D.I.C.K.) with debutant Oliver 'Destroyer' Courtney heading a podium filled entirely with first time D.I.C.K. players.  Courtney produced a stunning run of form blowing out everyone he met, including Australian new-boy Terence 'Long-String' Cammell who had equally impressed en route to the final.  Third place went to Damien 'the complainer' Dacey who fielded an impressive D.I.C.K. himself despite a couple of altercations with the umpires over the texture and durability of his nuts.
Indeed the newcomers reflected the fact that 2013 brought a record 26 D.I.C.K. competitors to a packed Cambria arena – the third time the tournament has been held in the new venue. The first of ten qualifying ties saw stalwart Amy Hoy, one of only three competitors to have played all nine D.I.C.K.s, take on first timer Sandra Ashton.  Ashton, loud and confident, looked to come out hitting hard, but Hoy – the Stoke City of conkers – played her usual cagey game to take the tie into overtime and used her experience to win through 3up & 2 on the hit count.  Ashton was vocally gutted, but did have the consolation of taking home the Short-D.I.C.K. trophy as the first eliminated competitor.
2011 runner-up Hayley Dunlop eased her way past Havana Robertson 4up & 3 despite incurring two snags, before two familiar faces stepped up with Marta Mills facing the 'Thunder from Down Under', Brooke Lumicisi.  Lumicisi looked every bit the favourite on paper with her 2008 run to the final compared to a solitary QF for her competitor back in '06.  But this was a different Mills from years past, who matched Lumicisi big hit for big hit.  A tense overtime saw Lumicisi perhaps recklessly go all out for the elusive killer blow, trading power for accuracy whilst Mills cannily played safe to progress.
The first-ever Canadian D.I.C.K. player, Aaron Shields, came forward next to take on the youngest ever participant, eleven year-old James Ashton in the next tie.  Adopting techniques more akin to fencing the two duelled like the three musketeers for much of the tie incurring a snag each, before the overseas player eventually eased through in overtime.  However, Ashton displayed much potential on his first showing and as he gains maturity will surely be hoping to turn into a hot prospect.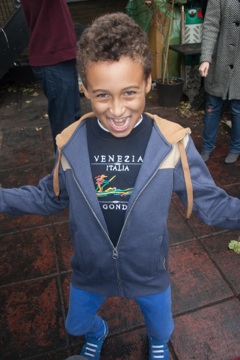 In a tournament with so many new faces, it was good to see old favourites Holly Harris and Andy Mills step forward for the first heavyweight contest of the day.  However, much of the match disappointed with both players pounding erratically, if hard, on each others' nuts to little effect.  However, there was plenty of excitement in the extra period as both players suddenly got the spurt from their nuts they needed – Mills eventually needing an unprecedented 100% of his nine hits to see off the dogmatic Harris.
Another two big names were served up in the form of James Pepler facing 2009 winner, Ray Kelly, one of only two former champions in the draw this year.  Kelly launched in with some great hits leaving Pepler somewhat reeling.  However, as seen so often in the past, Kelly let himself down with some dirty gamesmanship – snagging, string pulling, distracting his opponent – which has seen him lose popularity in recent years.  Eventually the match was decided in overtime, Pepler snagging his final shot to prevent taking it to sudden-death and seeing Kelly advance by the thinnest margin.
Alex Dunlop then jumped in with a hard hitting performance to see off Sophie Johnson.  Despite Johnson being in the advanced stages of pregnancy Dunlop showed no mercy in his play and eventually progressed 4up&3.  The following ties saw Damien Dacey annihilate the unfortunate Jacob Ashton who was left on the ropes by the quality of his opponent, and Owen Lewis (another of Sussex's finest to try their hands at D.I.C.K.) beating Russell Gundry.
At this point every qualifying tie had gone to extra time raising questions about the strength of this year's conker harvest.  But then step up Oliver Courtney to confound these fears, shattering the nut of Ralfe 'Snagger' Rallings with just his second hit.  It was a cruel exit for perennial nearly man Rallings, runner-up in 2009, who had registered two hard hits and no snags in his first and only three swings in 2013.  
From then on in the conkers began to break more freely.  The last 16 began with another Canadian, Gillian Shields, facing Dacey, who declined the offer of a new conker opting to hold on to the nut that had seen him through the qualifier.  It proved to be a wise decision as he saw off his opponent comfortably with a direct hit and nearly a minute left on the clock.  Andy Mills returned to go one better by seeing off Shields' husband Aaron in even less time.  
Amy Hoy then took on Tommy O'Neill competing in his first D.I.C.K. since 2007.  O'Neill was visibly rusty, taking some time to find his feet.  But just as he got into his stride he was his own worst enemy, snagging twice in two shots to set up a tight finish.  Hoy eventually triumphed again with her attritional style seeing her through.  In typical cool-as-a-cucumber fashion when asked if she was looking forward to her quarter final she replied "not really" and rolled her eyes…
Every year seems to throw up a new dilemma – and this year was no exception as the match between Owen Lewis and Dan Johnson ended in farcical circumstances.  Lewis edged opened his opponent's crack early and but as he tried to hit back Johnson's conker flew off its string and onto the nearby roof.  The umpires were forced to climb up to ensure that the nut had fully smashed, which it had, leaving no possibility of a re-string and seeing Lewis progress in unusual fashion.
Next up was antipodean Terrence 'Long-String' Cammell.  Receiving his nickname from the unusual length that he likes to swing his nuts from, he admitted that his only previous knowledge of conkers had come from watching The Goodies whilst growing up in South Australia.  He proved to be a natural as hard-hitting Alex Dunlop was smashed to pieces in short time.  Dunlop had cause to grumble, though, having questioned before the match a perceived crack in the conker he had received only for the umpires to waive away his concerns and deem the nut 'play-worthy'.  It is unclear whether Dunlop will take further retrospective action, although with the conker destroyed it is difficult to see how any appeal would stand up.
This match was followed by 2008 victor Steven Hoy facing up to Oliver Courtney – but like Rallings in the previous round, Hoy found the man who had already been nicknamed 'The Destroyer' too strong for him as he was overcome in just 3 hits.  Hayley Dunlop then returned to face Talya Kelly in an absorbing contest which saw the accurate Dunlop bounce back from an early snag to get through despite Kelly's evident talent.
The final game of the last 16 pitted Ray Kelly against Marta Mills in one of the glamour ties of the day.  Mills continued her impressive performance on the day with some hard hitting, whilst Kelly's behaviour became even more disgraceful, at times seeming to try to play the woman not the nut – described as "bodyline conkers" by one competitor.  As it advanced into a desperately tense overtime Kelly increasingly riled the crowd leading to a slow hand clap as he deliberately prevaricated before one shot.  Cheers resounded as Mills achieved the two hits off her last three swings to see off the pantomime villain of a figure cut by Kelly.
The quarter final commenced with Andy Mills looking to be heading out to Amy Hoy after swinging two early snags and cracking his conker, only to come back to deliver a knockout blow.  'Long-String' Cammell then prevented Marta Mills making her first semi-final with a similarly destructive performance.  
The other two quarters provided some drama, though.  Damien Dacey found that long-standing rules of the tournament prevented him receiving a new conker for this match despite the fact he had waived his right to take a fresh nut in the last round.  Grumbling Dacey had to play on the defensive against a strident Hayley Dunlop.  But just as it looked like Dunlop would go through with 100% of hits in overtime she registered a third snag seeing her disqualified and hand the match to Dacey.  Dunlop admitted to being "snaggered" to go out in such a manner.
The final quarter matched up 'Destroyer' Courtney against Owen Lewis who admitted to be 'feeling the beers'.  At this point Courtney had progressed through two rounds, seeing off two experienced players, whilst playing just five swings – an unprecedented start to his D.I.C.K. career.  But Lewis proved to be sterner stuff, holding on even with a mere wisp of a shell to take Courtney all the way to overtime – the eventual champion winning through 4up&3.
So to the semis – and in a historic first, both Andy Mills and 'Long-String' Cammell opted to hold on to their conkers at the last time of asking.  A fascinating tie ended with Mills again snagging himself onto the defensive to hold on for the extra period, only for 'Long-String' to come back and destroy him despite damaging his own conker in the process.  Dacey then returned opting to take a new conker this time after his protests in the last round.  However, it perhaps proved to be an unwise choice as Courtney made short-shrift of the new conker.  Dacey was left voicing his feelings about being dished a "duff nut" and earning himself the nickname 'the complainer' even as he saw off Mills in three hits to claim third place.  Despite his evident talent the young competitor will need to be careful to control his John McEnroe-type temperament if he is to reach the real heights of the game.
So to the final and 'Long-String' Cammell's open crack from the last round proved to be too easy to exploit for such a powerful D.I.C.K. player as Courtney.  'The Destroyer' wrapped up his first title with style and becomes the first player since Veema Shah in '06 to win the title as a debutant.  It is hoped that unlike Shah he will not opt to retire undefeated, but return to defend his D.I.C.K. title in years to come.
2013 D.I.C.K. Results
1st: Oliver Courtney
2nd: Terrence Carnell
3rd: Damien Dacey
Short D.I.C.K prize (for the 1st person knocked-out): Sandra Ashton