Glen squeezes Whitehead win off D.I.C.K.
Report by Jonathan Rallings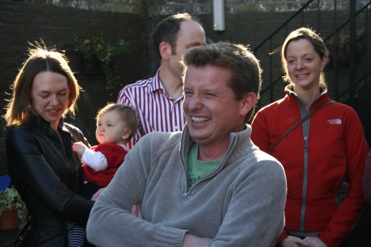 Despite a forced change of venue at the eleventh hour and unseasonably hot conditions for the competitors, the 7th Dulwich International Conker Knockout (D.I.C.K.) proved to be a thrilling tournament with veteran contender Glen Whitehead finally getting his hands on the prestigious R.Kelly Cup.  A perennial "nice-guy of D.I.C.K.", there was widespread celebration of this popular winner finally fulfilling his potential.
However at one stage there had been a threat of the event not taking place at all, after the Crown and Greyhound stadium – home of D.I.C.K. for the last five years – was closed for health and safety repairs a mere fortnight before this years competition.  Luckily, proceedings were able to be transferred at short notice to the smaller but more intense Cambria arena in Camberwell.  The appeal of the venue's close proximity to the matches for the spectators and convivial atmosphere leaves the organisers with the pleasant dilemma of whether to relocate permanently – although it is unclear whether this would require the tournament to be renamed the Camberwell Associated Conker Knockout (C.A.C.K.) in the future.
A record 23 competitors from across the globe entered this years tournament, which opened with a qualifying round clash between late wildcard entry Ady Hurrell and debutant Irishman Alan Doyle.  Hurrell proved to be an unexpectedly big hitter powering out the hapless Doyle after coming back from an early snag.  This match was quickly followed by regular contender Suzie Butler facing up to Hayley Dunlop, taking on her second D.I.C.K.  Butler's heavy-hitting was unlucky not to take her through in regulation time, and still at 6-4 up in the play-off with three each to play it was surely in the bag for the Eltham girl.  But somehow she crumpled at the last whilst Dunlop held her nerve to edge through 7-6.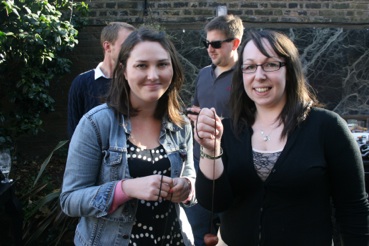 Next up the draw had paired husband and wife Pete and Kat Campion-Spall together in the tournament for the first time.  A fast game was won decisively by the powerful Pete, despite his partner's game efforts to hold on for a hit-off.  Amy Hoy and Holly Harris then faced off in a tense and erratic match, which proved agonising for Hoy's young son cheering her on from the sidelines.  Harris initially celebrated prematurely thinking she'd won the hit-off, but managed to regain her composure to return and secure the final point she needed to win 4up&3.
Enter Whitehead for his first match.  However, all sympathies were with newcomer Andy Brockie as he crashed out without even getting to swing a conker – a lucky second shot from his opponent exploding his nut before he could get started.  Brockie professed to be understandably be upset by his bad luck after a hard year's preparation for the big time, describing it as "the worst day ever".  But he added that he aimed to come back next year for another pop at some D.I.C.K. action.
Step up 2010 winner and tournament favourite James Easen to face Ralfe 'Snagger' Rallings in a reprise of his first round match on the way to victory last year.  However, the form book was turned upside down as Easen struggled to build on his early hitting and 2009 runner-up Rallings struck back to destroy him.  In fact it was Easen who registered a snag in the match whilst Rallings went on to negotiate his first ever D.I.C.K. without a single snag, completely belying his dirty reputation.  Indeed this turned out to be the cleanest D.I.C.K. ever with no-one disqualified for snagging their nuts.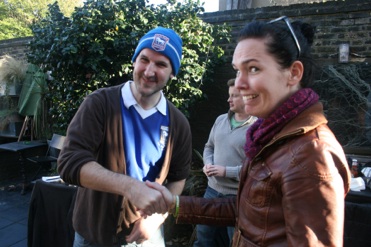 2008 runner-up 'Brook-o' Lumicisi, one of two Australians in this year's competition, then played Ella Jordan in a close fought match which went the distance.  Some controversy reigned when Jordan pulled level in the tiebreak with a 'hit' many felt had been string, not nut, touching nut – this despite Lumicisi having a similar appeal rejected earlier.  The ruling stood, but 'Brook-o' held her nerve to beat Jordan 9-7 in the end.
The first round proper began with James Clarke surprising Pete Campion-Spall with a display of some stature that saw the latter explode their nut.  It was not without incident though as Clarke's string broke forcing a recess whilst new string was sought – there is sure to be some fallout from this given the organisers' bold claims before the competition of never having had a string break.  Ady Hurrell then met 2008 champion Chris Jackson in a devastating display of hitting, Jackson eventually triumphing with a carefully aimed blow.
Hayley Dunlop came back to play James Pepler, in a niggly match with snags either side.  James failed to pep himself up though and Dunlop eased through 4up&3 on a tiebreak.  2008 winner Steve Hoy was then ousted by Eleanor Beaumond-Pepler, destroying his own conker on the final hit before overtime.  Beaumond-Pepler's composure and assurance was exemplary all day – and many feel that this could be a new D.I.C.K. star in the making after what proved to be a fantastic tournament for the newcomer.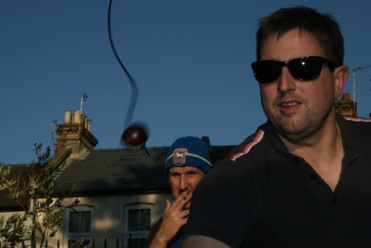 Whitehead's luck continued against the 'Welsh Wizard' Andrew Daniel who came out fighting but like the unfortunate Brockie, found himself destroyed by an early strike from Glen's voracious nut.  Even then it was beginning to look as though this might be the Sussex boy's day.  Steph 'The Hoff' Hough then faced off against 'Snagger' Rallings.  The young Australian's cavalier approach to her nut handling was a breath of fresh air, although perhaps her inexperience showed when she pushed on for D.I.C.K. glory despite the pressure on the large crack she was displaying.  Rallings emerged victorious although suffered damage of his own which would prove costly later.
Holly Harris bullied and intimidated Vicki Jackson with her aggressive stance, but she failed to boss enough and eventually crumpled 10-9 in a playoff after throwing away three match points.  The round was completed with an extraordinary clash between 'Brook-o' Lumicisi and Andrew 'Millsy' Mills.  Despite a quibble about Mills' length early on, it was hi-octane stuff between these two old stagers.  Somehow, though, belying her tenacious play Lumicisi contrived to throw it away, despite Mills holding on with just half a nut for the next round.
The quarters threw up more surprises.  Eleanor Beaumond-Pepler beat James Clarke 4up&3, with Clarke warned for hitting the referee with a stray swing.  Clarke admitted he'd "crumbled under the pressure" although some of that pressure might have been needing to get off to make the Chelsea v Everton 5.30pm kick-off.  Glen Whitehead continued his impressive form by comfortably seeing off Rallings who never got going with his cracked nut.
In a complete shock Hayley Dunlop saw off firm favourite Chris Jackson despite an early snag, taking complete advantage of the damage Jackson had suffered against Hurrell.  But in perhaps the most impressive performance, Andrew Mills became the first competitor ever to win a match playing with half a conker, tactically holding on to emerge the victor 13-12 from three rounds of sudden death.  Mills did well to stand resolute in his strategy despite the cries of "farce" from the crowd as he avoided any sort of hit which could have imploded his withered nut.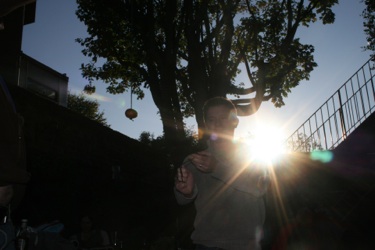 So, Beaumond-Pepler faced up to Dunlop in the semi-final "feeling confident with nothing to lose".  But it turned out to be one step too far for the brave newcomer. Dunlop didn't tire in a game between two ladies played in entirely gentlemanly spirit, easing through 4up&3 to the final.  In the other semi, Whitehead finally got an opportunity to show his pedigree by destroying Mills on the last hit before overtime despite a late restring by the latter to try and hold on as long as possible.  Mills conceded he'd frozen, but managed to regain his composure to see off Beaumond-Pepler for the podium 3rd-place finish.
And so to the final.  From the early stages Dunlop looked every bit the favourite with a remarkable hit rate whilst Whitehead seemed all at sea.  But slowly the tide turned and as Dunlop registered two snags she was forced to play more cautiously allowing Whitehead to secure a 7-6 play-off win and a victory which had seemed destined since the opening round.  Whitehead was naturally jubilant, declaring he had done it "for Sussex".  He now has a year of swagger to enjoy as the biggest D.I.C.K. in that county.
2011 D.I.C.K. Results
1st: Glen Whitehead
2nd: Hayley Dunlop
3rd: Andrew Mills