R Kelly shows that vibe that wins D.I.C.K.
Report by Jonathan Rallings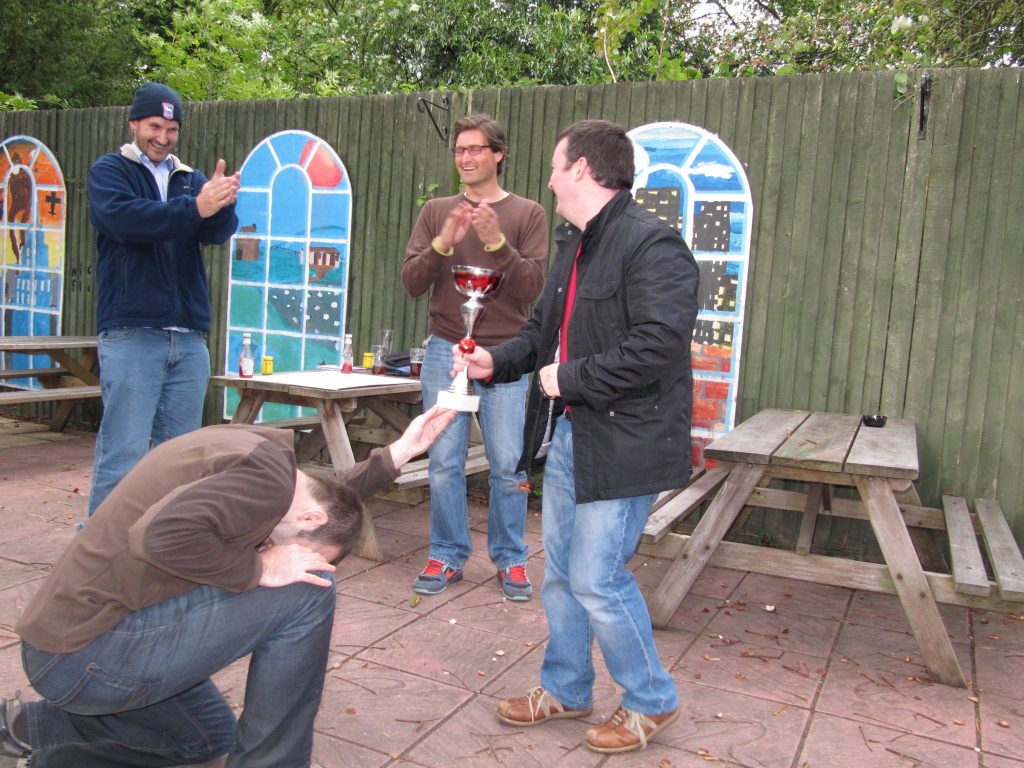 Only true champions can reach the greatest heights.  And after long believing he could fly this high one day, veteran Ray Kelly soared forth at the fifth Dulwich International Conker Knockout (D.I.C.K.) to claim his first title and win the R.Kelly cup, a trophy he had given his name to back in 2007.  Kelly's popular victory was made even more impressive by the fact that many had thought he would never return to the sport after an "under-the-thumb" injury that had forced him out of the 2008 event.  But he resoundingly silenced his critics by storming back with the best conkers of his career and a deserved triumph.
Despite the fairytale ending, though, the day was not without its bump and grind.  In fact the 2009 D.I.C.K. contained some of the most controversial moments in the tournament's history – including the first ever invocation of the seldom-used 'snag-back' rule to eliminate defending champion Steve Hoy in a dramatic tie-break showdown against his own wife.  But little could this have been predicted from the early stages.
This year 19 competitors were vying for the R.Kelly cup – matching the record set in 2009 and forcing three qualifying matches to be played.  Opening the tournament Ralfe 'Snagger' Rallings took on newcomer John Ultsch in an edgy battle.  Perennial loser Rallings – who had only ever won one match in the previous four years – surprised the crowd by coming back from an early split to destroy Ultsch with a sequence of unusually accurate swings belying his unwanted nickname.  
Next up the reigning champion, Hoy, took on another new face, Dave Little, in a heavy hitting battle.  But Little's inexperience showed when his overbearing strategy backfired badly and his own nut exploded from the pressure in just 8 swings.  The final qualifier could not have been more different in style as Hoy's wife Amy played a cat and mouse game with D.I.C.K.'s first ever South American competitor – Dali Gomez from Colombia.  Mrs Hoy, who received doctor's permission to enter despite being 7 months pregnant, eventually won 4up&3 in a tie-break.  However, the frustration of the negative play got to the crowd, leading to disgusting scenes as one spectator was cautioned for sarcastically proffering a pair of glasses to Gomez, who admirably did not react to such provocation.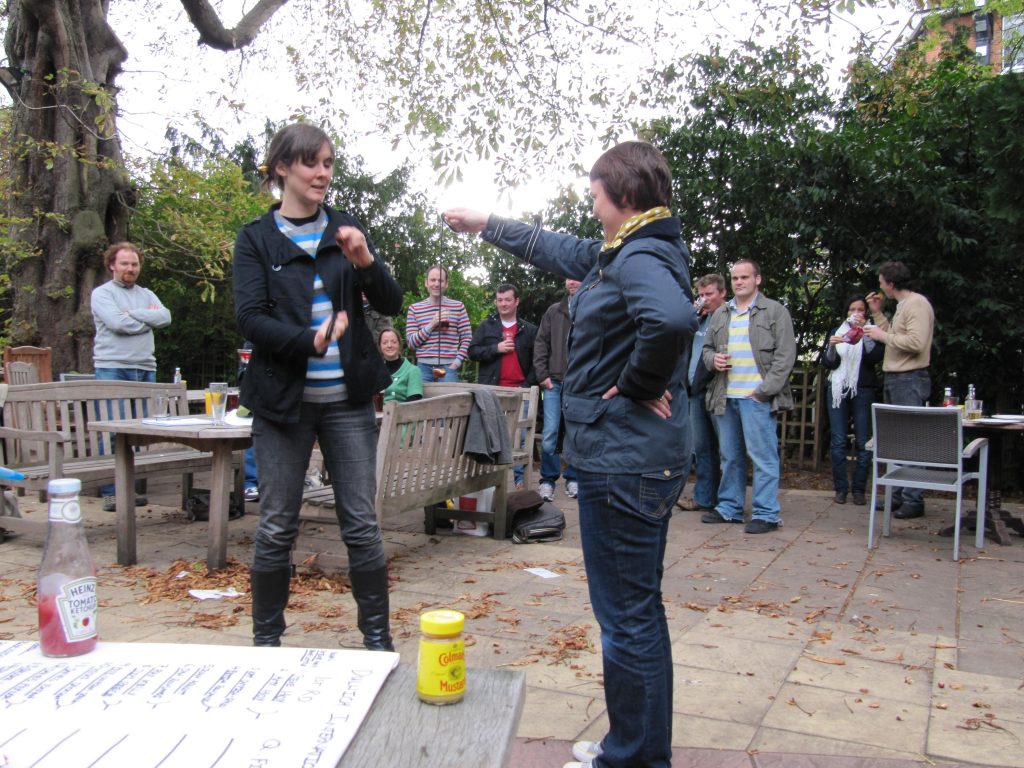 On to the first round which opened in splendid style with a very entertaining tie between Kat 'the Cat' Campion-Spall and Bettina Rowlands from Stuttgart.  It was the German's first match at D.I.C.K. and she wowed the crowd with her dynamic hitting – in fact her belting power-play at one point forced a brief time-out so she could pad her lower arm area which was taking a battering from the follow-through.  But Campion-Spall's dogged defensive game proved to be a perfect foil to the onslaught, and the match unfolded into a fascinating battle from which Rowlands emerged the 5up&4 victor on a tie-break despite having lost a good 50% off the top of her conker.  Despite this leaving her unlikely to progress through the quarter finals (new nuts are not offered until the semis) Rowlands delightedly told reporters how "very exciting" she was finding D.I.C.K.
In the second match John Arscott took on Dan Rowlands, with both competitors moving around the ring like boxers to get correct angles – Rowlands unluckily exploding his conker early to send Arscott through.
Enter Mr R.Kelly, who started as he meant to go on against Jim Reece (formerly Maximus), causing a split with his very first hit – although it very nearly turned sour for the Northern Irelander when a rogue swing shortly afterwards smashed back into his jaw forcing brief medical treatment.  But he recovered to see Reece destroy his own conker with a wild hit after being upbraided for his "short length".
The bad boy of the afternoon proved to be James Pepler who registered a third snag whilst 4-3 up in a tie-break with James Easen.  It was rough justice with victory so close, but Pepler knew he was out through his own folly.  Then Pete Campion-Spall – 2005 champion – saw off the 'the green Robocop' Vicki Jackson after she exploded her own nut, and Ralfe Rallings won through as the underdog against 2007 champ Chris Jackson in an energetic battle where Jackson was unlucky in sustaining early, costly, damage.
No-one could have predicted the events, though, as 2008 runner-up 'Brook-o' Lumicisi, back from Australia for a second year, faced Tim Bartlett.  Lumicisi incensed the crowd with her cynical defence, but Bartlett couldn't break her down until he registered what looked suspiciously like a terminal third snag to slam the Aussie's conker to the ground without nut appearing to touch nut.  Amid scenes of confusion Hoy ordered Lumicisi to re-string the split remainder of her of her conker, which she duly did and held on to progress 5&4 on a tie-break leaving Barlett and the crowd stunned.
But this was to be trifling compared to the controversy generated as Steve Hoy met wife, Amy, in the final tie of the round.  The 2008 winner came out hitting very strongly and it looked to be only a matter of time before he would progress through – but when the killer blow finally came it ended up shattering both nuts!  In unprecedented scenes it was determined that both competitors would receive new conkers and play a tie-break.  It was here Hoy esq made his mistakes.  After giving away a foolish penalty point by unsportingly moving the conker mid-hit he also registered his first snag of the day.  This was to prove crucial as after the regulation 9 hits each the scores stood at 7-7 which meant the little known 'snag-back' rule – where the competitor with the more snags is eliminated – was applied, sending the unflappable Mrs Hoy into the quarter finals "quite pleased".  Despite his ire being directed at the referee, Hoy knew he only had himself to blame for such an ignominious surrender of his title.  Even more dramatically the new conkers issued to the Hoys meant Amy's next opponent, Bettina Rowlands, could also retire her decaying nut in favour of a new one – an opportunity which she took full advantage of in the next match with a devastating final hit just before a tie-break.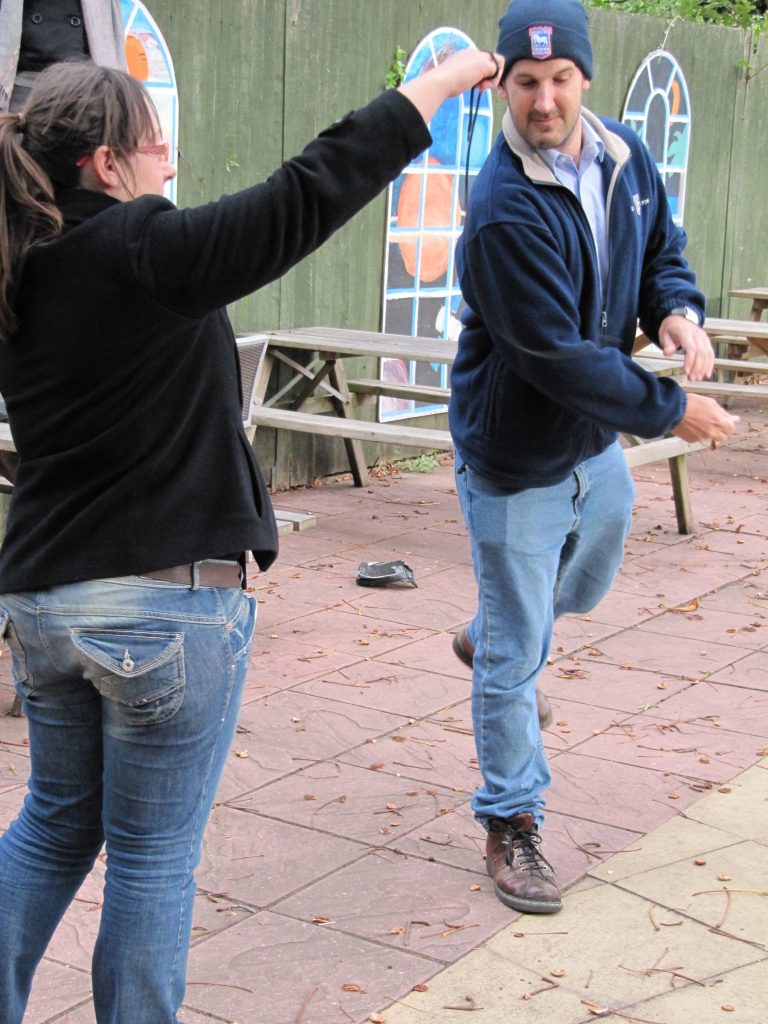 The rest of the tournament seemed rather pedestrian in contrast.  In the quarters Arscott went out fighting with his severely damaged conker, which exploded early against Kelly's rock hard one; Pete Campion-Spall imploded against James Easen; and Lumicisi bravely restrung twice but had no chance with her broken nut against Rallings. 
In the semis there was massive hitting between Kelly and Rowlands – which left the already injured Kelly terrified at one point – but he saw it through to break her.  Rallings and Easen played out a close match with lots of hits, which Rallings edged with a few seconds to go.  Easen came back to beat Rowlands comfortably in the third-place playoff with some strong hitting, but Rowlands has won many friends with her exciting and refreshing approach to the game and more will be expected of her in years to come.
And so to the final – and with his first swing the man of the moment, Kelly, scored a direct hit to shatter Rallings' pathetic nut and finally, proudly, get his hands around the D.I.C.K. trophy that had his name on it.  He has vowed to keep it safely in the closet until next year…
2009 D.I.C.K. Results
1st: Ray "R" Kelly
2nd: Jonathan "Snagger" Rallings
3rd: James Easen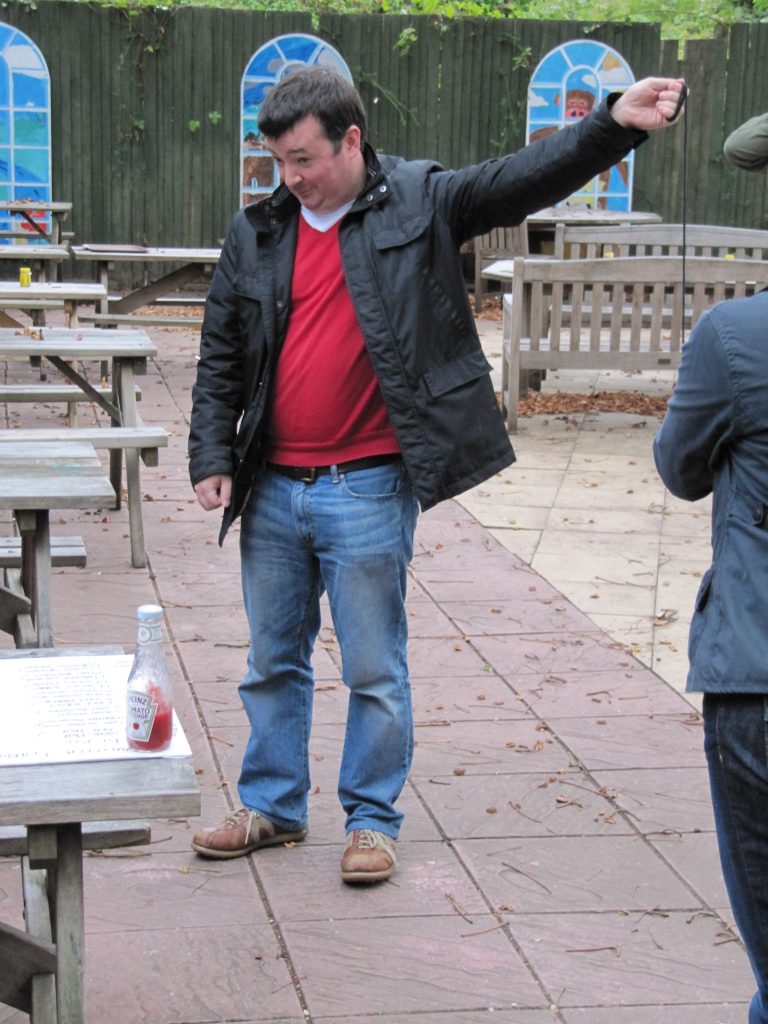 Photos