Size doesn't matter to Crann
Report by Jonathan Rallings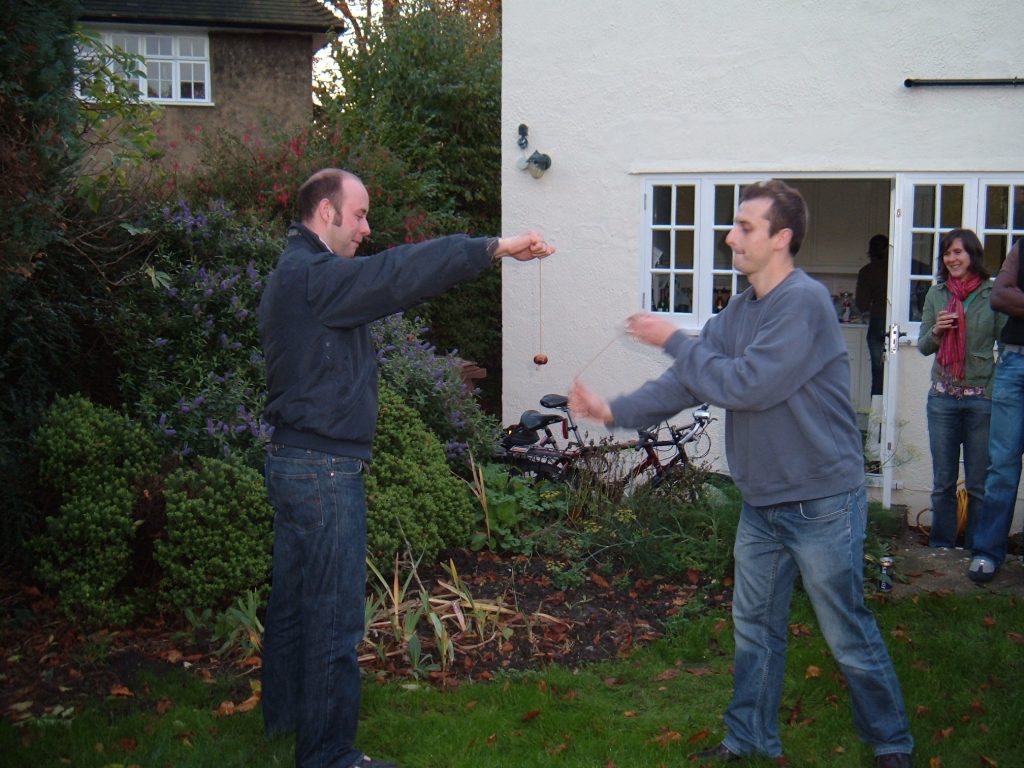 Phil Crann finally delivered on all the promise he's shown in recent years as he bagged the inaugural Dulwich International Conker Knockout (D.I.C.K.) – with the smallest nut in the competition!  Despite his risky 'overthrow' style – which leads to the danger of snags – even more remarkably Crann came back to win after thinking himself eliminated in the first round by Jim Reece.  Benefiting from a second chance on the repecharge, Crann then found his form, steering through tight opening clashes with Ralfe Rallings and Tim Bartlett before seeing off a disconsolate Chris Jackson in the semis.  He went on to face 'Ginger Wonder' Pete Campion-Smith in an unexpected final line up, although ultimately the implosion of his opponent's nut in only its second blow led to a slight anticlimax.
"I can't believe it – I never expected this" said a typically modest Crann "It wasn't the way you want to win it – Pete's a great competitor and deserved better luck with his nuts – but now it's happened I hope I can build on this result and take my form through to the grand slams in the new year – maybe even have a shot at Northampton."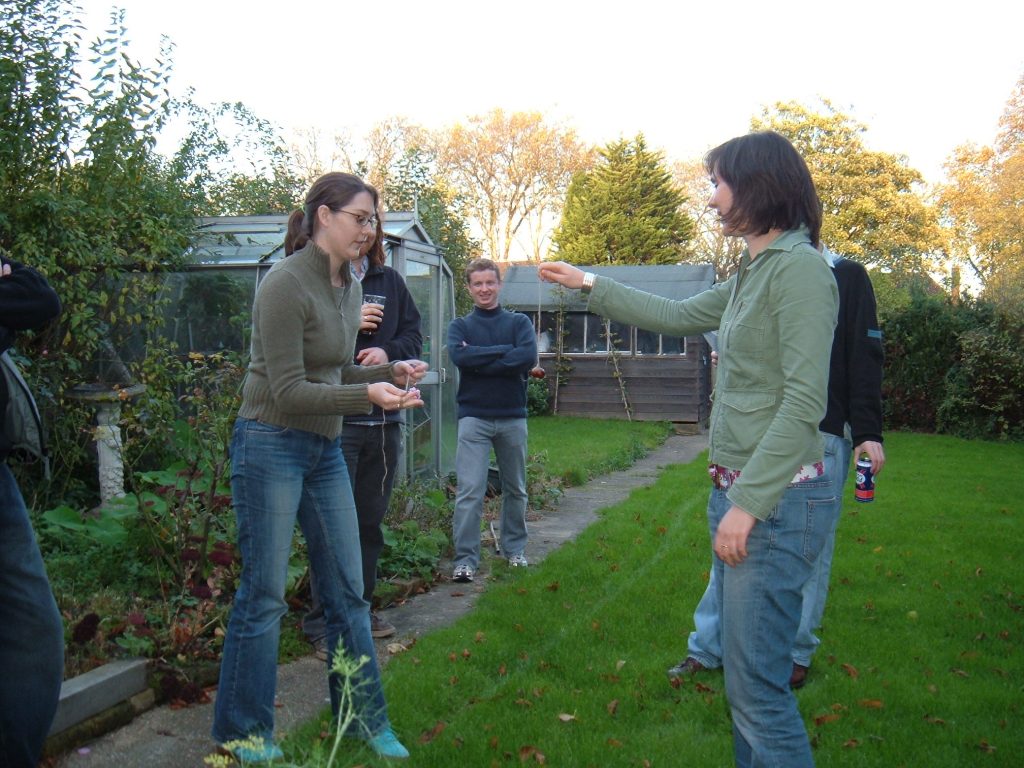 Held at the Red Post Hill Stadium in South London, the tournament had opened with a desperately tense tussle between the two female competitors Amy Hoy and Kat "the Kat" Spall, which Hoy eventually won 6-4 on hits after the five minute rule was invoked.  Proceedings then caught fire as Jim Reece's dynamic thrusts showed no mercy to Crann who had to wait for his 2nd chance. It was heartbreak, though, for unlucky Steve Hoy as he crashed out after less than a minute.  A visibly emotional Hoy admitted afterwards that his nuts weren't up to it anymore and backed his wife to go on and win.
However, the first round was overshadowed by the disgraceful performance of Welshman Andrew Daniels – whose aggressive style over two matches saw no less than 80% of his swings lead to conker-string disconnection.  An unrepentant Daniels insisted it was the fault of poor quality string, but most felt otherwise.  "I came to see conkers not this thuggery." said one crowd member who declined to be named.  Daniels is likely to be given a disrepute charge and if found guilty he must face the prospect of playing his next tournament with an already-cracked conker or even an outright ban.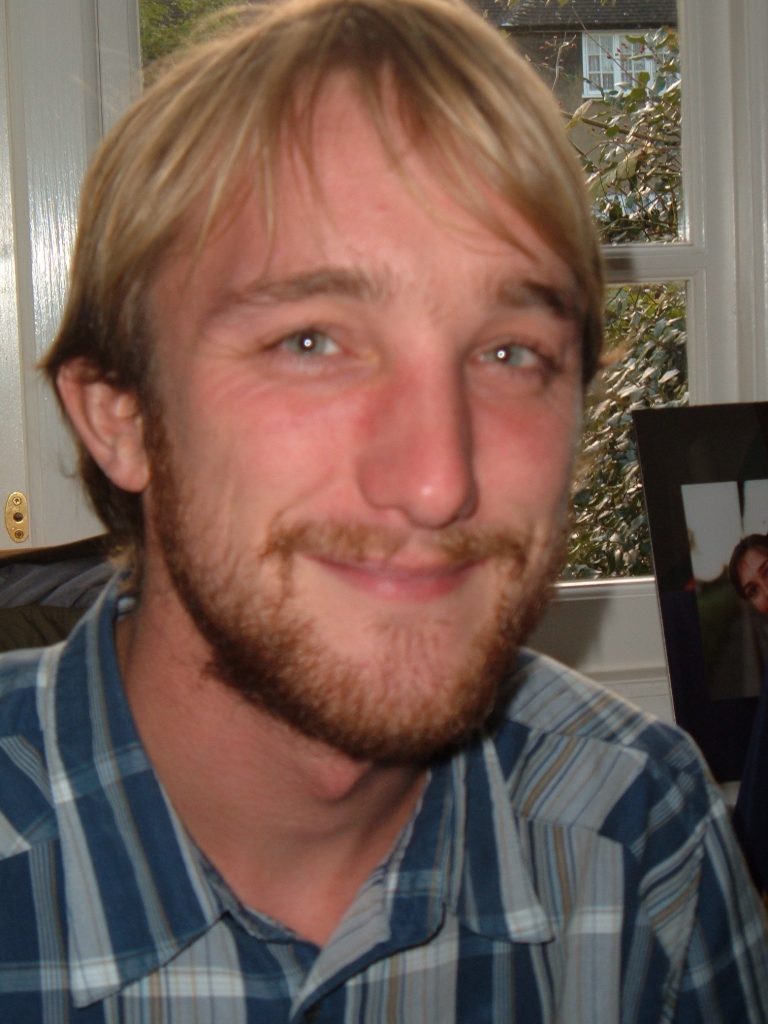 The quarter finals opened with a rip-roaring tie between N.Ireland's Ray Kelly – an experienced competitor – and Jim Reece, with Reece showing the assurance of tournament favourite to go through in the end.  Amy Hoy found herself overpowered by a classy performance from Pete Campion-Smith, before Crann saw off newcomer Tim Bartlett.  Sussex's Glen Whitehead, a consistent performer with a steady hit rate, felt hard done by as he was narrowly edged out by Chris Jackson – his conker exploding just as he was closing in for the kill.
The semis saw Crann comfortably expose Chris Jackson's large crack early on, whilst a phenomenally poor hit-rate for the formerly explosive Reece left him to lament his poor form as Pete's steady blows brought him no relief.  A proposed third place play-off was abandoned not only because of bad light, but also due to the fear that arch rivals Jackson and Reece's off-court sledging might overspill into conker violence in play.
Despite the disappointing final and minor technical hiccups, though, this – the first D.I.C.K. – was packed with excitement and the organisers indicated it is unlikely to be the last.  "Anyone up for it next year?" asked D.I.C.K. in chief, Steve Hoy, to the mildly enthusiastic gathering of sad individuals. "If you all bring a friend or two we could have a proper knockout of 16 or even 32 people".  Whilst the consensus was in favour of future conker-related events most participants declined to comment on whether they would be advertising the fact to their friends.
2005 D.I.C.K. Results
1st: Phil Crann
2nd: Pete Campion-Spall
NB – Phil Crann was later discovered to have vaselined his nuts for this D.I.C.K. – un-gentlemantly behaviour and a serious breach of the rules which saw him stripped of his D.I.C.K. title and Campion-Spall instated as rightful winner in his place.